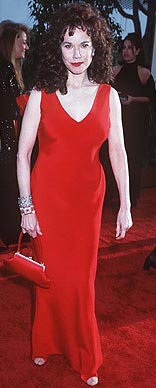 HERSHEY'S RETURN TRIP DOWN UNDER REAPS REWARDS
EXCLUSIVE Barbara Hershey/Lantana Interview by Paul Fischer in Los Angeles.

US critics are raving about "Lantana", Ray Lawrence's startling AFI-award winning masterpiece. With the film having just opened in Los Angeles and New York, Paul Fischer sought a new perspective from American star Barbara Hershey.

Barbara Hershey looks radiant at 52. She smiles when I remark how little she has changed since the first time we met on my first trip to Los Angeles 20 years ago. Back then we were discussing Richard Rush's satiric take on Hollywood, "The Stuntman", and now we are discussing another smallish film that is getting a lot of attention by critics, "Lantana" - a mystery thriller with a personal slant.

"Lantana" is Hershey's second Australian film, following her work in the Percy Grainger biopic, "Passion". It seems that her most interesting work of late has been down under. "I just think Australia tends to make very good movies, so if someone hands me an Australian or an American film script I would guess the Australian film would be more intriguing."

Intriguing, Hershey insists, "Because the mentality of the filmmaking in Australia is really superior." "Lantana" is a complex psychological thriller dealing with the intertwining lives of a group of isolated characters. Hershey plays Valerie, a troubled therapist and author, whose marriage is on the rocks when she refuses to get past the murder of her young daughter.

While director Ray Lawrence talked with actor Anthony LaPaglia about the 'kind of a less is more philosophy in filmmaking,' Hershey says that she didn't engage in such discussions with the Australian director. "I'm not that kind of analytical actor, though I knew that was the way he was shooting, and that he wanted a reality. That was just honey to my ears because I'm really strong there, that's always what I want."

Hershey's character is one whose relentless sense of mourning results in an entrenched form of isolation. In order to bring to the surface the kind of reality to which she refers, Hershey is "under the belief that if you are willing, and we look deep enough and hard enough inside ourselves, we can find ANYBODY and that is an inquiry inside myself, really," she explains.

In further analyzing this character, Hershey does not see Valerie, necessarily, as being any more confronting to play than any other character, but says that what made Valerie a particular challenge was "getting to the place really of: What would it be like to lose a daughter and to me, losing a child is the worse thing that can happen to anybody on earth, especially one that was horribly murdered. That is where she is at the beginning of the film and what she is struggling with in the whole film. So what was really a challenge was to start at that place and to then to cover it with all of this professional therapist and author façade of the character."

Hershey has played troubled characters before in a career spanning close to forty years. She made her debut as a teenager in the forgettable Doris Day comedy "With Six you Get Eggroll", and segued into playing often sultry, sexy characters in the likes of "The Babymaker" and Martin Scorsese's "Boxcar Bertha."

1980's "The Stuntman" made critics take notice of the beautiful actress, and that notice was further cemented by her work in such films as "The Right Stuff", "The Natural", and Woody Allen's Oscar winning "Hannah and Her Sisters". More recently, the work has lessened, though she delivered meticulous performances in Jane Campion's "Portrait of a Lady", "A Soldier's Daughter Never Cries" and "Passion".

Hershey spends most of her time living in Connecticut, and despite her remarkable life and career, is philosophical when talking about the past. "I look back on my life like everybody does but not just career. I mean I look back on my life as a whole, so I don't think that I dwell there or anything and in terms of work I hope that there is a lot in front of me." Hershey says that she is more relaxed about acting these days, taking herself less seriously than she once did. And has more fun with it. "I always cared a lot about it and it was always a real NEED for me, rather than just some ambition, but rather an essential need to express myself in this medium. So I was always passionate about it and felt that it was sort of the golden thread inside me in terms of what I was supposed to do in terms of work but I think I have relaxed a lot in terms of the actual experience and actually enjoy it more and enjoy the people more."

Though 52, Hershey remains unafraid of the ageing process and how that affects her career, but does feel that Hollywood "is behind the times in terms of age, because what I feel and how it is projected are so different. I am not afraid of aging, but more afraid of people's reactions to my aging."