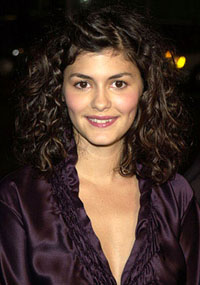 Audrey Tautou owes Success to her 'Amelie'


Rumour has it that when the Foreign Language Oscar nominations are announced in February; Amelie will emerge as the front runner. This huge box office hit in France is heading to American theatres from Friday, and for pretty French star Audrey Tautou, it is just the beginning of her international movie career. No wonder an eager LA press corps flocked in droves to meet this most sought after of actresses. Paul Fischer was one of them.

Audrey Tautou may be France's biggest new starlet, but this unassuming, pretty and petite 24-year old isn't about to allow her newfound fame to get to her head. Already having appeared in a dozen acclaimed French films, including 1999's "Venus Beauty Institute", Tautou is less interested in the kinds of awkward self-promotion which often defines her Hollywood counterparts. She knew, as she explains in her broken English, "that [Amelie] would be good but I didn't realise that so many people from so many countries would be so excited about it".

She avoids talking about how the film's success affected her, personally. For Tautou, the work, she insists, speaks for itself. In "Amelie", Tautou plays the self-titled central character, a young Paris waitress who discovers an old box of childhood treasures hidden beneath her apartment floorboards. As she anonymously returns it to its rightful owner and watches from a distance as his life is transformed by the discovery, thus begins her odyssey: a series of inventive plans to straighten out other people's lives. Almost as if by magic, Amelie begins to transform the lives of her ordinary neighbours - mostly for the better if they've earned it and occasionally for the worse if they deserve it, and ALWAYS anonymously. All goes well until she meets the intriguing Nino, and now, the beguiling Amelie must try and find the courage to do to her own life what she has done for others.

One of the many unique facets of the film is watching Tautou's visual expressiveness. With relatively minimal dialogue, the actress speaks with her face. It's an intricate, delicate performance, but Tautou refuses to embark on any analytical exercise. "To me, when I play a character, I try to feel the same kinds of feelings as the character, depending on her different situations. And so, those feelings come via my face." The actress does concede that she "didn't realise I had a lot of dialogue until the movie came out and when all of the journalists would tell me that, because during shooting, I wasn't thinking of that." She laughingly adds that it was no challenge to act with little dialogue. "For me it was easier because I don't have to learn as many lines."

While "Amelie" stems from the mind of its visionary director Jean-Pierre Jeunet [Delicatessen], Tautou refuses to take credit for the film's artistry, nor acknowledge that she borrowed anything from her own life to bring this character to life. "To me, Jean-Pierre is a genius. The only thing I gave for this role was my face and voice, because his universe is so precise and so extraordinary, that I think that nobody, especially me, can bring something foreign to it, because it may not fit in with what his overall vision is."

The Los Angeles Times recently noted that Mademoiselle Tautou is one of the faces to watch in 2002, but the actress avoids the question of whether or if she is prepared for Hollywood stardom. "I don't know if this is something I can either contemplate or even compare. "Amelie" is the first movie I've done with a lead role so I also think that success of any kind is relative. I'll work where the good roles are, and I'm not in a hurry to leave France and work in the States."

"Amelie's" appeal clearly lay with its romantic idealism and quiet optimism, yet Tautou, despite her success, happily admits to being just the opposite of her screen creation. "I'm totally pessimistic, but you can't see that in my face," she adds with a glint in her Gallic eyes. Perhaps that will change after the international success of Amelie.