At Sunset Kiss Me Interview
Having just finished up a run of shows around the country supporting international heartthrobs R5 and The Vamps, Australia's hottest new pop rock trio, At Sunset have today announced their own national headline tour to promote their new single, Kiss Me. Set to kick off at Fowlers Live in their hometown of Adelaide on March 12, the tour will then hit Melbourne's Rubix Warehouse on March 13, Sydney's The Lair on March 19, Brisbane's Old Museum on March 20 and will finish up in Perth at HQ on April 2.

Having already picked up a stack of national radio additions across Australia, new single Kiss Me showcases the band's impressive knack for writing incredibly catchy, guitar-driven pop rock smashes. Lead singer Harrison explains, "Kiss Me is about falling quickly and easily in love with someone to the point that all you want to do is spend every minute of every day having fun with them!"

With well over one million fans on facebook, 250,000 plus followers on twitter and having amassed over five million views on youtube, there's no wonder everyone is talking about this anthemic pop-rockin' trio from Adelaide.

Currently on tour in the Philippines, At Sunset are excited to return home to jump straight back on the road to play for fans. 'It feels amazing to finally be doing our own headline tour. We've been writing and rehearsing for a while now, so we are so ready to get out and perform all of our new tracks to the fans… everyone can expect loud guitars, thumping bass, catchy tunes and a few jokes.... Andrew thinks he's funny," laughs Harrison.

2015 was a big year for the band, having been announced as Nova Australia's Fresh New Discovery, which scored them mentoring by Ed Sheeran, as well as label support to release their debut single. Later in the year, thanks to the incredible support from their fans in the voting-based competition, they were recognised as the first ever winners of MTV Brand New Australia. And with their new single and national headline tour dates just around the corner, 2016 is set to be an even bigger year!

At Sunset are brothers, Harrison and Andrew Kantarias, and their good friend, Tom Jay Williams.
Kiss Me is available now


At Sunset National Kiss Me Tour Dates - Presented By MTV Music

Sat 12 March | Fowlers Live, Adelaide Sa | All Ages
Sun 13 March | Rubix Warehouse, Melbourne Vic | All Ages
Sat 19th March | The Lair, Sydney Nsw | All Ages
Sun 20th March | Old Museum, Brisbane Qld | All Ages
Sat 2nd April | Hq, Perth Wa | All Ages

Tickets available from www.atsunsetmusic.com



Interview with At Sunset
Question: What inspired the Grease reference in Kiss Me?

Harrison Kantarias: Sandy and Danny's relationship they shared in the movie made it a classic so we wanted to re create that element and put into a pop rock track!


Question: What should we expect from the upcoming tour?

Harrison Kantarias: Loud guitars ...massive synths...thumping subs...guitar solos and crazy lights!


Question: How did it feel to hear your song played all over the airwaves?

Harrison Kantarias: It was crazy...it's an incredible feeling to know that when you work hard for something it really can pay off .


Question: Did you have any pre-conceived ideas about the music industry?

Harrison Kantarias: Not really...each day you learn something new but one thing for sure is the key to any success is to be humble and work extremely hard.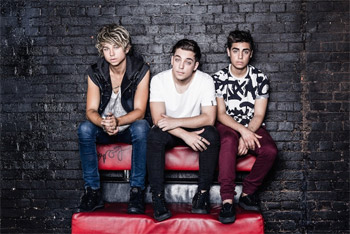 Question: Do you write your own songs? What's your inspiration?

Harrison Kantarias: We do. The great thing about being a song writer is that anything can inspire you. Anything from an emotion you're feeling to an idea that you have had stuck in your head for weeks.


Question: What music/artists do you listen to when you are not playing your own?

Harrison Kantarias: We've all grown up listening to Blink 182, Simple Plan , Good Charlotte and a whole heap of pop/punk/rock bands and I think it's safe to say they are still on the top of our playlists.


Question: What's next? Tour/Album/Single?

Harrison Kantarias: TOUR! We can't get enough of playing live shows and getting into different states and countries to meet all our fans.


Question: Was there a moment you contemplated throwing in the towel?

Harrison Kantarias: Never! I think part of this industry is the mindset. When things get tough it means you're getting somewhere. No one ever said it was going to be easy.


Question: Do you prefer performing live or recording?

Harrison Kantarias: I think a mixture of both...they are so different to each other it's great to have a balance of both.


Question: What/who was your inspiration to go into the music industry?

Harrison Kantarias: For us...it was the bands we grew up listening to. When we were kids we knew this is what we wanted to do and it's bands like Good Charlotte in particular that just show you can have a 10+ year career if you're willing to work.


Question: What's a typical day like?

Harrison Kantarias: Writing , pizza , honey lemon tea and video games


Question: What has been your favourite part of becoming a music artist?

Harrison Kantarias: Working with other musicians and being able to learn from the best...like Ed Sheeran.


Question: If you could collaborate with another artist, who would it be?

Harrison Kantarias: There are so many ... Anywhere from Demi Lovato , JT , Shawn Mendes , The Madden Brothers ... The list goes on!


Question: Do you have a website fans can visit?

Harrison Kantarias: For sure its www.atsunsetmusic.com


Question: Can you tell us 5 things required for a happy healthy & enjoyable life?

Harrison Kantarias: 1. Music
2. Family
3. Great food
4. Rad clothes
5. Fresh hair cut


Question: What message would you like to say to your fans?

Harrison Kantarias: THANKYOU doesn't really come close. Because of our amazing fans they have made it possible to come off the screen and now perform on stages all over the world! #sunsetnation we love you!


Interview by Brooke Hunter