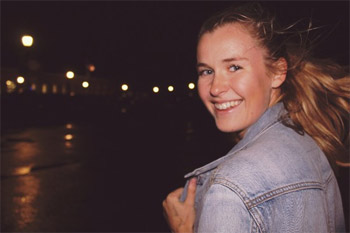 Alex the Astronaut Holes in the Story
Cosmic storyteller Alex the Astronaut is stoked to announce she is releasing her sophomore single 'Holes in the Story' this Friday May 13. 'Holes in the Story' was recorded with and produced by Benjamin McCarthy (Gordi, Kate Miller-Heidke) and is the follow up to Alex the Astronaut's acclaimed debut single 'Half of 21st Street'.

'Holes in the Story' is out this Friday May 13 through all digital retailers. Stream 'Holes in the Story' here.

Sydney-born Alex the Astronaut is currently living in NYC on a Soccer scholarship while studying Math and Physics, an academic major she chose to appease her curious nature, her inherent need to question those things that the majority of us just accept. It's this curiosity that inspired 'Holes in the Story' - an upbeat and gleeful folktronica track that speaks volumes to Alex the Astronaut's optimistic and adventurous outlook. Recorded in Melbourne in January, 'Holes in the Story' is a story about people breaking the mould, following the story of 'the bad guy' who smiles with his son, and a young couple who don't fit the fairytale image we're all exposed to all too often.

Driven by a love of music from a young age, Alex the Astronaut was given her first drum kit when she was three, and from there she fell down the musical rabbit hole. One thing that has always stood out as she discovers new artists along the way is honest storytelling through lyrics, like the great Paul Kelly, whom she refers to as her formative influence, alongside Lily Allen and the late David Bowie. Three very different artists with a common thread: they only ever say it how they see it.

'Holes in the Story' follows Alex the Astronaut's debut single 'Half of 21st Street', the after-dark love story released in February which was added to rotation at triple j Unearthed, noted as "a bold, brave first offering," by Dom Alessio, secured Alex the Astronaut as a Global Newcomer on Acid Stag and Spotlight Artist on AAA Backstage, with its music video included in best of wraps on Howl & Echoes and TheMusic.
Tour Dates:
Friday June 10 - Oxford Art Factory, Sydney (with TH'FIKA)
Saturday June 11 - Oxford Art Factory, Sydney (with Project Montreal)