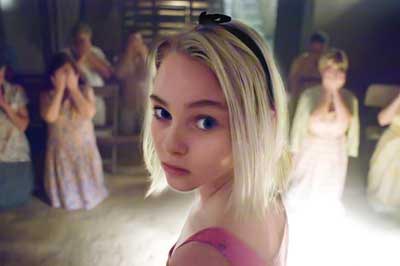 ANNASOPHIA REAPS HER REWARDS
EXCLUSIVE Interview by Paul Fischer in Los Angeles

In her relatively short career, 14-year old AnnaSophia Robb has starred in close to a dozen films, from her breakout role in the acclaimed Because of Winn-Dixie, to the likes of Tim Burton's Charlie and the Chocolate Factory and now as the tragic heroine of the long awaited screen version of the classic novel Bridge to Terabithia. In addition, AnnaSophia Robb stars opposite Oscar winner Hilary Swank in next month's thriller, The Reaping. The only child of an architect and an interior designer, AnnaSophia Robb knew from the age of five that she was destined for a career as an entertainer. A Denver, Colorado native who never wavered in her determination to succeed, AnnaSophia Robb convinced her parents to let her take an acting class before setting out on her first round of L.A. auditions in 2003. It was during this time that her new manager and agent team would help young Robb successfully navigate the Hollywood audition scene, her family living in a modest guest house as her father worked and her mother took AnnaSophia Robb to auditions during the daytime hours. By the end of the summer, AnnaSophia Robb had attended no less than 42 auditions and had landed her first role as a Bratz-loving Happy Meal fan in a McDonald's commercial.

Due to the success of her first voyage west, it didn't take much to encourage AnnaSophia Robb to come back to Hollywood in the spring, and after receiving notice that auditions were being held for Wayne Wang's Because of Winn-Dixie, it was time to gas up the car for the long haul once again. Fate seemed to play a curious role during the trip when her father pulled out a stack of librarian-recommended books on tape that he had rented only to find the recorded version of the best-selling Kate DiCamillo novel sitting right on top, and before long AnnaSophia Robb was preparing to help bring Dixie to the big screen. Having previously played the lead in the made-for-television movie Samantha: An American Girl Holiday, it didn't take AnnaSophia Robb long to find her place in front the camera, and she frequently credits Dixie director Wang with providing the advice she needed to advance as an actress. A subsequent role as bubblegum-chomping brat Violet Beauregarde in the Tim Burton film Charlie and the Chocolate Factory allowed the young actress to cut loose and have a bit of fun on film, and in 2006 AnnaSophia Robb could be seen fending off the forces of evil in the abovementioned apocalyptic horror thriller The Reaping, and next as Leslie Burk, the young girl whose imagination sparks an unlikely friendship.

Promoting the film in Chicago, AnnaSophia Robb talked exclusive to Paul Fischer.

Paul Fischer: How familiar were you with the book when this came to you?

AnnaSophia Robb: Well I actually have not read the book. I was home schooled in fifth grade and that's when my school read the book. And that was the only year I was home schooled, funnily enough. So I read the book as soon as I heard it was being turned into a film and then I read the script and they matched so beautifully which, it was a really good feeling. I felt confident because I knew it would be a good film to make because people would appreciate that. The film makers respected the book that's so beloved.


Paul Fischer: Was there something about this character that you felt you could identify with in some ways, she being the outsider?

AnnaSophia Robb: Well I really love to read like Leslie does. Sometimes I really enjoy being a character that I'm totally not like but sometimes I really like being like a character. And I love clothes but other than that, we're pretty much the opposite, well not exactly the opposite but different. And I learned some good values of Leslie just how to treat people and how to appreciate every moment in life and to not judge. I mean, I didn't judge that much before but just to be kind to others even if they're mean to you.


Paul Fischer: Have you ever been at the receiving end of people being mean to you? Do you think that being more in the public spotlight now kind of makes other kids sort of jealous or do you experience those kinds of things?

AnnaSophia Robb: Well I've definitely seen bullying. I mean there are so many different forms of bullying. I mean it happens even in the movie industry, it doesn't just happen in school. It never goes away. And that's kind of a sad thing but what I feel is that if people are like Leslie and they just, you know, are nice like that to someone, the bully or whoever is being mean to you will come on and realise that they're not getting any power from being mean to someone because usually bullying is just a form of someone being insecure and trying to push someone else down so they're higher.


Paul Fischer: Do you think that the themes of this movie then will resonate to other young people who see the movie?

AnnaSophia Robb: I think so. I think so, definitely. I also like how Jess and Leslie write this little letter to Janice Avery, you know, the fake love letter. I love that because, you know even Leslie who seems like the perfect girl - she still makes mistakes and she learns from it. And so I hope kids see that playing a joke right back to someone isn't necessarily the best way to make the situation better.


Paul Fischer: Do you think that you see yourself as a potential role model to young teenage girls or do you ignore trying to live up to anything.

AnnaSophia Robb: Well I've never really thought of myself as a role model or going to be one. But I guess if I continue to make films and my popularity, I guess that's what you'd call it, increases then I definitely have to make the right choices and be a good role model towards others because people might not have, you know, a good family life or a good school or they might just be, you know, cheesy and think all that stuff is the right way to go. So I hope I can influence them. I don't necessarily want to be a role model but I would like to influence them in a positive way - I want to try to help the world.


Paul Fischer: How do you think you're going to avoid making the kinds of mistakes that other young actresses of your age made as they became older and I won't mention any names.

AnnaSophia Robb: Well I live at home in Denver, Colorado and I think taking a break and just being home and being in school, you know, I still have homework, I still have chores, I still have to wash the toilet in the bathroom. I think that definitely keeps me grounded and the people that are around me, you know, my parents definitely will keep me down. They'll put me in my place if I get a little too cocky. So I think that definitely helps and from watching others and seeing their mistakes and really not wanting to do what they have done is a big thing for me, just seeing what, you know if someone does something and it has a bad result then I'm pretty sure I won't do that. And I don't really want to drink because what's the point? I'd like to remember every fun moment that I've had and I'd like to keep my body healthy and strong and there's nothing wrong with doing that, you know, it's fine but I just choose not to because I think in the future with, you know, give me a longer, healthier lasting life.


Paul Fischer: Tell me about, have you seen The Reaping yet?

AnnaSophia Robb: No I haven't. I've seen a clip of it though and it's pretty scary.


Paul Fischer: How is it being in a scary movie and what do you do to try and - I mean you have to perhaps imagine yourself being in the audience's position.

AnnaSophia Robb: Well it wasn't terrifying at all, really. It was actually kind of funny doing some of those scenes, you know, everybody pretending to be attacked by locusts and dying and stuff and nothing's really there. So it was kind of funny to watch and Stephen and Hilary did an amazing job and Stephen, he's such a fun director and I think he did a really good job of creating an artful scary film.


Paul Fischer: Do you have a big imagination because I mean when you do movies like that you really do need - and also Terabithia for that matter, you need to really need to rely on your imagination to create a character.

AnnaSophia Robb: Yes, I think so. I try to keep my imagination intact. Obviously it's harder as I get older or as people get older because they tend to lose that, especially at my age where they're embarrassed to show their creativity or explain ideas or pretend for that matter because they feel like they're acting like a little kid or something. So I do try to keep my imagination always running and I definitely do that by just talking about it and books also help and I think everyone has an imagination, it's just if they express it or not - if they pay attention - everyone has it, it's just if they nurture it.

Paul Fischer: What else is going on with you? Are you back at school now or are you doing another film?

AnnaSophia Robb: I've been back at school for about a week or two. I just finished Ferris Wheel with Charlize Theron and A West Texas Children's Story with Cayden Boyd.


Paul Fischer: And who do you play in those?

AnnaSophia Robb: Well in A West Texas Children's Story it takes place in around 1962 and it's mainly about two children, a boy and a girl, who have a really bad, fairly disturbing life and they end up travelling across the country together and running away and live with Cassie's (that's my character) aunt and uncle and they find out some of the troubles that Cassie's had, you know. She doesn't really reveal them the whole movie and its finding out really what makes her kind of crazy.


Paul Fischer: And what's Ferris Wheel?

AnnaSophia Robb: Ferris Wheel is a really rough story. They way I look at it is the name of the movie kind of symbolises to me. It's just the family is kind of a constant wheel and it starts with grandfather making bad decisions and then the offspring and then me. And my character and Nick Stahl's character, we're really trying to put a stop to this wheel and try to create a loving, nurturing family.


Paul Fischer: Wow, and who does Charlize play?

AnnaSophia Robb: Charlize plays my mother. She was absolutely incredible. She is the most warm, just, I can't say enough about her. She really helped me in that film and I learned, every day was like acting class from her. It was a really special time.


Paul Fischer: Do you see yourself acting right through adulthood or do you have any aspirations beyond acting.

AnnaSophia Robb: You know, I don't know. I really would like to continue acting for as long as possible but if I do get tired of it then I might just do something else. I know acting doesn't go on forever so I definitely want to go to college and I like to help people. If I wasn't in acting I think it would be really fun to get into some heavy duty non-profit work because I would still love to travel in my job. And that's what I want to do. But if acting carries on for a really long time I still want to go to college. But I'd do some non-profit work because there are people to be helped in the world.



The Reaping
Starring: Hilary Swank, David Morrissey, AnnaSophia Robb, Idris Elba, Stephen Rea
Director Stephen Hopkins

In this thriller from director Stephen Hopkins (LOST IN SPACE, UNDER SUSPICION), Oscar winner Hilary Swank is Katherine Winter, a college professor who refutes mysteries and so-called miracles with scientific evidence. When science teacher Doug Blackwell (David Morrisey) invites Katherine and her former teaching assistant/current colleague, Ben (Idris Elba), to his hometown of Haven, Louisiana, to investigate a river whose water has turned blood-red following the mysterious death of a local boy, the cynical professor is forced to find her own faith. The river of blood is just the first in a series of strange occurrences in Haven. It seems that each of the 10 plagues from Exodus is being manifested, in order. The citizens of this Bible Belt town are convinced that 12-year-old Loren McConnell (AnnaSophia Robb) is responsible for her brothers death and for the strange events. Soon, Katherine finds herself questioning everything as memories from her past suddenly infiltrate the present in her search for the truth.

The Deep South setting is both beautiful and creepy--particularly Dougs classic antebellum mansion, and the swamps where the McConnell family lives. Swank is reliably solid as Katherine, a woman of faith who lost everything important to her and turned to science for answers. Young AnnaSophia Robb, a young actress to watch, has a captivating screen presence. Brits David Morrissey and Idris Elba (THE WIRE) round out the main characters, with Morrissey a convincing Southern gentleman and Elba a man who overcame his tough life on the streets to become a professor. Stephen Rea also appears as Father Costigan, a link to Katherines sad past.