by Paul Fischer in Los Angeles
AMY CRANKS UP HER CAREER A NOTCH
Amy Smart is one of Hollywoods newest young stars and is always up for a challenge. In the new adrenalin-charged Crank, she plays the laid back girlfriend of Jason Statham who is literally running for his life while his body has been injected with a deadly poison. To survive, he needs to keep his adrenalin going, and that includes having public sex with Amy, who until now, had no idea her boyfriend was a hitman. Talking exclusively in a Beverly Hills hotel board room, smart sees her character in Crank as "definitely is not as high-paced as his, and she has her own rhythms and timeframes, which is actually pretty dangerous for his character because she doesnt really have any care in the world."
Smart is an actress who thrives on risks. After all, a pair of unknown directors who had never made a film before did ask her to co-star in an action thriller that involved a public sex scene in Los Angeles Chinatown. Smart concedes she was concerned before taking this on "because you you give a lot of your trust to the directors for those kind of scenes where you put yourself out there," Smart explains. "But I felt because Lakeshore and Lionsgate were behind it and they believed in these directors, I felt like this new technology they were going to use for this film, how clear they were on what they wanted from the characters and the kind of film they wanted to make, that I could trust them." Having played her share of somewhat ditzy characters, the beautiful actress wanted this character to have more depth and clarity that was on the page. "I think bringing depth to characters means really needing to find out who this girl is, what is she passionate about, what makes her tick, what gets her going in life. So I did a lot of backstory for who she was and sometimes it comes across screen and sometimes it doesnt. You never know, because youre not the director, but you can only do your work and hope that it somehow subtly is infiltrated in that. But I think the characters Ive played for the most part have depth, just not in the way that you think they do."
The 30-year old Californian was a relatively new arrival when she first gained notice for her supporting roles in the 1999 hit teen films Varsity Blues (1999) and Outside Providence (1999). Smart says she was drawn to acting "because of the psychology of it. Why do people do this, what makes them tick, why is that person jumping off a cliff right now, what brings them to that point; why does she want to work in that hospital? Like there are so many aspects of humans that are fascinating and it helps me understand myself better. It also allows me to give voices to people who might not be heard."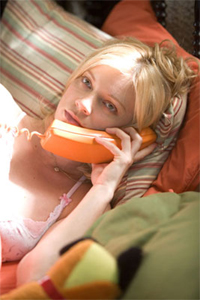 With her blonde, carefree California girl good looks, Smart got her start in TV-movies and made her feature debut in Stephen T. Kay's The Last Time I Committed Suicide (1997) screened at 1997's Sundance Film Festival alongside Keanu Reeves. She was briefly seen in Paul Verhoeven's big-budget sci-fi actioner Starship Troopers (1997) with actor Casper Van Dien and had an impressive turn in the vastly different, quirkily independent How to Make the Cruelest Month (1998). The by-the-numbers horror film Campfire Tales (1997) followed in 1997, along with the topically chilling Strangeland (1998), written, produced and starring the titular Twisted Sister frontman as a deranged torturer who meets his victims in web chatrooms. Amy reached her widest audience with a co-starring role opposite James Van Der Beek in Brian Robbins' surprise box office hit "Varsity Blues (1999)", as sister of the injured star quarterback (Paul Walker) and girlfriend of his idealistic replacement (Van Der Beek), is tied to it. Her next role was that of Shawn Hatosy's upper-class love interest in Michael Corrente's poignant 1970s era comedy "Outside Providence (1999)". Varied films followed, from the diverse likes of Rat Race, The Butterfly Effect, Starsky and Hutch and Just Friends, to name a few.
With so many beautiful young women continuing to fight for stardom, Smart says that these days the major challenges that she faces "are to live up to the roles Im playing, because I can only do the best work I can do. Then hopefully that will take me to the next level to get better parts, to get more of what I want." That includes making the switch to television and the new CBS series Smith, in which she stars opposite Ray Liotta, Virginia Madsen and Simon Baker. "It feels great to work on such a complex, interesting, dark character," she says, referring to her Annie, one of a group of 5 professional criminals, about what this new series is about. Smart says she was attracted to Smith once she met with series producer, veteran John Wells. "Hes an amazing producer and I met with him and it was so inspiring the pitch he gave me about this character of Annie." Smart says she signed on before she even saw a script. "In his pitch, he said that television for the most part has gotten really boring in the sense of its all these FBI guys, lawyer guys, doctors, always trying to fix the bad guys, find the bad guys, but when I want to find out about a character, do I want to see what it takes to be an FBI guy or do I want to watch what it takes to be a criminal? The criminals are the ones that have the really interested complex lives."
Smart says she loves playing a bad girl on the series. "I love it. On a personal level I grow a lot from my characters, and there are a lot of lessons that Ive learned through the different characters Ive played. With Annie shes very straightforward, gets what she wants, and is not a people pleaser - shell be a people pleaser to get what she wants, but she doesnt have to do that. Shes manipulative and calculated. In fact, I just want a little bit more of her in my life." she adds laughingly. Smart says she looks to her personal experiences to inject this character into her psyche. "I think as human beings were multifaceted and we can all tap into different aspects of ourselves, which is why its fun to watch these kinds of characters because on some level we can relate to them. So Im just bringing out more of a side of myself that I dont normally bring out, and its really fun."
When Smart is not acting, she remains passionate about social causes. "At this point I do a lot of environmental work, and Im really about improving lifestyle on a daily basis. Its not about perfection, but about implementing good eco-friendly ways of living more sustainably with the planet. Every citizen of this country needs to stand up and do something because once you destroy this planet you cant get it back, and therere some things that will never come back that are extinct. Lets use our brains here; its not rocket science and if we can all make changes in our life that would be huge and that would really help reverse the destruction that were bringing to this planet."
Amy Smart is clearly more than just a pretty face!