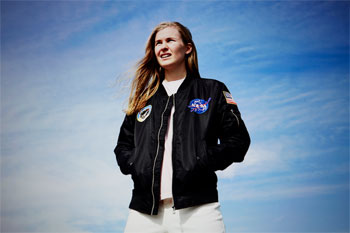 EP features 'Not Worth Hiding' and 4 all new songs
Alex the Astronaut is thrilled to be releasing her 2nd EP See You Soon this Friday October 6 via her own label Minkowski Records. The follow up to her debut EP To Whom It May Concern which featured Already Home and Rockstar City, See You Soon features the heartbreakingly honest single Not Worth Hiding together with four completely unheard new tracks.

Alex is touring nationally throughout October and November with headline shows in Brisbane, Byron Bay, Sydney, Wollongong, Melbourne and Perth.

Alex the Astronaut's new single Not Worth Hiding is a coming of age song in its purest form, a song that "could not have come at a better time" (Pedestrian TV). Not Worth Hiding documents a big realisation Alex had at aged 16 written into one of the catchiest songs you'll hear bounded by thumping drums and simple chords. It's a raw, deeply personal track about finding yourself and being your true self in love. Not Worth Hiding has made a huge impact since its release: Alex was invited to perform it live at the Marriage Equality Rally in Sydney, she performed it for triple j's Like A Version, not to mention scoring an epic shoutout by the legendary Elton John on his Beats1 radio show last week.

Like her debut, the To Whom It May Concern EP, Alex the Astronaut's second EP See You Soon is a five-song set of vivid train-of-thought narratives, and bare acoustic bones bracing bright pop melodies. After living in New York City on a soccer scholarship whilst studying maths and physics, her debut brimmed with new experiences whilst See You Soon hints at the weight of returning home having lived in the world. "I had to make friends again," says Alex. "I had to rebuild relationships. I'd had one month bursts of seeing people here then leaving again. But now I'm back for good."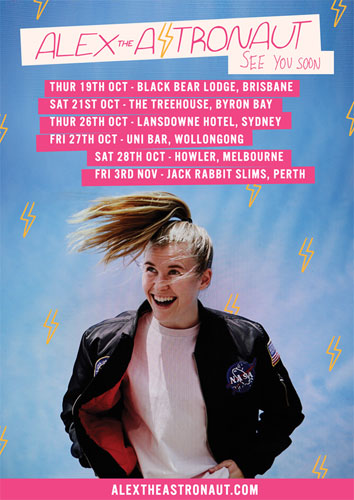 Working again with producer Ben McCarthy, the EP shows Alex allowing herself to reflect – nowhere more so than on opener, Not Worth Hiding, a frank letter to her 16-year-old self detailing the journey to owning her sexuality. The dreamy Reflector is about growing up, "being really young and not knowing what you're doing" and pivots around a spoken-word cameo from her grandma as ballast.

The sunny What Sydney Looks Like in June is about Alex coming home and finding herself a tourist in her hometown; the love-struck characters of William and Georgia and the finger-picked, string-laden lament -New York' (the angels say they can't quite place where we parted / as the world starts to hurt my heart, I'm hoping that you'll meet me in New York) navigate the tyranny of distance. "They're about saying goodbye to people."

The See You Soon EP is five insightfully written tracks that will strengthen Alex the Astronaut's standing as one the most exciting young songwriters of our time.

Alex The Astronaut – See You Soon EP Tour
Tickets and info: alextheastronaut.com

Thursday 19 October – Black Bear Lodge, Brisbane
Saturday 21 October – The Treehouse, Byron Bay
Thursday 26 October – The Lansdowne, Sydney
Friday 27 October – Uni Bar, Wollongong
Saturday 28 October – Howler, Melbourne
Friday 3 November – Jack Rabbit Slim's, Perth

Alex the Astronaut is also appearing at:
Saturday 28 November – The PLOT, Parramatta Park
Friday 22 December - Grow Your Own Festival, Tuncurry
28-31 December – Lost Paradise, Glenworth Valley
16-17 February - Mountain Sounds Festival, Mt Penang Gardens


See You Soon EP track listing:
1. Not Worth Hiding
2. Reflector
3. What Sydney Looks Like in June
4. New York
5. William and Georgia

Follow Alex the Astronaut:
Facebook | Twitter | Instagram
triple j Unearthed | Soundcloud | Spotify | Apple Music