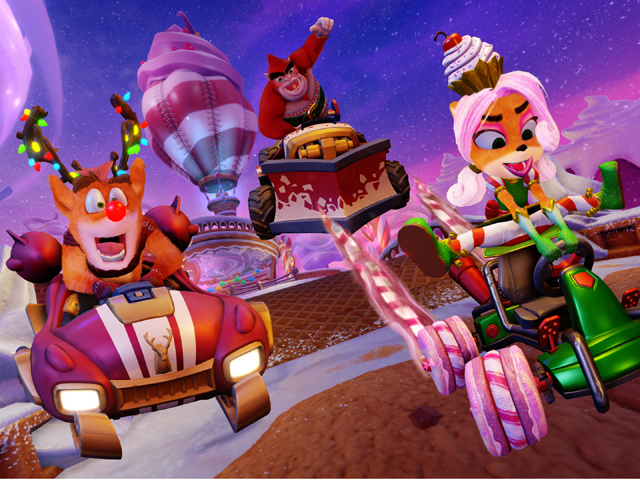 Crashing through the snow, in a decked out Nitro Sleigh – your favourite Bandicoot is back and filled with holiday cheer in the Winter Wonderland Grand Prix! The Winter Wonderland Grand Prix features an all-new track, Gingerbread Joyride, as well as new characters, karts, pit stop items and a very special Spyro skin that's sure to bring you holiday cheer.

Get ready to race in high-octane holiday style with these cool features:
• New Track: Dash through a holiday scene like no other in Gingerbread Joyride! From the warm, welcoming hues of the gingerbread village to the cool, idyllic scenery of the winter wonderland, this track is sure to fire up some cheer as you cruise past your competition!
• New Characters: Rilla Roo and Yaya Panda enter the festivities, as well as a brand new character, Hasty - a high-flying Moose based on an infamous cut character from CTR lore. But wait, this just in! Your favourite broadcasting duo Chick n Stew aren't just sitting in the booth any longer - they'll also be clucking it up and down the track in this special Grand Prix season!
• New Karts: Plow through the competition with the Snowplower, leave other racers salivating with the Candy Cone, and finally take the reins in the ultimate holiday machine with the Nitro Sleigh!
• Pit Stop Items: A Reindeer Crash Skin, Pajama Skins for Baby Crash and Coco, scrumptious Pastry wheels, holiday-themed paint jobs and stickers - there's no shortage of new swag to celebrate the season! But wait until you see the skin to stand above them all - Winter Guardian Spyro.
• Nitro-Gauge Challenges and Rewards: Polar in an ugly sweater, Hasty in a slick ski-suit, and so much more, complete challenges to earn these and other new rewards in the Winter Festival Nitro Gauge.
• Champion Kart and Decal: Finish in the top 5% of the Grand Prix leaderboards and win the Champion Kart and Winter Festival signature decal!

The Winter Festival Grand Prix is bringing the joy early!