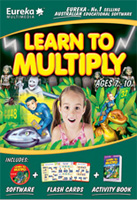 Eureka Learn to Multiply
Ages 7 to 10
Developed in conjunction with the Australian and New Zealand school curricula guidelines, Learn to Multiply is a highly effective, innovative and entertaining way for children to learn their times tables. The program is set in a 3D environment with 12 different worlds and 3 levels of difficulty. Children are taught each table through fun and interactive game play, which promotes self-learning and aids concentration skills.
Develops Essential Skills in:
Multiplication times tables 1 to 12
Multiplying numbers
Listening
Memory recall
Self-learning and concentration
Navigating in a 3D environment
Problem-solving
Flash Cards
Children can reinforce the lessons taught in the software away from the computer with 40 double-sided graded interactive flash cards containing over 160 multiple choice type questions.
Activity Book
The carefully graded 40-page activity book provides children with written revision to further reinforce the lessons taught in the software.
Review: A fun and interactive way for children to learn mulitplication through play.
Eureka Learn to Multiply
RRP: $29.95
www.eurekamultimedia.com.au