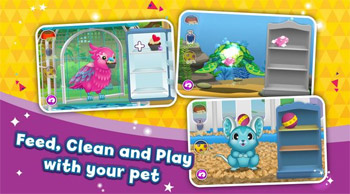 Little Live Pets App
You can now play with your Little Live Pets in a virtual world with the launch of the brand new Little Live Pets Pet Shop App.

With the Little Live Pets app you can adopt your own virtual pet mouse, turtle or bird, then feed, clean, play and accessorise them. You can then play minigames to level-up, earn coins and unlock surprises.

Features:
Choose the virtual pets that you would like to adopt in the pet shop:
Chatter the Mouse, Digi the Gaming Turtle, and Poppin' Polly the Bird
Keep your pet happy by feeding, cleaning and playing with them
Play mini-games to level up and earn coins: Mouse Hurdles, Tweet Along, and Turtle Turbo
Use your coins to buy food, cleaning materials, toys, accessories and habitats from the shop
Unlock items as you play along and progress through the levels

Have fun with these caring activities:
Feed your pet – let your pet enjoy a sumptuous feast of delicious apples, carrots, cupcakes, milk or pizza
Clean your pet – grab the soap, sponge, brush, towel and shower head to wash your pet sparkly clean
Play and have fun – throw a ball and play with your pet to keep it happy
Play dress ups - cute or cool? Select from hats, ties, collars and many other accessories to style up your pet
Interact with your pet - tap your pet anywhere and you will see it move, feel, react and even sound just like a real pet!

Play the fun mini-games and earn cool rewards for you and your pet:
Race with other mice, jump over hurdles and mud, and emerge as the champion of the Mouse Hurdles mini-game
Tweet in the same tune as our Tweet Talking Bird in the Tweet Along mini-game
Dive and dodge the obstacles and reach the finish line before the timer stops in the Turtle Turbo mini-game

Have fun taking care of your Little Live Pets!
The Little Live Pets App is available free on iOS and Android across all devices.
Since their launch in June last year, the Little Live Pets menagerie of toys has gone from strength to strength. You can now choose from birds, turtles and mice, plus the brand new, all talking, all singing, all dancing Cleverkeet. Kids love them all so much that Little Live Pets are consistently ranked in the top 3 most popular youth electronics brands in the UK, Australia and the USA
Watch the app in action here:
https://vimeo.com/141654238