by Paul Fischer in Los Angeles.
COLLETTE TAKES ON TWO DIVERSE ROLES.
Toni Collette may be still a tad jet lagged, but she looks fit and tanned doing press for the release of not one, but two films in which she stars: Little Miss Sunshine and The Night Listener, both of which had their premieres at this years Sundance Film Festival. Despite her international success, Collette, 33, refuses to relocate to Los Angeles, choosing to remain in Sydney with musician husband and recently acquired beagle dog. "I just simply live in Sydney because I love it. Thats where my family and friends are, thats where I feel most comfortable and it feels like my natural home and thats where I belong. And work takes me overseas and Im really fortunate to be able to experience so much travel and work in an area that gives me such pleasure and literally a lot of fun." Though Collette has done her fair share of studio films, it is the smaller world of the proverbial Indie that has predominantly attracted her over the years. In the US, the actress will be seen as a manipulative blind woman in The Night Listener and the matriarchal, protective head of a quietly dysfunctional family on a road trip in Little Miss Sunshine. While in her native Australia, the low key thriller Like Minds will screen at this years Melbourne Film Festival. But when it comes to choosing a film, Collette rarely, if ever, takes the cost of a movie into account. "Well when I read something Im not really looking at the budget, but more at the script for what it is and the story for what it is, and more often than not I choose films where I get paid fuck-all," she adds, laughingly.
Yet having said that, "I still get paid more than my parents ever earned and its more than I ever expected to earn in any kind of job, so Im not complaining," Collette insists. Successful for over a decade, the actress says that these days she just wants "to be turned on. Ive been doing it for half my life now and lifes too short to put your energy into something that you dont believe in, that you dont find entertaining yourself or doesnt speak to you in some vivid way. When I choose a script its almost like it chooses me and it bypasses my brain. Its not an analytical thing, it just speaks to my gut and its a compulsion," she explains.
While it seems on the surface that Collette is drawn to challenging, complex roles, she is additionally interested in playing characters that are relatively easy. As she explains it, "I think the ease is that I find scripts that are very clear and well written, and when I say they speak to me it seems very clear how theyre meant to be, how its meant to be played. It seems kind of obvious that from the minute Im reading it its like I can see how its meant to be and its not too far of a leap for me to understand what Im meant to do." Both Night Listener and Little Miss Sunshine represent varying extremes of character and narrative, with Collette playing two extreme ends of her craft. She pauses when asked to explain the fundamental differences between both films. "Oh, theyre completely different. Sheryl, in Little Miss Sunshine, is pretty much a selfless person, she gives everything to her kids and shed die for them while my character in The Night Listener didnt get that love as a child and shell go to great lengths to get it any way she can now." Night Listener is a dark and often tragic tale of obsession and bitter manipulation, where nothing is quite what it seems. Its a tough film to discuss without revealing major plot twists. Endeavouring to define the character is as much a challenge for Collette as playing her, it seems. "I think the interesting thing with that character was that to a certain extent shes a performer. But I think with any stage in any story its important to have as much information as possible, and it will somehow inform what youre doing and I think if youve got a good script the information will come out appropriately at the right time."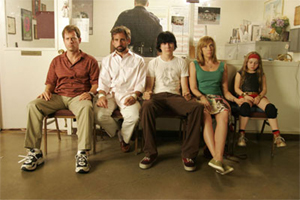 While these two films are causing early raves prior to their US commercial release, the actress stars as a forensic psychologist tasked with determining whether or not a minor should face murder charges for killing his schoolmate in the Australian thriller Like Minds. Set to screen during Augusts Melbourne Film Festival, its one of several films Collette has completed or about to begin, and still is happy not to look for bigger Hollywood fare. "Even if I do go searching its still going to be apparent that I have to wait for the right thing to come along. I cant really force it or control it and Ive been offered stuff where I would be paid a whole heap more but I cant bring myself to do it because I just dont like it, it doesnt mean anything to me." Asked if she still has the same degree of passion for acting today, as against when she started Collette pauses slightly. "I probably have the same amount of passion for it but its not the be-all and end-all, so I guess my priorities have shifted. When youre a young woman you have no responsibilities, youre just running around the globe, having fun, and enjoying it, as well as getting excited about it. Now I still do those things but I feel like Im a much more responsible human being." Yet she still views acting as an extension of play, something she always felt from the outset. "Thats still what keeps me going and thats the crux of it for me, which is why I do it. And if anything the work part - which is what were doing right now - is becoming easier for me. I think initially I didnt understand it and I felt like youre being judged or something, while now I just dont take it very seriously at all," she says, referring to the press she sees as a necessary evil. "I know its just part of what I do and its just sitting down and having a chat with someone about what I do, so now I think Im much more laid back in general."
Collette is busier than ever, from a flurry of films, including the made-for-TV film Tsunami, which Collette shot on location in Thailand. The actress describes that particular experience as being "many different things", from beautiful to emotional. "Thailand itself is just paradise, which I found really beautiful, inspiring and quite awesome to see because its just so natural and gorgeous. The Thai people are incredibly generous and gracious and just wanted us to have a great time, and it was great to be able to spend time there as more than a tourist. I think you get more of an insight the longer you stay anywhere and we were respectful of what had happened there, that people were still grieving and still trying to get their lives back on track. A lot of the people were really excited that we were there, making this movie, and I think its very easy from the comfort of your own living room to see something like that on a news flash and within three days youre not thinking about it anymore, but for the people who went through it its an ongoing process of understanding what happened in their lives, and I think that this story really humanises what happened."
Just prior to filming Tsunami, Collette also finished filming The Dead Girl, "that was shot here in Los Angeles and was written and directed by Karen Moncrieff, co-starring fellow Aussie Rose Byrne, along with Brittany Murphy, Giovanni Ribisi and Piper Laurie." "Its an ensemble piece about all these different people, like five different vignettes, and theyre all somehow connected to this dead girl. In my strand of the story, I got to act with Piper Laurie and Giovanni Ribisi who were both amazing."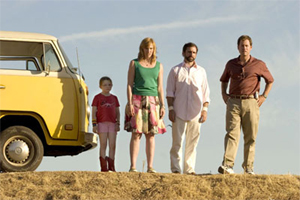 And not one to rest on her laurels, the busy actress is about to do three films over the next six months. "One is called Evening, based on the Susan Minot novel, and Michael Cunningham adapted it, and Lajos Koltai is directing it. Vanessa Redgrave is playing my mother who is on her deathbed and my sister and I go to be with her. Claire Danes is playing Vanessa as a young woman, and she starts to remember about this love of her life that Ive never heard of, and sort of a very beautiful, moving, stunning story. Then Im working with Alan Ball on his untitled summer project and thats really kind of a confronting, intense piece." And to liven things up, Collette is set to co-star in a new Australian kids film, Hey, Hey, Its Esther Blueburger. "So far I only know Keisha Castle Hughes is playing one of the girls and its really funny and smart. To be honest, I dont have that much to do in it but I helped pretty much get it funded, and I think its really important for Australian kids to be able to see and hear themselves on screen."
Now if thats not enough, Collette has an album due out in October. "I recorded it last year with my band." Yes, apparently, Ms Collette is lead singer of the appropriately titled Aussie band, Toni Collette and the Finish. "The single comes out next month and then the album comes out at the beginning of October." Collette sees music merely "as just another direction. Ive been writing for a lot of years and I think the appropriate time presented itself and it all just happened pretty naturally." Along with the album comes a tour, and the actress/singer confirms that she starts touring in November. So how exactly does she balance a ridiculous work schedule with a relatively new husband and dog? "It helps that my husband is my drummer;" she adds, laughingly.
It seems that there is never a dull moment in the life of one Toni Collette. And by the way, her debut single can be downloaded from Australian Itunes come August!
More Female Interviews:
www.femail.com.au/interviewsfemaleactors.htm
More Male Interviews:
www.femail.com.au/interviewsfemaleactors.htm
DVD Releases:
www.femail.com.au/dvd_video_releases.htm