Toni&Guy Hair Meet Wardrobe The Revolution Begins
Established in London in 1963, Toni&Guy have over 400 Hair Salons worldwide. Unlike others, Toni&Guy believe that hair is an expression of personal style and an integral part of your look. That's why for over 15 seasons, Toni&Guy sessions stylists have been working backstage at London Fashion Week creating innovative looks for leading designers.
A very British brand with unique heritage and eclectic sense of style, Toni&Guy is proud to be at the forefront of a new style mission. Today, they introduce the amalgamation of a passion for fashion with unrivalled knowledge and expertise in hair. A credible salon brand is finally visualising hair through a fashion lens. Hair meet wardrobe.
Introducing a new Hair Styling System from Toni&Guy with specialised products and expert guidance. Every product in the new Toni&Guy collection has been carefully selected with tried and tested salon formulas to offer a total solution. The collection of products includes a Cleanse and Nourish range and a Prep range, as well as four unique styling collections, inspired by the world of fashion. Whether you want a Casual, Classic, Glamour or Creative style, we have the right combination of products for you. Designed to inspire and help you to do more with your hair and express your personal style.
Perfection happens when the right things come together. When gin meets tonic, or fish meets chips. Think big red buses and London, MODs and scooters together they become so much more. Now we bring hair and wardrobe together. From the catwalk, to the street. Giving girls and guys the tools and the techniques to stay on trend and blend outfits with hair styles, from head to toe and root to tip. Hair is the new style dictator, the fashion instigator.
Each product uses Toni&Guy's bespoke new fragrance, incorporating sparkling touches of ginger, very British earl grey tea and effervescent pink pepper. This modern memorable fragrance is crafted around contrasts, pitching a zingy top note against a bold sensuous rose, and wrapping the whole in a glamorous blend of creamy vanilla, smooth woods and soft musk, carrying your look from day to night.
This Hair Fashion instigation finally allows your hair to unite with your wardrobe, resulting in a union never seen before. Nouveau bobs to messy up dos, your style is your tweet that says how you roll - Casual to Creative, Classic to Glamour. It's time for your hair to meet your wardrobe and Toni&Guy has the right range of products to help you create your look.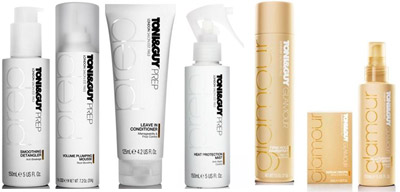 Prep
Introducing pre-styling products for any hair type…four new options for perfection and protection. Make a statement with Volume Plumping Mousse, or use the Smoothing Detangler for a sleek and polished look. Whatever your style, Toni&Guy has a range of new pre-styling products to ensure that you're prepped!
Smoothing Detangler, 150ml
Helps condition unruly, frizzy hair for a smoother, more manageable style. Advanced, anti-static formula helps protect against humidity. Comb the desired amount through the lengths and ends of towel-dried hair then heat style or air dry hair.
Volume Plumping Mousse, 222ml
Get body and bounce where it matters most: the roots. Add long-lasting body to fine, limp hair without stickiness or build-up. Before heat styling, work product through the lengths and ends of hair and comb though.
Leave In Conditioner, 125ml
All-day nourishment and hydration. Spread evenly through damp hair before styling to help tame frizz and improve manageability. Comb the desired amount through the lengths and ends of towel-dried hair then heat style or air dry hair.
Heat Protection Mist, 150ml
Helps protect against damage and breakage caused from heat styling. Before heat styling, spray evenly over towel-dried hair and comb through. Top up between blow-drying and using straightening irons by spritzing over dry hair.
Glamour
Introducing the Glamour Styling Collection from Toni&Guy…four new products to create a coveted red carpet look.
Wear a sleek and simple style using Serum Drops and Spritz and Shine Liquid Mousse with a floor length silk gown, killer heels and a slick of lipstick on the red carpet.
Firm Hold Hairspray, 250ml
Define hold and control that takes you from day to night. Anti-static and anti-humidity protection. Spray evenly over dry, styled hair. Ideal for up dos, for firm, reliable hold without fuss.
Serum Drops, 30ml
Helps prevent frizz and flyaways for a high-gloss finish. Work 2-3 drops between palms then smooth through mid-lengths and ends of dry, styled hair avoiding the roots.
Moisturising Shine Spray, 150ml
Weightless shine and long lasting smoothness. Spray evenly over blow-dried hair and brush through. Or for an added shine-boost flip hair upside down and spritz whilst blow-drying with cold air.
Spritz and Shine Liquid Mousse, 222ml
Enhances shine and boosts body at the roots. Squeeze a small amount into your palm, work through towel-dried hair from root to tip and comb through. Heat style with a diffuser or air-dry.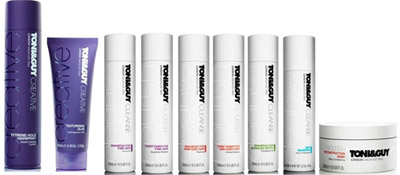 Creative
Introducing the Creative Styling Collection from Toni&Guy…two new products to challenge and express your inner self.
Wear a scruffy Mohican using Texturising Glue and Extreme Hold Hairspray with slashed jeans, a ripped t-shirt and dirty Converse at your favourite gig.
Extreme Hold Hairspray, 250ml
Long-lasting dramatic hold and total control. To create gravity-defying hold, spray over dry hair both before and after styling.
Texturising Glue, 125ml
Contours and separates layers for a firm hold whilst adding texture. Perfect for androgynous styles, fringes, textured length or layers. Work product through dry or towel-dried hair with fingers and spread from root to tip.
Cleanse & Nourish
Bring your hair back to life with Toni&Guy's new nutrient and moisture-infused shampoo, conditioner and a treatment mask. Restore your hair's healthy glow with this exciting new collection designed for lasting shine every day of the week.
Shampoo and Conditioner for Fine Hair, 250ml
Fine hair needs gentle cleansing and lightweight moisture for softness, body and bounce. Gently cleanses and nourishes to add body from the root and strengthen the hair fibre for full-bodied volume.
Shampoo and Conditioner for Damaged Hair, 250ml
Damaged hair needs special attention to prevent breakage and dullness. This advanced formula penetrates the hair fibre for stronger, healthier hair and helps prevent against split ends, repair damage and enhance shine.
Shampoo for Advanced Detox, 250ml
Deeply cleanses from root to tip to remove build-up and residue, leaving hair soft and manageable. For occasional use.
Dry Shampoo, 250ml
The best-kept backstage secret for adding body, volume and texture - used by session stylists. Absorbs grease & natural oils for second-day freshness or for a quick re-style. Advanced formula leaves no white residue
Reconstruction Mask, 200ml
Intense nourishment for softness and shine. Deep conditioning formula penetrates deep into the hair fibre for advanced repair.

Classic
Introducing the Classic Styling Collection from Toni&Guy…two new products to create an air of elegance and hint of Rule Britannia. Wear a chic chignon using Shine Gloss Serum and Medium Hold Hairspray with a dash of lace and string of pearls at The Black Tie Ball.
Shine Gloss Serum, 30ml
Lightweight formula helps control frizz and flyaways with ultra-smooth shine and alignment. Rub 2-3 pumps of serum between palms and work though lengths and ends of dry hair, avoiding the roots. Use after blow-drying to seal cuticles.
Spray Gel for Curls, 150ml
Defines, holds and revitalizes waves and curls with a soft, natural feel with no frizz. Spray lightly over towel-dried hair before styling or to retouch during the day, spray over dry hair and work through with fingers, sculpting curls as you go.
Casual
Introducing the Casual Styling Collection from Toni&Guy …three new products to get out of bed with. Wear tousled waves or a messy up-do using Sea Salt Texturising Spray and Flexible Hold Spray with a cute dress and sandals at the local beach bar.
Sea Salt Texturising Spray, 200ml
Creates texture and body with light hold. Suitable for all hair types and perfect for achieving lived-in beach look. Spray evenly from root to tip, on towel-dried hair and work through to create tousled waves with natural movement.
Forming Spray Gel, 150ml
Lightweight formula enhances waves and layers for texture with flexible hold and natural movement. Hold 6-8 inches from hair and spray evenly from mid-lengths to roots of dry or towel-dried hair then work through with fingers or a brush.
Flexible Hold Hairspray, 250ml
Lightweight hold with natural movement throughout the day. Spray evenly over blow-dried hair, styled hair or spray before heat styling for longer-lasting results.
Men
Introducing Toni&Guy's new men's range…
Demonstrate self-expression through effortless yet professional shampoo, conditioner and styling gel. Easy to use and understand, be inspired and achieve your individual style through this range of products.
Deep Clean Shampoo, 250ml
Complete hair detox. Clarifies and cleanses scalp to remove product build-up and grease. Suitable for everyday use.
2 in 1 Anti-dandruff shampoo and conditioner, 250ml
Gently cleanses and soothes itchy scalps, helping to control symptoms of dandruff, leaving scalp and hair feeling fresh.
Styling Glue, 125ml
Hard hold for dramatic style. Rub product between palms then apply through wet or dry hair for long-lasting hold.
Styling Fibre, 75ml
Creates casual, lived-in texture with a matte finish. Loosen product between palms and work through dry hair for medium hold.
Styling Pomade, 75ml
Gives smooth control with refined shine and polish. Work product between palms before spreading through damp hair. Comb through or work hair into shape with fingers for a sleek, controlled style.
The new Toni&Guy collection has launched in Woolworths, Coles, Priceline and Big W stores.
Stockist: 1800 061 027
All products have a recommended retail price of $15.99 each.
www.hairmeetswardrobe.com
Compliment with
Bobbi Brown's
full range of makeup, lipstick, mascara, foundation & skincare!
For the best in skincare & makeup try
Estee Lauder's
online store.