Taylor of London
Introducing two new Taylor of London variants...
Discover the new variants by sampling some T2 tea.
Indulge in velvety
Red Green Vanilla
. Blended with creamy vanilla spice is an elegant and refined sensation with a subtle sweetness. Making it a delicate and mellow infusion that is easy to drink and full of flavour without overpowering the senses.
Or try the soothing
China Jasmine
. A blend of green tea with jasmine blossoms which gives a full-bodied jasmine scent. A popular green tea, great for every day drinking.
Soothing Jasmine
Imagine walking through the botanical gardens in sprint time with the crisp spring breeze against your face and the welcoming aroma of Jasmine engulfing the air.
Taylor of London's Soothing Jasmine is specifically made for women who enjoy the finer things from delicate linens to lace to pearls. An elegant floral, fruity, green and musky creation that exudes a vintage charm.
The fresh green and citrus top note is tempered by hues of pink geranium, this leading to the very feminine heart of the fragrance which is composed of sophisticated white flower notes and spring jasmine.
Creamy Vanilla Orchid
Indulge your senses in a mix of delicious vanilla drizzled with fresh floral notes.
Taylor of London's Creamy Vanilla Orchid is an elegant sophisticated fragrance with key notes of Vanilla and Orchid. With top notes of Dewy petals, Lotus blossom, heart notes of Orchid and base notes of Amber (white), Musk (frosted) and Vanilla. This fragrance is an interpretation of a floral classic with a modern twist of vanilla.
With vanilla being a natural aphrodisiac the scent creates a feeling of comfort, happiness and desire.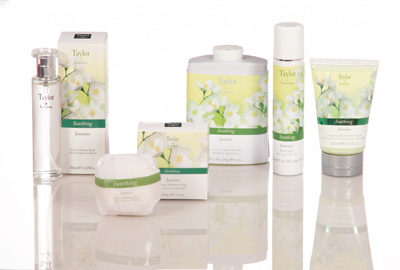 Taylor of London Product Range
Eau de Toilette 50ml: These EDT pump sprays contain a beautiful and natural blend of floral notes. Unique and elegant individually designed glass bottles with branded caps are a great accessory to have on display
RRP: $19.95
Hand and Nail Cream 125ml: A rich nourishing moisturising hand cream ideal for dry skin conditions. Softens, conditions and hydrates skin with special moisturising properties, leaving the skin silky, smooth and supple.
Flip top tube - for easy handling
RRP: $9.95