'Spotlight' is designed to give us all inspiration and confirm that anyone can make his or her business dream or that promotion a reality..." I make affordable, funky jewellery that I'd want to buy but can't find anywhere - peacock feather earings;'70's name necklaces, like the one Sarah Jessica Parker wears on Sex and the Cty, Glomesh earings, and American indian-inspired leaf earings." (Debbie Paltos April Cosmpolitan)Read on to find out about Debbie Paltos and her highly successful designer jewellery company MEOW GIRL. Profile
I fell into this firstly by being broke, then later, bored. I have studied acting for the last three years full time & for a while part-time at various institutions prior to that. Acting is my real dream and what I have wanted to do for some time now. last year while learning lines for a play, I tried to think of a way to make money, so I made little cat bracelets with diamantes in all different colours of suede. My friend & I dressed up as pussycats and strutted up & down Oxford Street on Mardi Gras selling these bracelets. We practically sold out. I was so busy with school & rehearsals that It wasn't until I graduated that I was able to start making different things. Thankfully the lovely fashion girls at the major magazines loved what I was doing so I received heaps of editorial & it just took off from there.
Fast FactsOccupation/Title
Jewellery designer/maker
Company/Organization
Meow Girl
State
NSW
Where did you grow up?
Sydney
What was your first job?
Waitress
What did you want to be when you were growing up?
I was never one of those people that new what they wanted to be. I just wanted to be happy, healthy, have heaps of fun and hope that one day I would realise what I loved doing.........it took a while!
How many hours a week do you work?
48ish
Name a movie that actually inspired you?
The Taxi Driver - amazing actors and I loved Jodie Foster's wardrobe.
Name a talent you don't have that you wish you did?
Co-ordination.....I'm extremely clumsy
What was the last book you read?
Isabelle Allende 'Daughter of Fortune'
Have you ever had a celebrity crush and if so who?
Rob Lowe about ten years ago. That guy just gets better with age
What song transports you to another place when you hear it and why?
Flame Trees - Cold Chisel. I used to love the Chisels when I was growing up and every time I hear that song it reminds me of what I used to get up to with my friends.
What is your idea of the perfect Sunday?
Sleeping, swimming at the beach & definitely a few beers in the afternoon
Looking back 10 years. Are you now, where you expected to be?
No way! I never, for one second thought I would be doing anything to do with jewellery.
What's your favourite city in the world and why?
Hmmmm, that's tricky,......pass.
What advice would you give to somebody embarking on their first business or aspiring to achieve extraordinary career goals?
Stay as original & unique as you can and just do what you love doing.
Other Jewellery at MEOW GIRL includes Threads, Glomesh earings and whats featured below.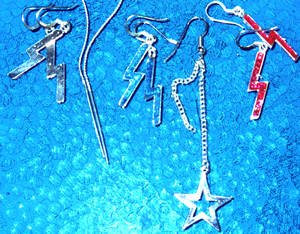 Contact Meow Girl directly

Telephonee: 61 2 9328 4664

Facsimile: 61 2 9328 4665

Email: meowgirl@hotmail.com.au