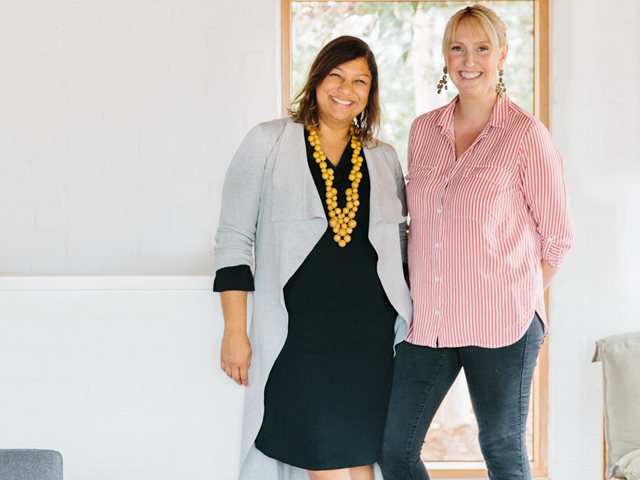 Inspiring Instagram Females
Kribashini Hannon and Rebeka Morgan created @buildhercreative to empower women by equipping them with the right tools to build the home of their dreams. Build her Creative is designed specifically for women to give them the right advice and support to build and renovate.

With over 1 billion people using Instagram globally, Instagram and other online tools present an opportunity for women behind SMBs to share their work, interact, engage and support with people worldwide who share a common passion.


Interview with Kribashini Hannon and Rebeka Morgan
Question: What is BuildHer Collective?

Kribashini Hannon and Rebeka Morgan: Primarily we're a Collective of Women all building and renovating their homes or investments. Buildher Collective has an online course that covers all aspects of the building and renovation process to help these women.

Whether you're just wanting to make small cosmetic changes, large extensions, new builds or start developing, our course has you covered.

We also offer consults, run webinars, workshops and weekends away that are more intensive one on one time. But we're more than just that - BuildHer Collective is a nurturing family where women come together to learn about the building and renovating process.

We have an online community where you can post questions to fellow BuildHers about your project and will be greeted with useful responses to help you, we have fortnightly Q & A sessions, plus our BuildHer's Blackbook where you can buy like a builder and purchase a lot of building materials, fittings and fixtures for your build/reno at trade price.

We like you to feel that you're not alone during this process that can sometimes feel daunting and overwhelming.


Question: What inspired you to create BuildHer Collective?

Kribashini Hannon and Rebeka Morgan: We both have a passion for the building industry; we've lived it and breathed it for so many years now. We found that so many friends and family members would always come to us with problems and questions when they were renovating or building and one day on a holiday in Italy together, we discussed that there was definitely a way to help a broader community of women with the same issues. This is where the idea of BuildHer Collective was born.


Question: How does BuildHer Collective typically help women building the home of their dreams?

Kribashini Hannon and Rebeka Morgan: Knowledge is power so they say. We arm them with the knowledge of the process, what to expect, when to expect it, who to hire and how best to plan for the journey ahead. We provide worksheets, spreadsheets and a ton of information that we hope empowers them to not only have confidence to take on their build or renovation, but to rock it! Our BuildHers are a community of likeminded women, all going through similar processes and are there to support their fellow BuildHers along the way.


Question: Why was it important that BuildHer Collective support only women?

Kribashini Hannon and Rebeka Morgan: It's not our aim to discriminate against the guys here, but let's be honest, building and tradie land is a male dominated industry. Giving women a deeper understanding of the process and the decisions that need to be made, not only benefits them by way of making them feel more confident, but we believe it helps all involved in the process (i.e. those very same builders and tradie's and designers too). We also believe that women tend to approach the process from a different angle, so our teachings are geared to that way of thinking.


Question: What is your top piece advice for a women looking to build a home?

Kribashini Hannon and Rebeka Morgan: Never lose sight of your vision. Create YOUR dream home and nobody else should tell you how to live!


Question: How has Instagram helped you spread BuildHer Collective advice?

Kribashini Hannon and Rebeka Morgan: Our industry (or the outcome) is very visual. A completed beautiful home evokes emotion in women, so imagery on our feed can be very powerful. Drawing them into ask the question 'Can I achieve that?' and then leading them to our business and giving them the tools and confidence to do it.


Question: How do you use Instagram?

Kribashini Hannon and Rebeka Morgan: The way in which we use Instagram has evolved considerably. In the beginning it was all about the pretty pictures, but now we're more strategic, I guess. Stories and video allow us to really 'tell a story' – display our personality and really give our followers an insight into who we are, what we do and how we can help them achieve their property goals. It really is invaluable to spreading the BuildHer love.


Question: What's a typical day like, for you?

Kribashini Hannon and Rebeka Morgan: We're still a small business and a small team, and we each (try to) only work 3-4 days a week aiming to keep that work / life balance. On a work day it'll be into the office for a quick check of emails and online messages. Look over the week ahead and what is top priority. Check in with the team to see where they're at with their current projects and if they need any assistance. We're currently rolling out a second version of our course, so we're knee deep in content development and filming, so that takes up a lot of our time. We might take a consult call or site visit to one of our BuildHers or stuck in planning meeting for some exciting projects we have coming up!


Question: What's next for BuildHer Collective?

Kribashini Hannon and Rebeka Morgan: Funny you should ask that! Exciting times ahead… We're in the throws of releasing a program aimed at women either wanting to Develop property or already doing it. It's called the DevelopHer Inner Circle. It's different to our course in that it will be a monthly subscription package providing varied information specific to developing for profit. It's very exciting. Plus, we may, or may not be working on a Podcast!


Interview by Brooke Hunter