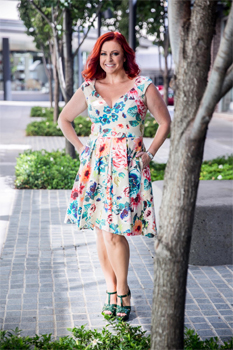 Shelly Horton Hay Fever Help Interview
Leading Australian lifestyle and media commentator Shelly Horton has sprung into action launching a new health campaign urging people to get on top of their hay fever symptoms by visiting a doctor this spring.

The initiative called Hay Fever Help, comes as over three million Australians may experience troublesome symptoms such as nasal congestion, itchy red or watery eyes, runny nose and sneezing during the spring season. People with related conditions like asthma are also encouraged to think ahead as studies show up to 80 per cent of people with asthma also experience symptoms of hay fever.

Hay Fever Help highlights the important role doctors can play in helping manage hay fever which affects 15% of Australians. A GP is well placed to assist patients as they can evaluate a patient's lifestyle, symptoms and previous medical history to work out what management option suits them best. However, a 2015 survey shows over half (53%) of Australians with hay fever have never sought advice from a GP to manage their symptoms. One in five also reported they were unaware a doctor could offer them advice and treatment for hay fever.

Shelly Horton has lent her support to the campaign, speaking out for the first time about her experiences suffering with hay fever from a young age.

'Growing up in Kingaroy (QLD) which is famous for peanuts, meant harvest seasons were particularly tough for me because the dust was always in the air. It really intensified my symptoms and I struggled for years, even after I moved away. It could even snowball into sinus pain or a toothache which was excruciating."

'I tried over-the-counter options but the relief was limited and temporary for me. I don't know why it took me so long to go see a doctor to get help. I'm hoping by sharing my story it will encourage others to do the same. No one should have to live their lives inconvenienced by hay fever," said Horton.

Professor Connie Katelaris, Consultant Immunologist/ Allergist at Campbelltown Hospital, says patients should go to their GP as the first port of call rather than as a last resort.

'Spring can be a particularly trying time for people affected by hay fever. This campaign aims to encourage people who have uncontrolled symptoms to seek help from their GP before the season is in full swing. People often put up with symptoms that can have a huge impact on their daily life despite the availability of a range of effective treatment options."

'People also don't realise persistent hay fever can be mistaken as a permanent cold and as a result treat it incorrectly. Your GP can help clarify your symptoms and determine the treatment option and management plan that is right for you," said Professor Katelaris.

People with hay fever can visit www.HayFeverHelp.com.au to check the daily pollen prediction and find out more information. They can also join the conversation on social media by using #HayFeverHelp.



Interview with Shelly Horton
Question: What is the Hay Fever Help campaign?

Shelly Horton: It's simple really, if you suffer from hay fever you should speak to your doctor about managing it. No more sneezing and sniffling in silence.


Question: Why did you decide to be a Hay Fever Help ambassador?

Shelly Horton: I'm a major over-sharer so once I got a doctor to help me, the relief was incredible and I wanted everyone to know about it. I think hay fever sufferers tend to think it's just something they have to put up with and use over-the-counter medication to mask symptoms so I felt there was a real need to increase awareness.


Question: When did you first get hay fever?

Shelly Horton: I've had hay fever for as long as I can remember. I grew up in a small Queensland town called Kingaroy, famous for peanut farming. Every year at harvest time the dust in the air would trigger my hay fever.


Question: What are your hay fever symptoms?

Shelly Horton: I start sneezing, my eyes water, the roof of my mouth is itchy and I get a runny nose. When it's really bad I get a stabbing pain behind my eyes.


Question: How do you treat your hay fever?

Shelly Horton: Instead of treating my hay fever after the symptoms hit, my doctor got me onto a treatment program that is more preventative.


Question: What made you visit your doctor to treat your hay fever?

Shelly Horton: I'm embarrassed to say I didn't even think to see a doctor until last year. It was spring and I had my usual hay fever but it was leading up to my wedding so I was working out a lot. I was doing yoga and whenever I did downward dog I got excruciating pain in my back tooth. Also whenever I went for a jog when my left foot hit the pavement my tooth hurt. So I immediately booked in to see my dentist. He told me my hay fever had caused a sinus infection that was pushing on my tooth. There was nothing wrong with my tooth at all. That made me realise I needed professional help.


Question: What advice do you have for those with hay fever?

Shelly Horton: See your doctor! If you want more information go to www.hayfeverhelp.com.au it can even give you a pollen count reading for your area so you can be prepared for the day.


Interview by Brooke Hunter