Kym Ellery The ELLERY Eyewear Collection Interview
The range features strong, architectural silhouettes that are both dynamic and innovative. With an eye for aesthetics, the ELLERY eyewear collection expresses a sophisticated signature style, brought to life through an exploration of exaggerated shapes and rich textures. The collection has been designed for the wearer looking for masterful design, quality and unexpected details.

The fresh wearable styles with a retro edge include; playful twists on the modern cat's eye, graphic oversized square and round shapes. A gold eye insignia, set with a crystal stone can be found on every frame and each pair of ELLERY glasses is branded with a gold foil logo.

A colour palette of black, marbled charcoal, tortoiseshell, cobalt blue, bottle green, gold and brushed gold was chosen to offer the wearer a selection of classic, yet modern and avant-garde glasses to complement and enhance their individual style.

For Kym Ellery, designing the new range presented an opportunity to explore the sartorial role that eyewear plays in the style of its wearer.

"For me eyewear is a crucial part of personal style and I am thrilled to have been given the opportunity to create a collection of frames with Specsavers."

'When designing, I focus on creating modern classics for intelligent women and this eyewear collection is no exception."

'For the range, I was inspired by cinematic personas throughout the decades. I looked at archetypal roles such as Diane Keaton in Annie Hall, Susan Sarandon in Thelma and Louise and of course, Woody Allen as himself, Woody Allen. The aesthetic of the ELLERY collections is to combine masculine with feminine, and the ELLERY eyewear collection is a natural extension of this," said Kym.

About the partnership
As one of Australia's most coveted luxury designers, ELLERY was a natural choice for Specsavers to partner with to produce this unique and striking range.

Formed from a shared passion for the idea that glasses play a central role in the expression of personal style, the Specsavers and ELLERY partnership builds upon the success of Specsavers' past collaborative ranges.

From Specsavers' perspective, eyewear is right at the heart of personal style. As Head of Frames at Specsavers, Juan Carlos Camargo, puts it, 'There is no other item which is as immediately noticed or as frequently worn, so giving people the choice of beautifully-designed, genuinely cutting-edge eyewear is an exciting and important part of what we do."

Affordably priced from $199 - $249 the range will be exclusively available at Specsavers stores across Australia from 28 July 2016.




Interview with Kym Ellery
Question: How would you describe the ELLERY eyewear collection?

Kym Ellery: It's a collection filled with modern classics, it has a lot of silhouettes that are inspired by architectural shapes. We looked at different trends such as bold, round and cats-eye to really be the main focus in the collection.


Question: What inspired this range?

Kym Ellery: For the range, I wanted it to really be about the ELLERY customer, I wanted the range to embody the ELLERY brand which, for us, is about modern classic and creating garments of quality that will age well and are not overly trend focused so that we can empower intelligent women through our designs.


Question: Can you talk us through which characters inspired certain glasses in the collection?

Kym Ellery: We looked at iconic film personas for the range such as Susan Sarandon in Thelma and Louise, Diane Keaton in Annie Hall and Woody Allen who plays as himself in Woody Allen films. I felt as if those three characters really covered three very strong personalities that we wanted to capture with the range.


Question: Who do you envision wearing your ELLERY eyewear collection?

Kym Ellery: I see both men and women wearing the ELLERY eyewear collection as I think that it is really for young and old. We wanted the range to be diverse and speak to a lot of different people – whoever is ready and game to try it on. I'd love to see everyone in the frames.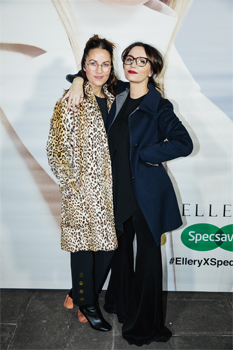 Question: Why did you choose to work exclusively with Specsavers?

Kym Ellery: Specsavers is one of Australia's most iconic retailers so for me it was a really natural choice and for me and having not ever designed glasses before it felt like a great collaboration to work with someone who's focus and expertise really lies in eyewear; it was a perfect pairing.


Question: Can you talk us through how to rock the oversized look?

Kym Ellery: I love oversized glasses. I was saying earlier to a friend that I think it's because my head is probably a bit bigger (laughs) physically and metaphorically as well (laughs). I really like the bold glasses because glasses are an extension of your personality and a key part of style. For me I feel most comfortable in a bold shape.


Question: What's the best business advice you've received over the years?

Kym Ellery: To follow your gut and trust your intuition.


Question: What's next, for you?

Kym Ellery: At the moment we are working on our new show, in Paris that we have scheduled for the 4th of October and currently designing the collection. Also, we are working on our new store which will be opening at Five Ways in Paddington imminently – it's been a very exciting project to create a true store that we will keep as a template for our international roll out of additional physical stores.


Interview by Brooke Hunter