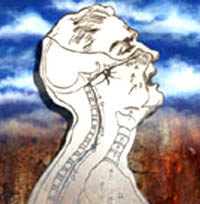 CHIROPRACTIC MYTHS AND TRUTHS

"I'M NOT IN THAT MUCH PAIN, DOC"

Did you know that 90% of the nerves in our bodies do not perceive pain? Only 10% of our nerves perceive pain. Subluxation can't be felt, the effects may be terrible, much like clogged arteries can't be felt, but many lead to a heart attack.

WHY DO I NEED TO CAME BACK IF I FEEL GREAT?

As we know, only 10% of our whole nervous system is dedicated to telling us when there is a problem, so by simply relying on when we feel good is negating 90% of our health. Feeling does not equal healing. By the time you have reached age 20 you have probably brushed your teeth 12,744 times!!! Surely if the average age is 72, then you would have brushed your teeth enough?

Do you service your car only when it breaks down? Your spine - unlike your teeth- can never have a filling or be replaced.

HOW IS MY PROBLEM RELATED TO MY SPINE?

The most important part of your body is your nervous system: it is the master controller. The spine is the protection, minor bumps and falls: poor posture etc may put pressure on your nerves due to an incorrect position of the spine. This can cause horrible pressure; the nerves supply every cell in your body, from your heart and lungs, to your digestion, to your speed of thought. Nerve pressure may act like a tourniquet, squeezing the necessary flow of impulses to the cells it is supplying.

WILL IT HURT?

NO, no. no. The techniques used are safe, gentle and effective, we have cared for babies - literally hours old, to patients well into their 80's. Chiropractic is one of the safest and most gentle healing arts in the world.

Did you know that athletes from Tiger Woods to Michael Jordan use Chiropractic to enhance their life and performance?

How well do you want to perform?

CONTENT PROVIDER
ABOUT SIPSER FAMILY CHIROPRACTIC

Our purpose is to educate and adjust as many families as possible toward optimal health through natural chiropractic care. Our vision for our patients is to be healthy, enthusiastic, informed and powerful and powerful and make you aware that 'the power that made the body, heals the body'. Our job is to mould your spine to the manner that was intended for it, thus releasing all the healthy nerve messages that need to keep all your organs disease free. Our care is safe, gentle and exceptionally effective, using only the most researched and advanced techniques in the world. When spinal vertebrae shift out of place, horrible pressure is put onto the nerves and spinal cord causing interruption of the necessary nerve flow. This condition is VERTEBRAL SUBLUXATION. Nerve interference can cause breakdown wherever your nerves go, that is why our patients are referred with ear, nose, throat, chest, lung and abdominal interferences. Why wait for this damage to occur? We all need a healthy nervous system for life. SFC is a Centre for healing, information, and education. There is no age limit. Dr Warren Sipper is focused on restoring your health and keeping it as vital as it should be. Dr Warren is furthering his studies toward a Masters in Peadiatric Chiropractic in order to provide the best care for our children.

We are committed to your health, are you?