Sanchia Aranda Gotcha Covered Interview
Cancer Council has revitalised the way it helps Aussies protect their skin and eyes from the sun's harmful UV rays by launching a new collection of contemporary sun protection products. The range includes innovative new sunscreens, sunglasses in fresh designs and smart apparel and accessories.

The collection has been designed specifically around Cancer Council's sun protection guidelines and the famous Cancer Council motto when it comes to sun protection: Slip, Slop, Slap, Seek (shade) and Slide (on sunglasses). The product range embodies the message that Cancer Council has -Gotcha Covered' when it comes to sun protection.

For decades Australians have relied on Cancer Council's sun protection products, especially designed for the unique Australian climate. The product update includes a new emphasis the on Aussie sense of style when it comes to sun protection - the pieces are relaxed, fun and simple. Signature brand colour palettes and recognisable Cancer Council patterns and slogans have been introduced. A key motif is the Zinc swish – the ultimate icon of sun protection!

In addition to providing the highest standards of sun protection, every Cancer Council branded piece, raises funds for cancer research, treatment and support.

Cancer Council Australia's Head of Licensing, Vivienne Mellish, said Cancer Council's updated range offered the level of sun protection Cancer Council was famous for, but with a new injection of style.

'Cancer Council's emphasis remains on quality items to help Aussies protect themselves from excess UV exposure to make sure we've -Gotcha Covered'. Importantly, the sale of all items helps raise funds for cancer research, patient support services and cancer prevention programs."

Skin cancer is the most common cancer diagnosed in Australia, with between 95-99% caused by excess exposure to UV. The incidence of skin cancer in Australia is one of the highest in the world, two to three times the rates in Canada, the US and the UK.

Overview of new products in the range
Sunscreen
Hats – wide brim and legionnaire
Sunglasses
Goggles
Rash vests
Shorts, board shorts, stinger proof shorts and tights
Hoodies
Leggings
Baby wear including swim nappies
Umbrellas
Cosmetics and tote bags

Where to purchase:
cancercouncilshop.org.au
Cancer Council stores nationally
For more information about the product range call 1300 363 433.

For more information about protecting yourself from the sun, visit: cancer.org.au/sunprotection
And to find out more about Cancer Council visit: cancer.org.au



Interview with Cancer Council CEO Sanchia Aranda
Question: Can you tell us about the new sun protection range, Gotcha Covered?

Sanchia Aranda: Cancer Council is well known for its high quality sun protection products. This year we have refreshed that product range – the new Gotcha Covered collection includes a selection of clothes, hats, sunglasses and sunscreens that appeal to the fun and relaxed outdoor Australian lifestyle. Each piece in the collection looks great yet still provides the highest standard of sun protection. Plus, proceeds from the collection raise funds for cancer research, treatment and support.


Question: Why did you choose to include hoodies and leggings in the new range?

Sanchia Aranda: We set out to create a chic and comfortable collection that matched the outdoor Australian lifestyle. The leggings can be used for your daily walk or run, or even as a swimming garment. The fabric is certified UPF 50+ and is also chlorine resistant. Whilst the focus of the range is on sun protection we saw scope to add items like the hoodie for those cooler moments when the sun goes down.


Question: What inspired the new range?

Sanchia Aranda: We wanted the Gotcha Covered collection to reflect the Australian sense of style combined with a strong focus on sun protection. The product range embodies the message that Cancer Council has -Gotcha Covered' when it comes to sun protection. The collection has been designed specifically around Cancer Council's sun protection guidelines and the famous Cancer Council motto when it comes to sun protection: Slip, Slop, Slap, Seek (shade) and Slide (on sunglasses).


Question: Why is it important for Australians to be protected from the sun?

Sanchia Aranda: Skin cancer is the most common cancer diagnosed in Australia. Between 95-99% of incidents are caused by excess exposure to UV. Sadly around 2000 Australians die from skin cancer each year, yet most skin cancers can be prevented. So, it's important that people are SunSmart whenever UV levels are 3 or above in order to try and reduce the incidence of skin cancer in Australia.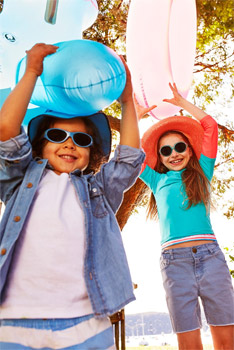 Question: Can you talk us through the basics for sun protection?

Sanchia Aranda: When the UV level is 3 or above, Cancer Council encourages Australians to protect themselves against sun damage and skin cancer by using a combination of these five steps:

(1) Slip on some sun-protective clothing that covers as much skin as possible
(2) Slop on broad spectrum, water resistant SPF30+ (or higher) sunscreen, reapply every two hours or after swimming or towel drying
(3) Slap on a hat – broad brim or legionnaire style to protect your face, head, neck and ears
(4) Seek shade
(5) Slide on some sunglasses – ensuring they meet Australian Standards


Question: What is the difference between skin cancer and melanoma?

Sanchia Aranda: There are three main types of skin cancer - melanoma, basal cell carcinoma, and squamous cell carcinoma. Both basal cell carcinoma and squamous cell carcinoma are known as non-melanoma skin cancers and are more common.

Melanoma is the most dangerous form of skin cancer. Around 11,000 people are diagnosed with melanoma each year.

Each year over 2,000 people die from skin cancer in Australia. The majority of these deaths (approximately 1,500) are due to melanoma, with around 500 deaths being caused by non-melanoma skin cancers.


Question: What should we look out for on our skin?

Sanchia Aranda: The sooner a skin cancer is identified and treated, the better your chance of avoiding surgery or, in the case of a serious melanoma or other skin cancer, potential disfigurement or even death.

It's important to get to know your skin and what is normal for you, so that you notice any changes. Skin cancers rarely hurt and are much more frequently seen than felt. Develop a regular habit of checking your skin for new spots and changes to existing freckles or moles and head to your doctor straight away if you notice any changes or anything unusual. The Cancer Council website provides detailed information on how to check your skin cancer.org.au/checkyourskin


Question: How does a melanoma develop?

Sanchia Aranda: The majority of skin cancers in Australia are caused by exposure to UV radiation in sunlight. Sunburn, tanning and solarium use have all been linked to developing skin cancer and melanoma. Sun and UV exposure that doesn't result in burning can still cause damage to skin cells and increase your risk of developing skin cancer. Evidence suggests that regular exposure to UV radiation year after year can lead to skin cancer.


Question: Who is at a greater risk of developing skin cancers?

Sanchia Aranda: Anyone can be at risk of developing skin cancer, though the risk increases as you get older. The majority of skin cancers in Australia are caused by exposure to UV radiation in sunlight.

The risk of skin cancer is increased for people who have:

increased numbers of unusual moles (dysplastic naevi)
fair skin, a tendency to burn rather than tan, freckles, light eye colour, light or red hair colour
had a previous skin cancer.

In addition to the general skin cancer risk factors above, melanoma risk is increased for people who have:

depressed immune systems
a family history of melanoma in a first degree relative
had a previous melanoma or non-melanoma skin cancer.

Over 434,000 people are treated for one or more non-melanoma cancers in Australia each year and over 11,500 people are treated for melanomas.


Question: What are your top tips for choosing sunglasses?

Sanchia Aranda: Before buying sunglasses, it's important to check that they meet the Australian/New Zealand standard (AS/NZS 1067:2003) some glasses are designed for fashion purposes only. This is usually indicated on the tag. If you are buying sunglasses for your children, make sure they aren't just toys.

You should look for sunglasses with a lens category 2 or 3. Category 0 and 1 lens are used for glasses that provide only low or limited UV protection and therefore are for fashion purposes only.

Category 4 glasses are special purposes sunglasses, usually for people who require extra levels of UV protection at work and should not be used for driving.

Good sunglasses don't need to be expensive. Darker-tinted or polarised lenses may be required to reduce glare, however the darkness or colour of the lens does not indicate the level of UV protection.

Your sunglasses should also be close fitting or wrap-around to prevent UV coming in the sides. You should also wear a broad-brimmed or bucket style hat and apply sunscreen on your face to help protect your eyes and the skin around them.


Interview by Brooke Hunter