RINKO TAKES ON BABEL.
Interview by Paul Fischer in Los Angeles
Few outside of Japan may have heard of the beautiful Rinko Kikuchi, but those of us who have already seen Babel, are already raving about the actresss extraordinary and brave performance as a deaf teenager dealing with your budding sexuality, guilt of your mothers suicide and the pangs of feeling an outsider in contemporary Japan, in one of the powerful storylines of the powerful film by director Alejandro González Iñárritu, which stars Brad Pitt and Cate Blanchett. With the help of a translator, Paul Fischer talked to the actress about this complex and difficult character.
Paul Fischer
: Did you have any concerns in taking on such a very difficult role?
Rinko Kikuchi
: There was no fear or concern because during the period of one year of this film I built up trust between the cast and the director.
Paul Fischer
: Im sure a lot has been said about the nudity in the film. What kinds of concerns did you have about playing such a sexual character?
Rinko Kikuchi
: So my concern was not the nudity itself, my concern was that the most important part of the film to describe her emotionally. So the nudity itself was not my concern.
Paul Fischer
: What were your particular challenges in playing this character and could you identify with her in any way?
Rinko Kikuchi
: The most challenging part was how to express her emotions through the language or her way of communication because I wasnt speaking.
Paul Fischer
: So what do you use, what do you use in your acting to be able to convey so much without speaking?
Rinko Kikuchi
: Everything else like the whole body movement and the expression of the face.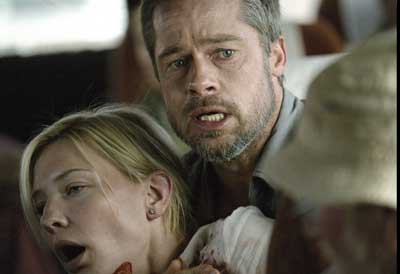 Paul Fischer
: Is this a character that you could identify with?
Rinko Kikuchi
: I can only look for something in this character that is I can relate to that as a female, to hold on to somebody.
Paul Fischer
: Do you thing this is a realistic portrait of contemporary Japanese youth?
Rinko Kikuchi
: There are some parts that are those punk young teenagers also those who are regular orthodox teenagers as well and I think its the same as any of your country.
Paul Fischer
: Were their any cultural or language problems in doing a film like this with this particular director?
Rinko Kikuchi
: I didnt have any communication problems because we are built up some trust through the whole process.
Paul Fischer
: Now youve been getting a lot of attention I think for this movie, has it opened up any doors for you?
Rinko Kikuchi
: Because of the publicity of this movie, because it is very international, I have got to meet all these people in various countries and Ive got to travel to various countries as well in which I usually dont get this kind of publicity in Japan.
Paul Fischer
: Do you want to work outside of Japan?
Rinko Kikuchi
: There are many talks outside of Japan but nothing really concrete.
Paul Fischer
: What is you planning on doing next?
Rinko Kikuchi
: Im making a comedy film in Japan, but right now I am concentrating on the promotion of Babel.