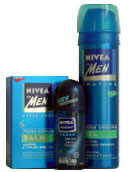 Nivea - Men's Fresh Pack
FRESH COOLING GEL
Quickly massages into a rich lather that ensures a closer, smoother and gentler shave, leaving skin feeling smooth, supple and invigorated. Protects the skin against razor burn, irritations and moisture loss while shaving. Enriched with Menthol and Vitamin F, it cools and invigorates the skin and leaves skin smooth, refreshed and looking healthy.
FRESH COOLING BALM
Gently soothes, refreshes and conditions your skin after shaving. The light, non-greasy and quick absorbing balm, will leave your skin feeling smooth, refreshed and relaxed long after application. Protects your skin against irritations and inflammations that can occur after shaving. Enriched with Menthol, Vitamin E and Provitamin B5, delivers immediate cooling and invigorating skin sensation. Provides the skin with valuable moisture and keeps it looking healthy, supple and refreshed.
FRESH ROLL-ON
24 hour performance ensures all day effective protections from dampness and odour as well as caring for your skin. The Anti-Perspirant Deodorant formula combines caring ingredients that guarantees effective protection and mild care, with a fresh, masculine fragrance. Containing no alcohol, preservatives or colorants, as well as being dermatologically approved, NIVEA Deodorant Fresh Roll-on ensures effective care and protection all day long.