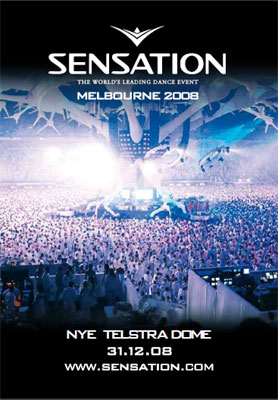 NEW YEARS EVE TELSTRA DOME SENSATION

LIKE NO OTHER IN A CITY LIKE NO OTHER

It's a Melbourne thing -big events with real cultural bang.

Since the end of the last century, the Australian city with so much 'savoir faire' per square centimetre has delivered some seriously superior occasions which at times have made the world sit up and take notice. If there was a moment missing from the Melbourne calendar, however, it was a serious NYE celebration.

Missing no more. Melbourne's Telstra Dome is to host the Southern Hemisphere's first Sensation event on December 31, 2008. Telstra Dome, the biggest covered venue in the Southern Hemisphere, will play host to a glamorous, atmospheric and evocative evening of music, dance, theatre and glamour to rival the world's biggest and best New Year's Eve events.

For ten hours, dancers, acrobats, amazing light shows, stadium scaled-sets and props and a spectacular pyrotechnic component will contribute to the celebratory style of the occasion and wrap Australia's New Year revellers in the Sensation vibe.

Renowned across Europe as the world's finest dance party exponents, Dutch based ID&T, the company behind Sensation has perfected an approach to large-scale party events that takes it to 'another level.' Sensation is about positivity, theatre, glamour and sophistication; the place to escape the everyday for people with open minds and healthy attitudes.

Sensation has identified Melbourne as the appropriate place to kick off its Southern expansion because Melbourne understands style. In addition, there is a strong understanding of dance culture in the city.

"What I really like about Melbourne is the city feel," says Sensation director, Duncan Stutterheim.

"We want to grow something and in Melbourne this can occur because the city is so connected. It is a fashionable city and we do like people to get dressed up. It really meets a lot of criteria. Melbourne is also a very dance literate city," he said.

The CEO of Telstra Dome, Ian Collins AM, said the venue was a perfect fit for the Sensation event.

"We have sent key members of our team to Amsterdam and as a result of what they have seen, we are convinced this will be a spectacular and exciting New Year's Eve event for Melbourne," he said.

"Other than staging major sporting fixtures Telstra Dome has hosted many fantastic and innovative events ranging from U2 concerts to the recent Days in the Dioceses' Mass," he said. "This is just one more, albeit a very exciting event, which will further identify Telstra Dome as one of the world's premiere sports and entertainment precincts," Mr Collins said.

Hundreds of thousands of discerning Europeans have been getting the Sensation experience for the better part of a decade. Like an exotic holiday at a luxury resort, Sensation is a place for anyone seeking a joyous and healthy escape from everyday life. This is a theatrical and glamorous event that owes more to the grand mask balls of Europe than the more doof-doof parties of England.

Sensation ticket holders will be able to book tables and even dinner on site, creating an atmosphere of a grand ball with a modern party twist. Sensation will be the place to be in Melbourne on New Year's Eve .

Book now to be a part of this. And be part of the night, dress in white. Tickets on sale Monday 4th August go to www.ticketmaster.com.au


. SENSATION LINE-UP ANNOUNCEMENT

After months of wild speculation the world's leading dance event SENSATION has announced a stellar line-up of the world's hottest DJs from across Australia and round the world to spearhead its NYE event at Melbourne's Telstra Dome.

An impressive combination of international and local superstars will be present to fly the Sensation flag for the brand's Australian debut, including one of house music's favourite sons, Colombian born producer/remixer Erick Morillo. There is very little in the world of music that this trailblazing internationalist has not turned his deft hand to including chart topping producer and remixer to the stars (Macy Gray, Puff Daddy, Basement Jaxx) however it is a high profile DJ that Erick is currently one of the most in-demand and instantly recognisable in the world. From the blinding success of his weekly 'Sessions' parties in New York, to hosting events like the annual road-blocking Subliminal Sessions parties in Miami through to his now infamous weekly party nights in Ibiza!

As previously reported, Holland's Fedde le Grand continues on an incredible journey around the globe. Initially propelled by the monumental success that was the 2006 hit single "Put Up Your Hands For Detroit" Fedde's rise to stardom has been nothing short of a Cinderella story with Fedde now working with household names such as Will.i.am and Madonna. The Flamingo don will be joined at Sensation by Danish divas Ida Corr and Camille Jones, each of whom will perform their smash hit collaborations with Fedde himself ("Let Me Think About It" and "The Creeps", respectively)!

Dutch electro and tech trance maestro Marco V makes his much anticipated return to Australian shores and he could not be more hot right now! From headlining more Sensation events than any other artist as well as world-renowned events like Trance Energy to his current club collaboration with Sander van Doorn, Marco is a man on fire! Rounding off Sensation's international smorgasbord are Irish trance and techno prodigy Bryan Kearney, Flamingo Nights new posterboy Funkerman and straight from sunny Ibiza comes UK DJ Helena.

Never one to forget the local talent the SENSATION team have hand selected an array of Australia's biggest, brightest and best artists. Best in show include Australia's No. 1 DJ Tydi, alongside the likes of John Course, Grant Smillie, Timmy Trumpet, Baby Gee, Trent McDermott and Chardy.

And the real star of the night, RELEASE, the SENSATION Megamix - a journey through the most memorable anthems in the history of dance music, set against spectacular visuals.

Four rooms will cater to all dance music aficionados, including house, electro, trance, minimal, techno and indie:

SENSATION MAIN
BEN MORRIS (NSW)
ERICK MORILLO
GRANT SMILLIE & JOHN COURSE
FEDDE LE GRANDE
'RELEASE'
MARCO V
TYDI (QLD)

SIDE ROOM
AHMET ATASEVER
BEN EVANS
BABY GEE (QLD
) TRENT MCDERMOTT
BRYAN KEARNEY (IRE)
PAPA SMURF
DR WILLIS

DELUXE1
JAMES ROSALES
JODIE MCLEOD
TIMMY TRUMPET (NSW)
FUNKERMAN (NLD)
HELENA (UK/IBIZA)

DELUXE2
BRIGHT WHITE (LIVE)
THE CUT (NSW)
CHARDY
AGENT 86
IVAN GOUGH
ACID JACKS

Testament to SENSATION'S worldwide reputation as the best dance event is the fact that over 18,000 tickets to the Melbourne NYE event have been sold, prior to any line-up announcement.


About Sensation

Sensation commenced in Amsterdam in 2000, and since then, over half a million people have experienced one of the most spectacular dance and music phenomenons in the world.

The first Sensation took place at the Amsterdam ArenA - home of the Ajax Football Club -and was experienced by 20,000 revellers. The following year, Sensation as we know it was born. As a tribute to his brother Miles, who helped found ID&T before sadly dying in a car accident, Sensation CEO, Duncan Stutterheim, asked visitors to dress in white as people did at Miles' funeral. Numbers had doubled from the first year and eighty percent of the 40,000 attendees were decked out in white attire, creating an image so staggering that the dress code has remained the same ever since.

World-renowned DJs take to the Sensation decks during each eight-hour spectacle, which includes extraordinary stage shows, acrobats, actors, state-of-the-art light shows, laser and fireworks. Performers dance across the venue and abseil from the roof while flames shoot from the stage and carnival floats part the crowd.

Some of the world's best DJs have played Sensation over the years, each taking the partygoers through the night as the perfect musical accompaniment to the unfolding show, making Sensation what it is today. Tiesto, Sven Vath, Armin van Buuren, Carl Cox, David Guetta, Richie Hawtin, Axwell, Fedde Le Grand, Steve Angelo, Sebastian Ingrosso, Erick Morillo have all graced the Sensation stage, with many referring to it as the highlight of their career.

As Sensation's reputation has grown, the music has evolved and taken on its own style. It is not just about booking the biggest name DJs anymore, it is about choosing the people who can make Sensation the best event possible by playing the most cutting edge music of today and tomorrow. Sensation also continually champions the local heroes, the stars of the moment and the stars of the future, with local DJs who are handpicked to open or close the show in their home country in front of their home crowd.

Besides the DJs and performers, the renowned Megamix is, for many, an exciting climax of any Sensation show, setting it apart from all other dance events. This moment during the show is when the music and the crowd, not the DJs, are the stars. Compiled by one of the musical masterminds of ID&T Sensation, this musical trip through history features a range of old and new classics, accompanied by a spectacular show and fireworks display.

With a different theme every year -from Space to the Garden of Eden to Ocean of White -every single show is completely different. The new theme is launched at the Amsterdam edition each year before travelling the globe.

Sensation has expanded beyond Amsterdam, with shows in countries across Europe including Germany, Belgium, Russia and Poland. And keep checking the tour schedule for 2009 - Sensation is planned to wow revellers in 22 countries including Australia, Spain, UK, South America and more.