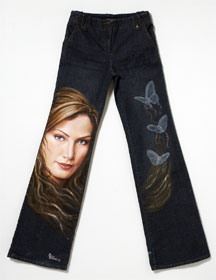 Friday 6th August.
Multi ARIA and Logie award winning singer, song-writer and actor Delta Goodrem has shown her support for the Children's Medical Research Institute (CMRI) by donating a pair of her own jeans for national Jeans for Genes Day 2004.
The jeans have been painted with a portrait of Delta showing her poise and style. Artist Garry Fleming also added a few butterflies, including her favourite images.
Delta's jeans will not only be a highlight at the annual celebrity jeans art auction, but will also be the image on the badges for sale in 2004.
'I was extremely happy to join others in the music industry this year anddonate a pair of my jeans to "Jeans for Genes" which is a great cause. TheChildrens Medical Research Institute does important work and I hope themonies raised this year will go a long way to finding the cures we all hopefor,' she said.
The past few years have been an incredible ride for Delta, who last year won a record breaking nine Aria awards with "Innocent Eyes" being the highest local album ever in Australia. Delta is one of Australia's most talented and admired stars, having also won a Logie Award for Best New Female Talent.
The jeans will be among a collection of other famous Australian and international music industry legends whose signed and painted jeans are in the auction. They will then be auctioned at a Gala event in Sydney. Previous years have seen the combination of artistic talent and celebrity status raise hundreds of thousands for CMRI.
The use of Delta's jeans for this charity event is evidence that she has become an Australian icon, and one with a big heart.
To get involved in Jeans for Genes, call 1800 677 260 or visit
www.jeans4genes.com.au