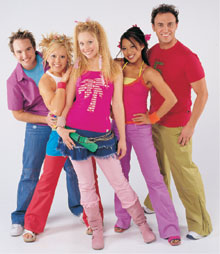 The Nine Network today announced that popular children's program Hi-5 will return to its after-school weekday time of 3.30pm from Monday, June 14.

The timeslot gives both pre-school and school-aged children the chance to enjoy the many educational and entertaining benefits of Hi-5.

The Hi-5 gang recently returned to Australia following a hugely successful tour of the UK where they played to sellout audiences.

In April, Hi-5 won their third Logie for the Most Outstanding Pre-school program. They previously won Logies for Most Outstanding Children's Program in 2000 and 2001.

Hi-5 is a bright, energetic television program designed for today's media-literate children with a focus on music, learning and fun. Each episode sees the Hi-5 team perform a number of short songs and dance routines, encouraging children to join in and learn at home.

Series 5, created by Helena Harris, provides a stimulating variety of visual, aural and kinaesthetic experiences that cater to children's individual learning styles, as well as encouraging development of crucial right and left-brain integration.

Hi-5 is produced by Kids Like Us for Nine Films & Television and features the outstanding talents of Kathleen de Leon, Nathan Foley, Tim Harding, Kellie Hoggart and Charli Delaney.

Currently screening in 64 countries, Hi-5 is a global success that reaches an average audience of approximately five million each week.

Adding to their impressive achievements, Hi-5 have also recently released a new VHS triple pack called Hi-5 Groove Gang which is available from June 10 at leading video and DVD retailers.

Be part of the fun and excitement of the fifth series of Hi-5, returning to the Nine Network on Monday, June 14 at 3.30pm.