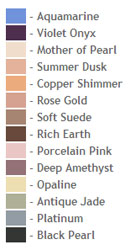 Show your true colours!
Celebrate the return of colour with nc Winter Jewels - rich shades designed to break winter's grey spell.
Inspired by precious stones, this season's palettes are rich and alluring.... cheeks softly blush beneath smouldering eyes while lips glow with a slick of colour. Winter has never been so glamorous.
nc Satin Smooth Eyeshadow
RRP: $14.00
Available through Nutrimetic consultants on 1800 802 151 or visit
www.nutirmetics.com.au