One of Australia's leading business women shows you how to have it all
Regarded as one of Australia's authorities on small business, Naomi Simson shares her journey from being a one-woman start-up to becoming the CEO of Australia's leading online gift service, RedBalloon, in her new book I want what she's having.
I want what she's having is an entertaining and informative read for anyone who has dreamed of owning their own business, or is already familiar with the challenges of achieving the optimum work-life balance.
"I know just how daunting it can be to take that leap of faith and start the business you've always dreamed about. I wanted to share my insights into what I believe have been my steps to success and impart my learnings on what it takes to build a successful small business."
Naomi - a mother of two - started RedBalloon as a way to spend more time with her family. She hopes her book will inspire other mothers who have considered going back to work or starting their own business to take the plunge.
"When you take time off to have children, it is easy to lose confidence about getting back into the work force. It's also very simple to fall into a guilt trap about leaving your family to return to full time work. I want to show other mothers that it is possible to have a successful career without sacrificing the joys of family life."
RedBalloon is a gifting service offering over 1,500 unique experiences across Australia. The company has experienced a phenomenal rate of growth since its inception in 2001 and has expanded to incorporate GoDo, a real-time activities booking service, GoDo New Zealand, RedBalloon WA and RedBalloon Events.
Naomi was recently listed in the Who's Who of Australian women and is the President of the Sydney chapter of the Entrepreneurs Organisation. She was recognised as the Westpac NSW Entrepreneur of the Year in 2005 and in 2006 was the only female on BRW's Fastest Growing Start Ups List.
Prior to starting RedBalloon Naomi worked in corporate marketing for companies IBM, KPMG, Apple Computer Australia and Ansett Australia.
Review: Not only is this book insightful, but highly entertaining at the same time. As one who 'strives to have it all', Naomi provides a realistic & helpful approach to building a company from the bottom up.
Author: Naomi Simson
ISBN: 9780980328400
RRP: $29.95
I want what she's having is available from selected Dymocks and Angus and Robertson stores, independent book stores and online from
www.iwantwhatsheishaving.com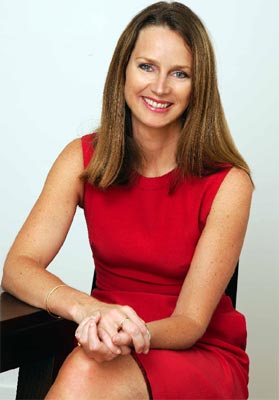 Naomi Simson - Biography
The founder and CEO (Chief Experiences Officer) of RedBalloon Days, Naomi is passionate about pleasure! Given that the average life has 27,610 days she wonders how many are truly memorable? Naomi has a big vision of changing gifting forever in Australia and New Zealand, backed by enthusiasm, energy and drive. Juggling her commitments as CEO of RedBalloon, President of the Entrepreneur's Organisation (Sydney Chapter) 2007 - 2008 and mother of two, Naomi also inspires others regularly as a professional speaker, writes her own blog naomisimson.com, is a columnist for SmartCompany.com.au and has recently completed her first book.
Naomi's corporate marketing experience at IBM, KPMG, Apple Computer Australia and Ansett Australia, combined with her entrepreneurial spirit, provide a strong foundation for success. She was recognised as Westpac NSW Entrepreneur of the Year in 2005. RedBalloon Days is also the recipient of other awards which include, among others, #29 in the 2006 BRW Fast 100; finalist in the 2006 NSW Telstra Business Awards; 2006 BRW Fastest Growing Start Ups list for the 2nd year (as the only female); 2004, 2005 and 2006 Hitwise award for the most visited website in Australia and New Zealand in the gifts and flowers category.
And she is still having a good time!
www.naomisimson.com
Words of Wisdom From Naomi Simson
The 'P's have it
I'll never forget my mother in-law saying to me just after my marriage ceremony, 'You'll get sick of saying 'no P'. That is, I had become a Simson not a Simpson. Yet if I look at my success in business it is the 'P's that have mattered the most;
Purpose
- knowing the difference you make every day, and why you are in business.
Passion
- for what you do
Persistence
- never giving up. It is more than commitment; it is being a believer
People
- you have got to have a team of A graders
Process
- rhythm sets you free
Planning
- know what to say 'No' to by living within the plan
Pleasure
- we work hard and play hard - every moment is a gift. And we keep a sense of fun (this does not mean silly or unprofessional). We can get all too serious, but if we are having fun then our customers are having fun, and that is the business that we are in.
Win an autographed copy of 'I Want What She's Having' by Naomi Simson www.femail.com.au/comps.htm