THE DUALITY OF LUCY LIU
EXCLUSIVE by Paul Fischer in Los Angeles.
Lucy Liu is a Hollywood actress who is more than happy to switch from the big studio movie to often miniscule Indie films, and she is more than happy to keep it that way. More recently, as a case in point, she starred in the little known but effective 3 Needles, in which she speaks fluent Mandarin as a Chinese villager and black market operative posing as a government-sanctioned blood drawer, who jeopardizes an entire village's safety, in one of three AIDS-themed stories in the film. Liu says that doing the Thom Fitzgerald-directed film "was a great opportunity to do something with a message that was important as well as have a character that was so interesting and be able to sort of sink my teeth into." Lucy Liu adds that "in the past Ive done other roles where I had to speak Chinese, but maybe for more episodic work, and this was something that had a beginning, a middle and an end. I think when you speak a different language when youre doing a movie it also brings out a different feeling in your work." Lucy Liu plays a mother in the film, and she smilingly concedes that brings out her maternalism. "I love children. I work with UNICEF and one of the reasons I love that is because they deal specifically with children. For me I think its just really important to always embrace that side of you. I think as a woman, whether you actually have children or not of your own its just a natural thing. I have a goddaughter that I absolutely adore who is 2 years old and I would never say no to having children," confesses Lucy Liu.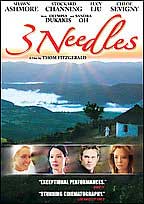 While Lucy Liu shows off her maternal and Chinese sides in 3 Needles, it is her comedic side that she shows off in her latest film, Codename: The Cleaner, in which she plays the waitress/girlfriend of amnesiac Cedric the Entertainer. Asked if she and Cedric share a comic sensibility, Lucy Liu smiles. "Well hes incredibly funny and I mean off the cuff funny. I love comedy having grown up watching television and watching sitcoms and I just think that timing is everything. Cedric has got great timing and any chance I get to do a comedy Ill jump, because I think its such a wonderful thing to make people laugh."
As in many of Lucy Lius screen work, her Asian ethnicity often is of secondary consideration as she has been able to play women whose cultural backgrounds are irrelevant, such as in the Charlies Angels films. Lucy Liu remains surprised that in a Hollywood still often not so colour blind, this Asian-American actress has risen to the top of the industrys echelon. "I feel very grateful and incredibly lucky, and its been such a wonderful surprise when a script comes our way where its a great character and not specifically Asian at all. So its been very fortuitous and I cant complain." Not that its been handed to her on a silver plate. "I cant say that it hasnt been a difficult road and I dont think that people are completely open to it all the time, but I think if you make the right choices in your career and you continue to work towards that then you can make waves."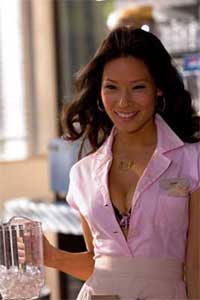 Lucy Lius continued success is evident with her ongoing studio deals, from Fox for her long awaited Charlie Chan movie, to universal for Asian Brides. As tough and independent as she is, Lucy Liu also knows how to play the Hollywood game. "I think the most important thing is not try to fight that system, understand there is a system, and decide if you are going to use that to work with you or against you. Are you going to protest against something thats been around since the beginning of time or are you going to try to understand that system and, and see it as a well-oiled machine? I think there are always kinks to anything that people have set out for a long time because its not current, per se, but if your ideas are current you can still inject it into that machinery and hopefully something wonderful will come out of it. I think that I may not work the same way as other people - I dont have an agent, I have two managers, so I have a different system of working with other things. It doesnt always mean that I have to follow the same line as everyone else but Im still in the system." Even if that means not exactly playing by the rules. "You cant play by the rules when there has been no rules made for you. I mean you cant follow the footsteps of Meryl Streep when youre not blonde with blue eyes. What Im saying is that she can be anyone, and so can I but people dont see that yet and eventually they will. I may not be around when that happens but that doesnt matter, like someone else will and they will frame the framework for it."
Perceptions seemed to have changed once Lucy Liu joined the stars of Charlies Angels, and her career turned around, but that film did far more than merely open up doors. "I think if anything the perception changed for the audience member as children and people could see somebody they could relate to as something that was thought of as culturally Americana, such as Charlies Angels, that was from the 70s. There were three beautiful American women, and when they saw it, and there was someone that was different in there they could suddenly relate to somebody, whether theyre Filipino, Asian or Hispanic but theres something different on the screen that maybe creates a need for change and an ability for people to relate to other people."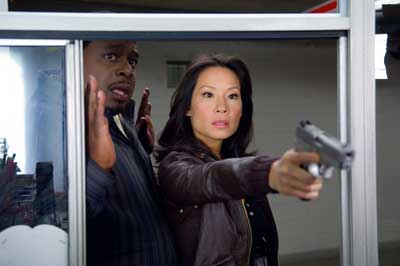 While a third Charlies seems unlikely, Lucy Liu says she wouldnt be averse to doing another. "We had such an incredible time on the movie. It was fun, it was silly, it was popcorn, it was video, it was wonderful. So of course I would do it, we had a wonderful time on it, the girls are fabulous and Sony really treated us so well."
Apart from a few acting gigs, Lucy Liu is fuelled by her producing chores on Charlie Chan, in particular, which has been in development now for some 6 years. "have a draft now and we are working on that to fine-tune it, and the character has come along so well. Im very happy about it and we found somebody great to come in and polish Charlies voice a little bit."
But its acting has been in Lucy Lius blood since childhood, and continues to be. "It is something that I could not not do and I could not imagine my life having been any other way. I thought if Im not acting then Im not going to exist at all. I just knew that it was the only thing that I felt strongly about and that being said, there was no reason to go on if there was nothing to feel strongly about. Theres no reason to live your life in mediocrity, because theres only one life and you should live it with great passion."
---
3 Needles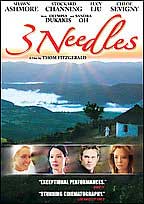 Canadian writer-director Thom Fitzgeralds sweeping 3 NEEDLES journeys across several continents to show just how widespread HIV/AIDS has become in our modern world. Three distinct stories are loosely linked by the narration of Olympia Dukakis, whose character appears in the films final sequence. In the first, Lucy Liu is a pregnant Chinese woman who makes her living as a blood smuggler. Things turn sour when several donors begin to get sick and die. The second story, set in Montreal, follows a porn actor (Shawn Ashmore) who fakes his blood tests in order to keep working in the industry. But when his scheme is exposed, he is shamed and humiliated. His heartbroken mother (Stockard Channing) takes out an insurance policy and embarks on a darkly comic mission to contract the HIV virus as well. South Africa is the setting for the final tale, where three nuns (Chloe Sevigny, Sandra Oh, and Dukakis) have arrived to help out in the community. But in order to get a local plantation owner to assist one of her patients, Sevignys character must make the most shameful sacrifice of all.
3 NEEDLES is an ambitious drama featuring beautiful cinematography by Tom Harting. Fitzgerald boldly eschews a more traditional tonal approach by combining seemingly disparate elements of black comedy, graphic content, and straight drama. The result is a broad, expansive commentary on a genuinely tragic situation that has no end in sight.
---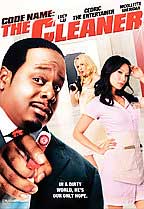 Codename: The Cleaner
Cedric the Entertainer (JOHNSON FAMILY VACATION, BARBERSHOP) stars as Jake, a bumbling amnesiac, in the spy-parody caper CODE NAME: THE CLEANER. Waking up next to a dead FBI agent and a briefcase full of money, and with flashbacks to his combat training, Jake suspects hes actually an undercover operative. He comes into contact with numerous characters who add to his confusion: Diane (Nicollette Sheridan), a blond bombshell claiming to be his wife; Gina (Lucy Liu), a feisty waitress who insists shes his girlfriend; and employees of a computer technology company who are adamant that hes a janitor. The film escalates into a race against the clock--while piecing his past together Jake realizes he holds a valuable secret and must thwart a group of dangerous agents who are after him.
Fun for the whole family, CODE NAME: THE CLEANER includes some hilarious moments and showcases Cedrics endearing comic appeal as the anti-James Bond. Liu (KILL BILL, CHARLIES ANGELS) gets to show off her well-known fighting moves and DeRay Davis (SCHOOL FOR SCOUNDRELS) is a scene stealer as a fast-talking janitor/wannabe-rapper. Although the plot drags a bit, there is plenty of fast-paced action and steamy content thanks to Sheridan and Liu, whose provocative scenes add heavy doses of sex appeal to the film.