Necessity Is the Mother of Invention
After having two children, Kristy Chong, suffered from bladder leaks and wasn't able to keep up her active lifestyle. Kristy felt that with all of the advances in fashion technology there had to be a better, and more sustainable way for women to manage bladder leaks and periods.

Necessity is the mother of invention. Without it, Kristy Chong would have never brought together feminine hygiene, sustainability and fashion-tech to change women's lives daily.

Recognised as a true Australian innovation by Powerhouse Museum, Kristy says it took MODIBODI almost two years of prototyping, testing and fine-tuning to develop its first range of leak-proof underwear using the patented Modifier and Modifier Air Technology. Up to 100 textile engineers and fibre companies (both in the USA and Australia) were consulted and close to 1,000 scientific tests were undertaken.

MODIBODI is going from strength-to-strength, with the products now available via Amazon as well as its own e-commerce website. Year-on-year, the organisation has grown by 400 per cent.


Interview with Kristy Chong
Question: What is MODIBODI?

Kristy Chong: MODIBODI is protective, hi-tech, fashionable underwear and now apparel that offers all bodies convenient, comfortable and sustainable solutions for their moisture concerns, and a complete replacement to disposable hygiene.

From periods to sweat, bladder leakage and/or breast milk leaks, MODIBODI empowers women to have the confidence to get on with life, whatever their challenge, while also reducing their impact on the environment (by reducing disposable personal hygiene products).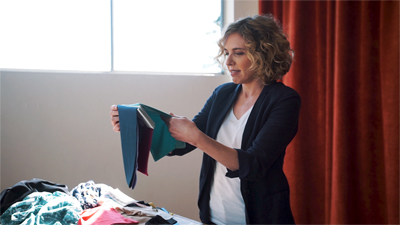 Question: Where did the idea for MODIBODI products come from?

Kristy Chong: I was a full-time mum of a two-year-old and five-month-old at the time, living in Seattle (USA) surrounded by tech start-ups.

I was out jogging, in fact, I was training for a marathon and had been experiencing occasional light bladder leaks. The available solutions were ugly, inconvenient, uncomfortable and a hazard to our environment - disposable hygiene. I just felt we deserved something better.

Once I realised how problematic the issue was, I also couldn't understand why with all the advancements in technology, underwear and disposable hygiene had not evolved. I knew instantly that I was going to have to create a whole new product category for women. I am really proud that I took that idea and turned it into a product and now products that can more conveniently, comfortably and reliably manage menstrual flow, incontinence, sweat and even breast milk leaks, and reduce the amount of single-use products ending up in landfill and damaging our environment.

I spoke to chemical textile engineers, scientists, garment developers, and textile mills and then did the sourcing and scientific testing over 18 months to develop our patented Modifier Technology. The technology is found in the gusset area (and bra area of our breastfeeding singlets) and works by wicking moisture away from the body through to an absorbent and odour eliminating middle layer, then a waterproof breathable, hi-tech barrier prevents leakage. You can wear MODIBODI all day long and you never have to use tampons, liners or pads again.


Question: Can you share some of the features of the range with us?

Kristy Chong: We are Australia's original leak-proof apparel brand and have a wide range of patented and patent pending light – heavy absorbency linings that target periods, heavy discharge and bladder leaks and breast milk leakage.

The range includes underpants, activewear briefs and pants, swimwear and more.

In 2018 we also launched RED, a tween/teen range for first period and teenage years. We continue to create, trial, evolve and bring to market new products that merge technology, protection and fashion to deliver sustainable, practical, and life-changing products.


Question: How does MODIBODI work?

Kristy Chong: We have four types of linings, the most popular product, the period and pee friendly undies are super-slim, only 3mm thick and can hold up to 20ml or two tampons worth of liquid per leak. They have three layers, which each play a role:

тк The top layer quickly wicks away moisture, fights bacteria and stops smells, so you stay dry and fresh
тк The middle layer safely absorbs fluid and locks it away (2.5-20mls)
тк The bottom layer is extra waterproof protection, so you're super secure

For more info about the other linings, visit our website.


Question: How long did it take for you to create a product you were happy to sell?

Kristy Chong: For me, the technology was crucial but wasn't enough on its own. It needed to be functional, but it also needed to empower women. I knew from conversations with family and friends, that in order to give women confidence, I needed to develop designs which were also comfortable and looked great too.

It took almost two years of prototyping, testing and fine-tuning to develop our first range of leak-proof underwear using the patented Modifier Technology and our Modifier Air Technology. I spoke to close to 100 experts and fibre companies (both in the USA and Australia)and conducted almost 1,000 scientific tests before I was happy with the technology.

And in 2013 we launched to market.


Question: What was the biggest challenge in creating MODIBODI?

Kristy Chong: The biggest challenge is breaking down the taboo around talking about periods, bladder leaks and sweat. Let's get real. It's common. Most women have or will get their period, it's in our DNA and one in three mums experience bladder leaks, but traditionally, women don't talk about it.


Question: Are you surprised to have created a product that now empowers women to live life to the fullest?

Kristy Chong: I am so passionate about giving women what they deserve – we deserve dignity and confidence. It's always felt right and every time we put out a new product, we get a good response.


Question: As a mum, how do you juggle all aspects of life from work to parenting and social?

Kristy Chong: I never dreamed that MODIBODI would be so big. But I'm naturally driven by purpose, and when I started to see the positive, life-changing impact the product was having, and that it was truly fulfilling an unmet need, I felt driven to grow this company and take it globally. I absolutely love going to work and hearing stories about how we are changing women's lives all around the world.

I have a great team around me and I put both 100 percent into my family and the business. What I do miss out on is 'me time'. But I love what I do. I have the flexibility to be there for my family, but I have also been known to be up between the hours of 1am and 4am working.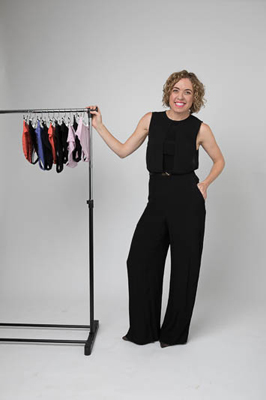 Question: What advice do you have for other working mothers?

Kristy Chong: That you are like a rubber band, you will definitely feel stretched, but you won't break, you will bounce back. And to find a brand that or career that makes going to work worthwhile.

Don't settle working for a company because you think they pay well and have kindly supported your part-time work situation. Instead find a job that challenges you and utilises your skillset and a brand/business that means something to you. Don't undersell yourself because you want flexible working.


Question: What's a typical day like for you?

Kristy Chong: There is no typical day, but it mostly consists of juggling family with work. I have a 4-month-old bub, so wake up time is when she wakes, or on an office day at 6am as I need more time to get ready. It's having breakfast with my kids, packing bags and lunches (if not done the day before), and I usually get out the door 20 minutes later than I planned – which I'm sure many mums can relate to!

My days in the office (currently three days a week) are usually jam packed with internal and external meetings and general business and planning. I am less day to day business operations now, and I work closely with the leadership team to execute on our business plan, drive the vision and work on business development. Throughout the day I need to take breaks of course, to express milk.

On a day in the office I usually finish around 4.30ish and get home by 5pm to spend time with the kids. We have a wonderful nanny, who looks after my little girl and the three boys after school, so she helps with dinner those nights thankfully.

Being an entrepreneur or running your own business is not for the faint hearted, but I'm so passionate about MODIBODI and the difference we are making to women's lives, and I have sacrificed a lot my own time to build this business.


Question: What's next for MODIBODI?

Kristy Chong: We continue to develop innovative new products and we aim to be the number one protective, hi-tech, fashionable apparel brand that offers all bodies convenient, comfortable and sustainable solutions for their moisture concerns - be it menstruation, incontinence, perspiration, discharge or breast milk leaks.

We will also continue to increase our social impact through our own 'Give a Pair' program and working with a variety of organisations in Australia and across the globe to deliver women in need a sustainable, simple solution to manage menstruation and incontinence.


Interview by Brooke Hunter