John Pearce Justice Crew Live & Local Tour Interview
Eight-time ARIA nominees Justice Crew are expanding their Live & Local tour this April with three fresh NSW dates in Tamworth, Dubbo and Bathurst - as well as a visit to the ACT. The group are stoked to announce that young-gun Australia's Got Talent contestant Fletcher 'Fletch" Pilon will be supporting them for all tour dates.

Tickets to the Live & Local tour are on sale now from theechotouring.com/event

Fresh off the January leg of the Live & Local tour, Justice Crew just can't seem to keep their eyes off the road. With a set that includes a blend of cult classics as well as brand new unreleased material, fans are without a doubt in for a show filled with the classic energy and spirit that links everything the group does – from their #1 ARIA single -Boom Boom' to their 5x platinum feel-good anthem -Que Sera'.

Appearing on the current season of Australia's Got Talent, Fletch is already making his mark on the music world with praise from The Madden Brothers, who referred to him as 'genuine" and 'awesome," as well as Cody Simpson, who invited Fletch to be opening support on recent shows in Sydney and the Gold Coast.

After an explosive entrance into the Australian music scene following their own Australia's Got Talent triumph in 2010, Justice Crew have grown and evolved their sound, while still capturing the attention of their loyal fanbase. Justice Crew have gone from strength to strength in the years since, releasing their single -Good Time' in late 2015 to a flood of praise.

Tickets are on sale now from theechotouring.com/event

Wednesday 13 April – The Juniors, Kingsford
Thursday 14 April – Wenty Leagues, Wentworthville
Friday 15 April – Mounties, Mt Pritchard

Saturday 16 April – Panthers, Penrith
Wednesday 20 April – Vikings Club, Canberra
Friday 22 April – West Tamworth Leagues Club, Tamworth West
Saturday 23 April – Dubbo Rsl, Dubbo
Sunday 24 April – Panthers, Bathurst
Interview with John Pearce
Question: What should we expect from the Live and Local Tour?

John Pearce: It's the best tour you'll ever attend (laughs)! The Live and Local Tour is really fun we've encorporated a live drummer and guitarist to give the extra feel. There will be a lot of singing and dancing.


Question: Will there be any dance workshops available?

John Pearce: No workshops, as of yet but the show has a lot of audience interaction and there could be audience members welcomed to the stage.


Question: Why did you choose Fletcher 'Fletch" Pilo to support your tour?

John Pearce: We're very excited to have Fletcher 'Fletch" Pilo on board as we've seen him on TV. I'm excited to meet Fletcher and see he's show - he'll be good to have on the road. We're all very excited.


Question: Do you have any pre-show rituals?

John Pearce: No ritals; we all go to the bathroom and make sure everyone is ready, had enough to eat. I do some push-ups and vocal warm ups maybe a little bit of moisturiser (laughs) you have to look in pristine condition.


Question: Any chance of a Victorian or Queensland tour, soon?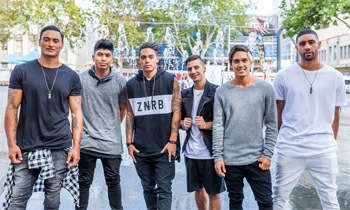 John Pearce: At the moment we are organising regional Queensland and we want to tour, all around Australia.


Question: Can you tell us about filming the Good Times video clip?

John Pearce: The Good Times video clip features a cadillac which was in a studio; it was really cool. It's a really big car to drive but we got to drive around in the cadillac which was difficult because it's a left-hand drive (the opposite side). It's a very fun song for a fun clip.


Question: When writing music, who inspires you?

John Pearce: A lot of artists inspire us, as a group but when we're writing a song, as a group, we love to have fun and party which is why our songs are about having a good time and enjoying yourself.
Que Sera was a different song for us, it was deeper and we related it to the journey we've been through.
We write a song, depending on how we feel, on that particular day.



Question: If you could collaborate with any artist, who would you choose to work with?

John Pearce: Any! There are a lot of artists who come to mind but I think it would have to be a female singer like Selena Gomez; we are open to any artists.


Question: What's next for Justice Crew?

John Pearce: After the Live and Local Tour we will work on the next single which we hope to be as big as Que Sera, if not bigger. I want to spend time working on music and hopefully we'll release an EP or album at the end of the year. We'll see what happens...


Question: What's a typical day like, for you?

John Pearce: Currently we're inbetween touring so we rehearse a couple of times a week. A typical day for me is; I get up and go straight to the gym where I work out for about an hour and a half then I head home to watch TV (laughs)!


Question: What advice do you have for young Australian dancers; who want to succeed in this industry?

John Pearce: Make sure you have fun, don't take everything too seriously! Also don't be too hard on yourself and surround youself with like-minded people.



60 Second Quiz
Favourite Food: Pizza
Favourite Film: A Walk To Remember
Pet: None.
Person You Would Most Like to Meet: Michael Jackson
Are you a Pub, Bar or Club kind: Bar
What Can You Never Leave Home Without: My phone (laughs)
What is the first thing you think of when you wake up in the morning: What time am I going to go to the gym today?

Interview by Brooke Hunter