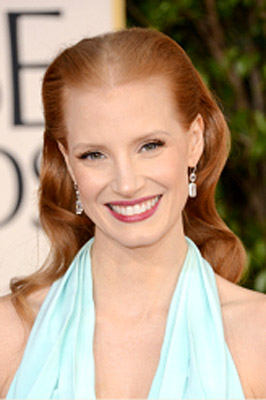 Jessica Chastain Wins the 2013 Golden Globes Award for Best Actress
Yves Saint Laurent Beauté is pleased to announce that Jessica Chastain, ambassadress for the feminine fragrance MANIFESTO, has won the 2013 Golden Globes Award for Best Actress in the drama category for her performance in Kathryn Bigelow's film Zero Dark Thirty.

This award recognises her remarkable rendition of a CIA agent in Kathryn Bigelow's Zero Dark Thirty.

Ever since the beginning of her career, Jessica Chastain has revealed a multi-faceted personality able to take on very diverse roles in films such as The Tree of Life (2011 Golden Palm Award winner at the Cannes Film Festival), Take Shelter and The Help.

Jessica Chastain is considered as one of the most promising young American actresses of her generation and this award confirms her standing among the very closed circle of Hollywood stars.

Jessica Chastain is currently performing on stage in the Broadway play The Heiress.

Vanity Fair US has named Jessica Chastain 2012's most elegant woman. For the Golden Globes ceremony, Jessica Chastain wore LE TEINT TOUCHE ÉCLAT foundation and the TOUCHE ÉCLAT highlighter pen by Yves Saint Laurent Beauté.

MANIFESTO.
The new women's fragrance by Yves Saint Laurent Beauté.

Spontaneous. Free-spirited. In the image of the women who wear it, MANIFESTO reveals a sleek silhouette, a strong personality and a generous spirit in which jasmine is the unifying thread. A haunting, sweet flower, full of light and mystery that women can identify with perfectly. The green, translucent notes of lily of the valley add their springtime happiness to the overall allure. A bright, light ribbon of blackcurrant entwines the silhouette with a tangy, fruity accent. Among the essences of cedar core and sandalwood, a clear, woody accord envelops it like a second skin and unfurls a rich sensuality, releasing the mellow luminosity of vanilla and Tonka bean. Like a prism catching the light in a play of lines and reflections, the MANIFESTO bottle captures the absolute energy of the woman for whom it is a talisman, a fetish.