Most people think of Jack as one of Australia's favourite actors, but what many people didn't know before was that he is an accomplished BBQ chef.

Wanting to help support Landcare Australia, for whom he is an ambassador, Jack asked us to bottle his original recipe sauces and donate a portion to this worthwhile cause.



Jack's Original BBQ Sauce
Named Jack's original, because it was the first one he developed.
Beautiful with meats, chicken, pies, burgers and sandwiches.



Jack's Old Smokey BBQ Sauce
For the bbq enthusiast who enjoys the flavour of wood fired cooking, this is the one.

A nice fruity taste combining apple, tomato, molasses, chilli, cumin, coriander and lemon, it is equally at home on a steak, a sausage sandwich, or a roast.

Once you have tried it, you will unable to go back.



Jack's Honey Mustard BBQ Sauce
Excellent as a marinade for chicken, and fish. Great with sausages, chips, and sandwiches.
Try it as a dipping sauce with steaks and roasts.

In the beginning there was a chilli patch on a very green hill overlooking Byron Bay. Jalapeno chillies thrived in the rich red soil. With a little help from our neighbouring farmer, and some compost from the old Byron piggery, our little chilli patch grew strong in the light of semi-tropical summer.

Meanwhile, we purchased a well-used taco van that had been operating at the Byron Markets. Most Sundays we would hook up the caravan to our trusty, rusty ute and wind our way down the hills to one of the local markets. In those marvellous, busy days we served soft tacos, burritos and nachos like the markets had never seen before.

From the start, wanting our food to be exceptionally tasty, we knew we would have to make our own salsa. After long days of trial and error in our little kitchen we arrived at what we considered to be two respectably authentic recipes.

It wasnt long before regular customers asked us to bottle the salsas so they could have some at home as well as with their market burritos. And thats how Byron Bay Chilli Company was born...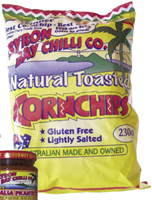 Corn Chips
Made with all-Australian grown corn, lightly salted and like all our sauces, gluten free. Our chips are full of simple corn flavour, thick and tasty. Try them on their own or serve with dips. Also delicious in nachos, soups and casseroles.




Spicy Salsas
Salsa Picante Mild, Medium
Taste the fresh flavours of coriander, onion, tomato and garlic blended with jalapeno and cayenne chillies.

Smoky Red Bean
Smoked jalapeno chillies give this chunky kidney bean salsa its distinctive flavour.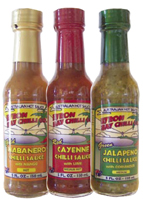 Savoury Hot Sauces
Red Cayenne with Lime
A delicious combination of cayenne chillies, lime and cumin.

Green Jalapeno with Coriander
A balanced blend of lime, coriander, mango, coconut, jalapeno chillies and cumin.

Gold Habanero with Mango
The habanero chilli, mixed with mango, lime, cumin and cinnamon.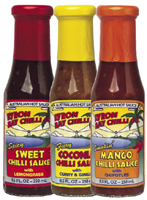 Sweet Hot Chilli Sauces
Smokin Mango Chilli Sauce with Chipotles
Has a mango twang with the smoky taste of chipotle chillies (smoked jalapenos)

Fiery Coconut with Curry and Ginger
Try this and taste one of the worlds truly unique sauces, the right blend of curry, chilli and spice.

Spicy Sweet Chilli Sauce with Lemongrass
An old favourite made more savoury with lemongrass, lemon, coriander and extra chilli.

For more information on Jack Thompson BBQ Sauces & Byron Bay Chilli Company plus a free cookbook visit: www.byronbaychilli.com