With almost one in four Australian children overweight or obese, ensuring that our children develop healthy eating habits early is an important step to living a long and healthy life.
The school lunchbox is one of the greatest culinary challenges of parenthood. It can be an everyday obstacle developing fresh and fun ideas for childrens lunches but some tips from Coles Nutritionist Dr Victoria Inglis will ensure your childs lunchbox returns empty at the endof every school day.
Dr Inglis recommends parents include three key elements to ensure your child regularly enjoysa tasty, healthy lunchbox: variety, freshness and taste.
A healthy lunchbox will ideally include fruit, vegetables, a protein-containing food, dairy, bread (oralternative) and water:
· Fruit: Children should enjoy one to three serves of fruit per day. Cutting up fruit will makeit easier for younger children to eat in particular
· Vegetables: Crunchy vegetable sticks such as celery and carrot, cherry tomatoes ordiced cucumber can appeal to little appetites
· A protein-containing food: Low-fat cheddar, slices of lean meat, a hard boiled egg andtinned tuna are great sources of protein
· Dairy: Cheese, milk and yoghurt are great for growing bones
· Bread: Try wraps, pita, bagels, flat bread, crisp bread, pikelets, foccacias, scones andrice cakes instead of regular sandwiches. Try to select wholemeal instead of whitebread where possible
Vary your childs lunchbox according to the season. Children will be more likely to eat fruit whenit is in season and changing with the season will prevent boredom. Staying away from meat anddairy on a hot summers day is also recommended.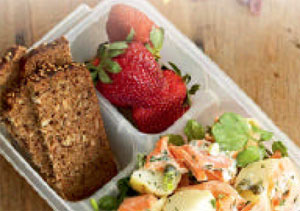 Getting your child to eat all their lunchbox contents can be a challenge, particularly when you arenot there to supervise them, so why not get your child tohelp you make their lunch each day.
Turn what can be a morning chore into a fun activity forboth parents and children. When making your childslunchbox, why not make your own at the same time.
Taking your lunch to work will stop you getting the midafternoonmunchies, and set a great example for yourchild.
For younger children, labelling the order in which your child should eat their lunch can be a goodidea, especially if theres a small treat included as part of their lunch that day.
Get top marks in nutrition as a parent this term!
Help your child strive towards a healthy lunchbox with Coles