FERLA Breakups Are Hard For Everybody Show
FERLA presents his new single, 'Breakups Are Hard For Everybody.' Is it confronting or is it slacker self-absorption? Is it care or indifference? Is it a sad song or is it a banger? Both. All. It's FERLA crooning the nightly news.

'It's a coarse song but it's got a bit of love to give." - FERLA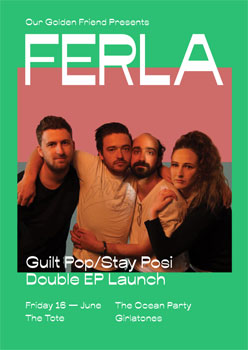 Our Golden Friend are chuffed to announce that FERLA will be launching his double EP Guilt Pop/Stay Posi at The Tote Hotel on Friday 16th June. He will be supported by local aces The Ocean Party and dewy garage Girlatones, with another guest to be announced. Select 'Going' at: https://www.facebook.com/events/1716462878652670
The double EP Guilt Pop/Stay Posi will be released digitally worldwide on Friday May 26th 2017 and is available for pre-order now via iTunes.
Three singles have been released from the Double EP so far, -Wasted On You' -In The Night' and -I Can't Let You Down'. All crackers, all getting love.

Marcus Rimonidi from Ripe Music described -In The Night' as 'one of the more complete Australian songs to be released so far this year […] FERLA makes his presence felt." The filmclip for -In The Night' was directed by Chris Flagz at Defero Productions (The Drones, Gold Class) and was awarded Clip Of The Week on the iconic Australian music programme, ABC's Rage.
In 2015, FERLA released his debut EP Guilt Pop which was met with critical acclaim and received Album Of The Week in Beat Magazine & The Brag, Tone Deaf Feature Album, and regular national airplay on community radio stations. He's excited to partner with Our Golden Friend to re-release Guilt Pop alongside his latest EP Stay Posi.
FERLA Guilt Pop/Stay Posi Double EP
1. Breakups Are Hard For Everybody
2. I'm Nobody's Baby Now
3. In The Night
4. You're There
5. I Can't Let You Down
6. Wasted On You
7. Children Are Our Future
Spotify | Pre-order on iTunes
Facebook | Instagram | Bandcamp