Fella Hamilton Acquires Wool Label, Hedrena
Responding to market demand, Fella Hamilton, iconic Australian ladieswear label, founded in 1969 in Melbourne, has signed a deal with Australian Wool Network (AWN) to bring the Hedrena® wool label into their stable, allowing this much-loved local label to continue to be delivered to customers through an in-store experience.

Hedrena® was founded 27 years ago in 1992 on a coastal Victorian farm. The primary intention was to create certainty of where their wool would be used and ensure use in a particular brand to be sold in Australia. With the transfer of the Hedrena® brand to Fella Hamilton, the label will continue to support Australian farmers but will now provide traceability for growers from their farm gate to product sale in a reputable Australian brand.

The first Hedrena® by Fella Hamilton garments are available in all 33 stores, online and are featured in the latest catalogue from 24th June.

"When we were approached by AWN to discuss taking the Hedrena® label into our stores we could immediately see the synergy between the two brands," says David Hamilton, Director, Fella Hamilton.

"As a family-run business with a manufacturing operation in Victoria, we have very similar values and loyal customers who love our products," adds David. "By bringing these products into our stores we are offering our customers who love to travel and participate in adventure activities a new option. And, at the same time, we can offer Hedrena® customers the opportunity to still buy these fantastic products in a bricks and mortar store around Australia."

The Hedrena® brand has been a pioneer in next-to-skin apparel for over 27 years. The quality of the wool used in Hedrena® garments makes it an ideal fabric for both summer and winter everyday wear, and especially good for travel and adventure wear.

"We have been working closely with AWN to develop the first garments. This winter range will sit beautifully along-side our existing ranges, adding another level for everyday wear and also the astute traveler or adventurer," says Sharon Hamilton, CEO, Fella Hamilton.

The Hedrena® products are now part of the AWN Direct Network Advantage (DNA) initiative. Each Hedrena® garment will include a special swing tag incorporating a QR code showing the farms or region that contributed the wool used in that garment, guaranteeing welcome support for our local farmers. The real benefit that the DNA initiative offers to our local growers is knowing that their product is destined for a trusted Australian brand, which is a source of great pride for them.

"This is a great opportunity for the brand as well as the clientele of AWN to expand the DNA story, with the home of Hedrena® now at Fella Hamilton. At the same time, this provides Hedrena®'s customers with the in-store brand experience that they crave," says John Colley, AWN Managing Director.

The existing Hedrena® stock will be available from the Merino & Co website and Merino Snug Carrum Downs outlet until 31st December.

From 1st January 2020 the Hedrena® label will be available exclusively from Fella Hamilton.
Visit http://www.fellahamilton.com.au/


Interview with Sharon Hamilton, Fella Hamilton CEO
Question: Can you tell us about the recent acquisition of wool label Hedrena?

Sharon Hamilton: The acquisition of the Hedrena brand came about when Merino & Co approached us following strong feedback from their customers that they wanted to be able to buy the Hedrena brand products from a brick and mortar store. Merino & Co, who were the owners of the Hedrena brand, had decided that they were not retailers and needed to find a new home for the Hedrena brand. Because we have a very similar customer base, who have a focus on Australian products, quality garments and supporting Australian farmers, it was actually a very easy decision for us to make.


Question: How will this acquisition allow Fella Hamilton to continue to support Australian wool farmers?

Sharon Hamilton: The Hedrena brand is now part of the Australian Wool Network (AWN) DNA Program, which allows our farmers to track the garments that their wool is used in and guarantees that these products will only contain wool that is supplied by Australian growers. The farmers take great pride in knowing that their wool is destined for a reputable Australian brand, which is the real benefit for them.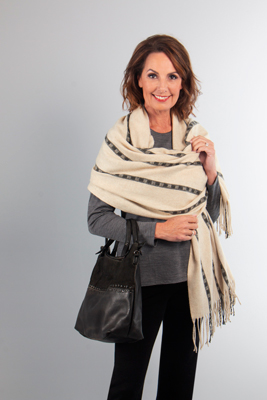 Question: How will Hedrena change Fella Hamilton and their clothes, going forward?

Sharon Hamilton: The Hedrena brand will complement rather than change the Fella Hamilton brand. The two brands have a great deal of synergy and work together very well. Where we are hoping to see a change is that the Hedrena customers, many of whom are in a younger age demographic, will be introduced to the Fella Hamilton brand and discover that we have a lot to offer them that they weren't aware of. We may expand into underwear and we are exploring the idea of offering a limited men's range as Hedrena was also popular with men.


Question: Where do you find inspiration when creating for Fella Hamilton?

Sharon Hamilton: We have an in-house design team who create all of our collections and who find inspiration from around the world. Many of our customers are avid travellers and lots of our collections are the perfect travelling companions, both from a quality point of view and how well they fare in a suitcase. Other collections are inspired by the needs of our customers who want to look stylish and modern but enjoy a level of comfort that you can only get from a well-designed and considered piece.


Question: What will we see from Fella Hamilton this coming season?

Sharon Hamilton: The Fella Hamilton brand turns 50 in September so; one of the things that you'll see in the coming season is the re-introduction of a fun terry toweling range which launched the brand in 1969. This was very popular at the time and we're looking forward to reintroducing this range to celebrate the anniversary. It will be the perfect travel companion, especially around ocean and pool-side destinations. Outside of that special limited edition range we're expanding our linen and our natural fibres ranges.


Question: What's a typical day like, for you as the CEO of Fella Hamilton?

Sharon Hamilton: David and I get up at 6am each day and walk the dog at the park then from 8.30am it's generally back-to back meetings all day finishing at 7pm. Twice a week we get to the gym early in the morning and work out with a personal trainer. A couple of times a week we get to spend dinners with our four children, two of them have partners. Exercise is very important to us. Each day would involve at least five meetings and the day-to-day involves managing and overseeing the company as a whole. We're pretty pro-active in research and trying new things and always have some new projects on the go. Every second or third week we go and visit our stores around the country. We feel it's very important to have a personal touch with our staff.


Question: What's the best business advice you have learnt as the CEO of Fella Hamilton?

Sharon Hamilton: Feet on the ground! I think you need to have empathy with the staff and the customers. I think you need to lead by example and be involved, not separate yourself from the team. It's a level between building teams, letting them drive things but still making decisions. Very important to listen to people's ideas. And basically you just have to work hard and continuously review, you can never sit still. You have to be invested in the product, people, staff and customers.


Question: How much did you learn from your mother-in-law, Fella Hamilton?

Sharon Hamilton: Have to be passionate about what you do. She's a very stylish lady, so I've learned how to put outfits together in order to an example of how to represent the business.


Question: What challenges have you overcome whilst working with your husband, David?

Sharon Hamilton: The only real challenge is in our operating styles. We are quite different – I am very detail-oriented and need to know all the information and he can get impatient. He also doesn't like too many meetings or for them to be too long. But, it's actually a real benefit for us to be working together on something that we are both so passionate about. We are a constant sounding board and can always check in with the decisions and are forever running things by each other. We do have clearly defined roles but there is a lot of overlap when it comes to decision-making.


Question: What's next for you and Fella Hamilton?

Sharon Hamilton: To make sure that Hedrena is implemented well and communicated to the customers. We're always working on the next season, and we have exciting initiatives and campaigns that we'll be launching in conjunction with our 50th Anniversary. We're also launching a new website in the next couple of months and we are investigating some new store locations. Always checking in on stores to make sure that they're delivering the best to our clients. We also have lots of travel coming up.


Interview by Brooke Hunter