Meet the Multi-Millionaire Owner of Abyss By Abby
From Sydney to Hollywood, Australian Designer Abby Kheir has turned affordable sexiness into a multimillion-pound business – the definition of a true lady boss.

Having dress the Khloe Kardashian, Kylie Jenner, Sofia Richie and many others, her sleek and chic brand Abyss By Abby has become a fashion's hottest property.


Interview with Abby Kheir
Question: Can you tell us about Abyss By Abby?

Abby Kheir: Abyss by Abby is a brand for all confident and sexy women, women who are not afraid to stand out, women who command attention. Every dress is designed with that in mind and Abyss by Abby gowns are made to empower women and do not conform to fashion trends.


Question: What originally inspired the creation of Abyss By Abby?

Abby Kheir: Back in my retail days, I was constantly sourcing product for my stores. I found that there was a lack in styles which I considered sexy. Many styles I saw were cute, like the girl next door type, but definitely not sexy enough for me. At the time I was travelling and visited a lingerie store, I remember thinking to myself, "how hot would it be, to be able to wear sexy pieces like this out?" A lot of my inspiration even today has come from high-end lingerie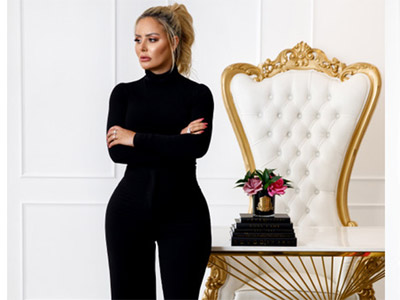 Question: Can you share with us the story behind Abyss By Abby?

Abby Kheir: I started at the age of 21 with retail stores across Sydney, Australia. "ABYSS" soon became the "it" stores to shop in. I specialised in sourcing small but upcoming designers because I didn't want my stores to look like all the other stores around. It quickly became an obsession, so I began travelling to the USA to find new designers who were not already in Australia.

When I noticed a lack in the market from the feedback from my customers, I began designing my own dresses. I already had the knowledge of running a successful business but had little experience with design – so I began to educate myself. Although it was a long road, my work ethic and determination made it work.

Years later, I saw a shift in the market and decided to take my business online (only) even against the advice of my accountant. Since making one of the best business decisions of my career, he has promised to never second guess any business decision I make again.
As all the dresses were my very own styles, I changed my name to Abyss By Abby. My ABYSS stores were where I began, so I didn't want to lose that sentiment.
Question:
What inspires you when creating designs for Abyss By Abby?
Abby Kheir
: I love people watching and exploring fashion around me… I love taking one element from something I've seen and liked and turning into my own creation. I once saw a black lace trim on a beautiful piece of underwear and took that inspiration to create the bust on one of my designs. Women loved it.
Question:
How does it feel to see your dresses on Khloe Kardashian, Kylie Jenner, Sofia Richie among others?
Abby Kheir
: Definitely proud but never satisfied because I am always hungry to grow. It motivates me to work harder because I am always wanting more for my brand.
Question:
Can you tell us about the latest range from Abyss By Abby?
Abby Kheir
: My "Goddess Within" collection. I've always believed that beauty comes from within… You may be the prettiest girl in the room but are you the most confident? Are you the woman that turns heads?
Question:
What advice do you have for aspiring designers?
Abby Kheir
: "Never give up, especially when people tell you that you can't do it. It can be a long journey. For me, it hasn't always been easy. But take challenges as an opportunity to grow and learn. I am always learning. And the day that I stop learning is probably the day I stop.
Question:
What's a typical day like, for you?
Abby Kheir
: I am very hands on, maybe too much at times. I am the creative and business head of my company. So, my day is never a 9-5.
Being creative isn't something you can turn on and off, which is why I don't schedule myself any deadlines. Whenever I am inspired, I will go to my studio (which I had built next door to my house, convenient for me if ever inspired at 2am and also a little obsessive) and lock myself there for as long as it lasts.
The business side is a normal office day, (not my favourite part) but luckily, I get to work with some amazing women. Yes, my team is made of all women. So, it never feels like work to me.
Question:
What's next for you and Abyss By Abby?
Abby Kheir
: To continue doing what I love for as long as it doesn't feel like work. And, to continue to learn and grow.
Question:
How can we find out more about Abyss By Abby?
Abby Kheir
: You can shop our styles on
www.AbyssbyAbby.com
Interview by Brooke Hunter