Georgina Tenaglia, Founder of Vintage On Tap mobile keg bars, is a finalist in the 2020 AusMumpreneur Awards.
Georgina has a background in retail and commercial real-estate. She has three children.
Vintage On Tap Mobile Keg Bars is the culmination of Georgina's love of entertaining, great wines and immaculate styling all wrapped up in a bespoke Italian Piaggio Apé mobile bar. Starting with one Apé, she has now grown her business to include 2 Apés, a Vintage Bar Cart, Garden Games, Candy Bars, Glassware and decorative items for hire. Using the beer tap system allowed a natural cross over of events from night to day. VOT's pop-ups have organically grown into semi-permanent cafés, where Georgina has expanded into the un-tapped Australian nitro coffee market, now proudly employing 12 staff.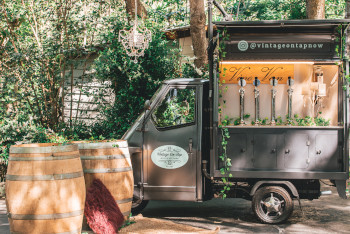 Georgina says: "Wine O'clock has always been something I look forward to… and I know I'm not the only one! But it wasn't until my sister-in-law posted a meme on facebook showing a Mr Whippy van serving wine and "ALL" the mums running down the street behind it with their wine glasses… something clicked… I knew that if I could create a business with wine on tap by night and coffee by day I was onto a winner. A classy, mobile, yet Vintage wine experience on wheels that everyone could enjoy."
Georgina has an ideas book where she has been scribbling down her thoughts and innovations for years. Georgina wondered what she would do when her kids were at school and wanted to own her own business. Her husband's health took a turn for the worst and that is when she knew she had to start her business.
She adds: " From the outset, Vintage On Tap – mobile keg bars- has grown so much that not only do we have requests to franchise VOT, but it also has allowed both David and I to be fully employed in our own business. That to me is EVERYTHING!"
Vintage On Tap is a finalist in the AusMumpreneur Service Business category.
Georgina concludes: "I am delighted to be named as a finalist and am proud of my achievements, particularly starting the pop up Cafés and employing and maintaining staff during the Covid 19 Pandemic."