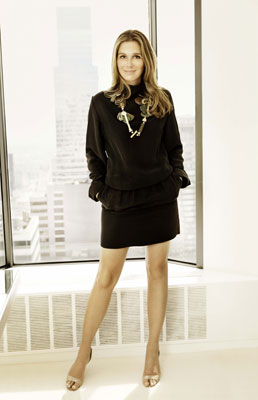 Estée Lauder Partners with AERIN LLC
The Estée Lauder brand announced a new collaboration with Aerin Lauder and AERIN LLC, her new luxury lifestyle brand, the formation of which was announced earlier this year.

Under the arrangement, Ms. Lauder will continue to be actively involved in the Estée Lauder brand, serving as creative consultant and becoming its Style and Image Director. She will also continue as the brand's global ambassador and spokesperson, a position she has held successfully for many years. Ms. Lauder will also remain a member of The Estée Lauder Companies Inc. Board of Directors, which she joined in 2004.

The Estée Lauder brand will be the exclusive beauty partner to AERIN LLC in launching a beauty line under the AERIN name to be sold at select Estée Lauder counters. Terms of the agreement were not disclosed. AERIN LLC is a stand-alone company wholly owned by Aerin Lauder.

Ms. Lauder said, "I'm thrilled to continue playing an active role in the iconic Estée Lauder brand, including serving as global brand ambassador and spokesperson. At the same time, I look forward to pursuing my vision to create the AERIN brand. As I launch this new business, I am excited to have the extraordinary team at Estée Lauder as my partner in creating a beauty collection that will reflect my new brand's style and spirit. I look forward to our future together."

William P. Lauder, Executive Chairman of the Estée Lauder Companies, said, "Aerin embodies the entrepreneurial spirit which led to the creation of our Company. I am excited that Aerin is following her vision with her innate style and creativity to expand her brand-building skill to new luxury and prestige products. I am also delighted that as its creative consultant, she will continue to devote her talents to the ongoing success of the Estée Lauder brand and work with us as we establish the AERIN beauty business."

Fabrizio Freda, President and Chief Executive Officer of the Estée Lauder Companies said, "I am so grateful for all of Aerin's fantastic contributions to our Company and am delighted that she will continue to be an active part of the Estée Lauder brand. I wish her the very best in achieving her dream as she is incredibly talented and truly deserving."

Jane Hertzmark Hudis, Estée Lauder Global Brand President, said, "Aerin's contributions to the creative vision for the Estée Lauder brand have been extraordinary and helped lead the brand into a new era of growth and success. As she launches her new venture, we are very excited that she will continue as global ambassador for the Estée Lauder brand and serve as its Style and Image Director. We also look forward to working with Aerin to introduce the AERIN beauty collection."

About Aerin Lauder: Prior to today's announcement, Ms. Lauder was Senior Vice President, Creative Director for the Estée Lauder brand from July 2004, having served since 2001 as its Vice President of Global Advertising. She previously spent four years as Executive Director, Creative Marketing, helping to define and enhance the Estée Lauder brand image. Prior to 1997, she was Director, Creative Product Development for the Estée Lauder brand. Ms. Lauder joined the Company in 1992 as a member of the Prescriptives marketing team. Ms. Lauder has served as a member of the Board of Directors of The Estée Lauder Companies Inc. since 2004. She serves on the Education Committee for the Board of Trustees at the Metropolitan Museum of Art and is a member of the International Committee of the Museum of Modern Art. She is also actively involved in the Neue Gallerie, a museum founded in 2001 dedicated to German and Austrian art from the early 20th Century.

The Estée Lauder brand is the signature brand of The Estée Lauder Companies Inc., one of the world's leading manufacturers and marketers of quality skin care, makeup, fragrance and hair care products. The Company's products are sold in over 150 countries and territories under the following brand names: Estée Lauder, Aramis, Clinique, Prescriptives, Lab Series, Origins, M-A-C, Bobbi Brown, Tommy Hilfiger, Kiton, La Mer, Donna Karan, Aveda, Jo Malone, Bumble and bumble, Darphin, Michael Kors, American Beauty, Flirt!, GoodSkin Labs, Grassroots Research Labs, Sean John, Missoni, Daisy Fuentes, Tom Ford, Coach, Ojon and Smashbox.

The forward-looking statements in this press release including the remarks by Ms. Lauder, Mr. Lauder, Mr. Freda and Ms. Hertzmark Hudis above involve risks and uncertainties. Factors that could cause actual results to differ materially from those forward-looking statements include current economic and other conditions in the global marketplace, shifts in the preferences of consumers as to where and how they shop for the types of products the Company sells, competition, the unintended impact of any of the changes to the operation of the Estée Lauder brand, the Company's ability to continue to successfully implement its long-term strategic plan and those described in the Company's quarterly report on Form 10-Q for the quarter ended December 31, 2010.