Mother's Day gift ideas – Spectrum ring lights
Forget flowers and chocolate! Mums deserve something they can use all year round. From mummy influencers and content creators, to business coaches and those working from their home office, Spectrum Aurora has a range of ring lights that make the perfect Mother's Day gift.
Spectrum 10" 'Unicorn' RGB LED Desk Ring Light – RRP $29.99
Take mum's desktop lighting game to a magical new level with the 10" Unicorn rainbow desk ring light. Perfect for content creators and those working from home, this USB-powered desk light features an adjustable desk stand allowing you to easily pop it on your work space. It also features an adjustable phone bracket that will fit most smartphones.
Whether for live-streaming, recording videos, or joining Zoom meetings, the Unicorn provides the perfect lighting, with a ball head that can position the light with a 180° tilt. It provides creative freedom with RGB lighting, with colours ranging from white, red, yellow, blues, greens, purple, pink and orange. It also features three colour temperature options - white light, warm white and natural light, allowing you to seamlessly move from 5600k natural daylight to a 3200k warm hued light for that sun-kissed look.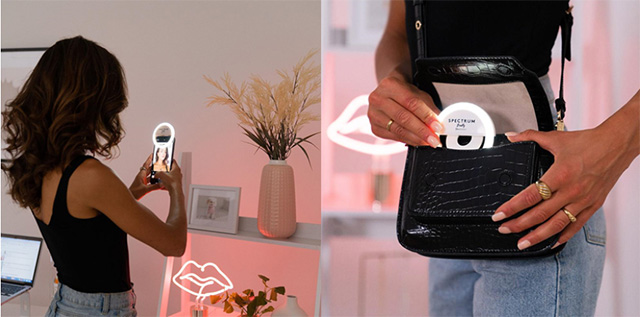 Spectrum Firefly 4" Selfie Phone Ring Light – RRP $13.99
The perfect, inexpensive gift Mother's Day gift to ensure she always has the perfect light handy for selfies and content creation. Measuring only 8.5cm in diameter, this pocket-sized ring light mimics daylight, drastically improving image quality. Featuring 36 individual light bulbs, it offers 3 levels of brightness and can even be used in low light venues such as clubs, restaurants, or even camping.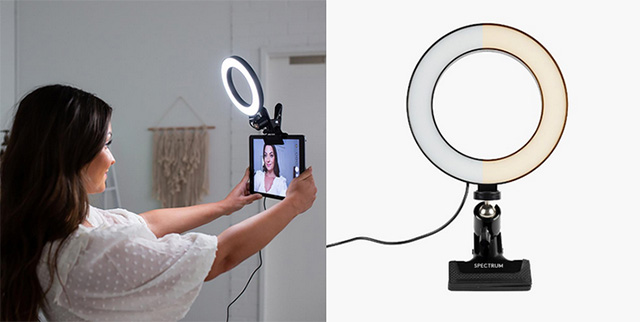 Spectrum 6" Clip-on 'Ruby' Ring Light – RRP $27.99
Small and compact, this 'Ruby' Clip-On Desk Ring Light is perfect for those with limited desk space or anyone looking for a smaller desk lighting setup. It is as easy as clip and go. The 'Ruby' Desk Ring Light is powered by USB which is handy for creators on the go, because you never know when you may need to be camera ready. Highly adaptable, this compact ring light can be clipped onto computers, laptops, mobiles, iPads or even clipped on a chair or table! Featuring standard colour temperature adjustability from 3200K (warm sun-kissed) to 5600K (natural daylight) this pocket sized light will have mum looking fab wherever she goes.
Review: Affordable, fun and practical, how can you go wrong. You and your mum will love these, not only can they now create those perfect image, it's also a really great way to do your makeup for a flawless complextion. Each one of thes ring lights is effective for creating high the perfect pictures for yourself or choice of social media. Become an instant pro, and be ready to capture moments on the go.
Facebook @spectrumaurora
Instagram @spectrum.aurora