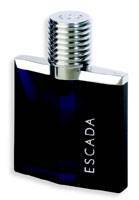 Magnetism is an energy that is tangible, palpable and forceful and is the latest men's fragrance from Escada.

The Escada man is confident and independent, and does not cultivate magnetism. He either has it or he doesn't, and when he does, he knows it. It is a simple, inescapable fact of his life. You know, instinctively, who has it. You know, because you can feel it. With a man, there is instant electricity.

Escada Magnetism embodies confidence and a power that is natural, unperfected and pure. It allows a man to be who he is, and draw others to himself, without ego and without petence.

Eau de Toilette Natural Spray 50ml - $88.00
Eau de Toilette Natural Spray 100ml - $124.00
After Shave Lotion 75ml - $72.00
Hair & Body Gel 200ml - $46.00
Deodorant Stick 75g - $38.00

Available through leading department stores and perfumeries nationally.