Beauty Secrets as Told by a Professional Model
Between early morning photoshoots, events and rushing to castings, Elle Morris always needs to be on top of her game and beauty ready. Here, Elle shares her go-to products and the practices she swears by to streamline your beauty routine:

Morning tips – I'll often start work from as early as 4.30am, so looking and feeling fresh is important. Putting on some lip balm (my favourite is Lanolips) paired with a tinted moisturiser (with SPF) will help make you look awake and fresh without appearing too made-up. If you're looking especially tired, applying a concealer underneath your eyes is a great way to mask dark circles

Beauty starts on the inside – It's cliché but natural, healthy-looking skin always starts with your diet and anyone who knows me knows I'm a massive foodie. I ensure my diet has a good mix of fruit and veggies, protein and whole grains and lots of antioxidant-rich foods like blueberries, nuts and avocados. Drinking lots of water and staying properly hydrated also keeps your skin hydrated and plump – I always have a drink bottle with me and aim to drink 2 litres a day!

Glowing skin – I love face masks - it's my addiction! If your skin is feeling dry or dull, a hydrating mask can help puffiness disappear and give your skin extra life and brightness. I'm loving the Frank Body Glow Mask at the moment as it only takes 5 minutes to work! For the rest of my body, I stimulate blood circulation to improve my skin's appearance with the deep massage pad attachment on the Braun Silk-épil 9 SkinSpa. I find it much more effective than using a body brush which can sometimes be harsh on your skin.

Bad hair days – Dry shampoo is a gamer-changer if you're having a bad hair day or don't have time to wash it! In the morning, I'll give my hair a generous spritz with dry shampoo and brush it out and then straighten or curl. Occasionally, I'll spray my hair before bed to soak up the excess oils overnight and give it that extra volume. There's nothing that saves the day faster than dry shampoo!



Thursday prep – My main beauty prep night is Thursday, depending on what event or job I have on that week. I like to run myself a bath with essential oils and Epsom salts, then I'll exfoliate my entire body with the Braun Silk-épil 9 SkinSpa's deep exfoliation brush, which is 6x more effective than a manual scrub alone! Whilst the gentle exfoliation brush refines your skin for an irresistibly smooth and silky feeling. When it comes to hair removal, the epilator head removes hair as small as a grain of sand. I find products that have multiple treatments in one make it easy to streamline your routine!

The perfect tan - Although I love being tanned, I always opt for products as opposed to sunbaking, as UV protection is essential for your healthy skin! I use Bondi Sands mousse, moisturising my elbows, ankles and hands first before applying the tan with a mitt. I allow the tan to sink in for an hour or two (I find that the ultra-dark is the perfect colour after that amount of time). I wash it off and voila - combine with a good night's sleep it will leave you waking up feeling like a Queen the following day!


Makeup staple – If you're pressed for time, skip doing a full face of makeup and apply a red lipstick instead. It will look like you've spent half an hour on your look when it only took one minute! Or bring it back to basics with a nude shade. It's flattering, easy to wear and suits just about anyone. My go-to is Velvet Teddy in Matte by MAC.

On-the-go – I'm often travelling from a shoot to the gym, meetings, and an event all in one day, so it's vital I have the best beauty products with me where ever, whenever! In my bag you'll always find a lip balm, tinted moisturiser, mascara and perfume.



Interview with Elle Morris
Question: Can you give us a little insight into your daily beauty regime?

Elle Morris: My daily beauty routine changes from day to day as I am always trying new products but I do have my staple faves! First off, I have a hot shower to open up the pores; I'll double cleanse my face and then apply a toner/hydration spray. Once that has absorbed, I'll massage in a hydrating/anti-ageing serum followed by moisturiser. I usually like to give these products a couple of minutes to really soak in to the skin.

Depending on what my day entails will determine how I apply my make-up. It is quite simple, using a tinted moisturiser and if I am having castings it will be very light in coverage and shadowing. However, if I have an event I may add some darker eyeshadows or a red lip. When I have a job, I just make sure my skin is well prepped and primed ready for the make-up artist.


Question: What do you love about the Braun Silk-epil SkinSpa?

Elle Morris: The Braun Silk-epil SkinSpa is not only compact and easy on the eye with its fresh and glittery appearance, but it works! It doesn't take up much room and it feels great. My favourite feature on the Braun Silk-epil SkinSpa is the massage pad - I really like the feeling and results of getting my circulation going! The epilation attachment also leaves your skin smooth for up to four weeks!


Question: How often do you use the Braun Silk-epil SkinSpa?

Elle Morris: As a frequent user of my tub at home, I honestly don't think I could live without having one in my house! Running a bath is my time to relax and pamper myself; I usually put on relaxing music or Netflix whilst I use my Braun Silk-epil Skin Spa. This is a routine I do around 2-3 times a week - using the massage pad is great for stimulating blood flow and the exfoliating attachment keeps my skin fresh! I apply my favourite body wash or cleansers to the attachments to enhance the products benefits.


Question: Which essential oils do you add to your epsom salt baths?

Elle Morris: I love essential oils! Lavender is my favourite as it has lots of calming benefits and it is great for the nervous system. I'll put it in my baths or on my pillow before bed, and if you have pure lavender oil, it's great to put on blind pimples… a little helpful trick.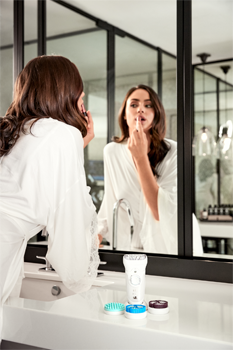 Question: What are your favourite snacks?

Elle Morris: I am pretty sure I've had the same answer for this question over the past few years! Dates with a little peanut butter is my go to, I find it hits the spot and gives me energy - perfect before a workout! Otherwise, I like to make a little plate of fruit and veggies sticks alongside some nuts.


Question: Can you give us an insight into your weekly fitness routine?

Elle Morris: My weekly fitness routine has changed a lot since I was younger as I use to be quite addicted - nowadays I am a lot more relaxed. I eat extremely well without denying myself, but I still live a very active lifestyle, including walking my dog every day and I love to use outdoor gym at my local parks. Other than that, I really enjoy reformer pilates or barre class!


Question: What's a typical day like, for you?

Elle Morris: A typical day for me is waking up around 6:30am (unless an early call time has me up earlier). First things first, coffee! Either my boyfriend or I make the coffees and we lay in bed for a little while longer and give our puppy Billy lots of cuddles! Then I'll either make a smoothie or avocado and vegemite toast, take Billy for a walk or do a gym class, and then get ready for castings or events. If I have a shoot on then I get ready and hit the road! This includes my daily skin prepping routine. When I get home, I like to treat myself to a glass of red whist I cook dinner. I cook every night as I love it and get excited to try new recipes! Everything I cook is very healthy but also extremely delicious if I do say so myself!


Question: How are you able to get up for work at 4:30am?

Elle Morris: Luckily, I am a morning person, however, my puppy makes it extremely hard as he sleeps curled up between my legs - so as you can imagine it's like a real life hot water bottle that you absolutely adore! I always set my alarms earlier than what I need, so I have extra time and no chance of running late. That is a real phobia of mine; not being on time can really stress me out!


Question: What's your current mantra?

Elle Morris: Do what makes you feel good!


Question: How do you choose what to post on your social media?

Elle Morris: I choose what I post on my social media by usually running it past my mum or my boyfriend. It's just getting that other opinion helps me not to second guess myself. It doesn't happen all the time, but in this industry and the pressures that come with it, sometimes I will overthink everything, which is totally normal! I basically chose content that I like and I think appeals to my followers.


Interview by Brooke Hunter