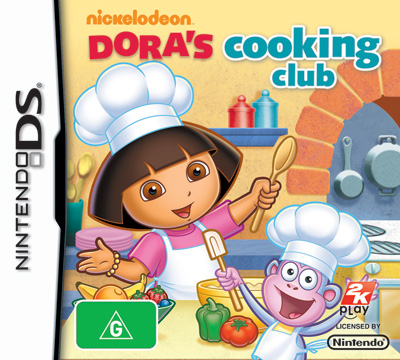 Dora's Cooking Club
Dora Loves cooking!

Dora and her friends have created tasty foods for International Food Day but some pesky ants came by and took the food away! It's up to Dora to help each of her friends cook a new dish before the festivities begin!

Features:Help Dora prepare delicious foods in a fun-filled game that teaches and reinforces math-related curriculum
Make a variety of enchiladas, salads, pizzas and pie!
The difficulty level of the curriculum games will change automatically as you play along
Kid-tested by children and moms for age-appropriateness, fun-factor, and quality!

Dora Cooking
Platform: Nintendo DS™
Rating: G
Genre: Cooking/Arithmetic/Childrens Edutainment

Kids love cooking and Dora so this is the ultimate game for kids aged 3-8. With fun games to help them learn how to prepare and cook in the kitchen.