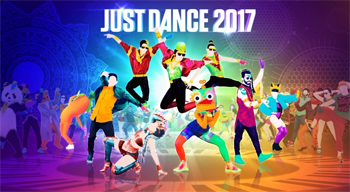 Just Dance 2017
Whether flying solo, or busting a move with friends, Just Dance® can turn any space into an instant dance floor. The newest instalment of the biggest-selling music video game series of all time, Just Dance 2017, launches October, 2016.

With over sixty million units sold worldwide so far, Just Dance 2017 is the perfect stocking stuffer for kids and adults alike this Christmas. A fabulous way to keep fit, players can get active in the comfort of their living room, synchronize their steps with family and friends or even challenge workmates at the office Christmas party.

Featuring fresh hits from Justin Bieber, Fifth Harmony, Sia and Major Lazer, plus blockbuster classics such as 'Don't Stop Me Now" by Queen, Just Dance 2017 is fun for all the family. Unrestricted by additional accessories like cameras, Aussies can join in on the global phenomenon by simply downloading the Just Dance Controller App on their smartphone and following the motions of on-screen dancers to learn a variety of fun, choreographed routines.

With more than 200 songs available on Just Dance Unlimited, you're sure to find your jam. The subscription streaming service, available for current-gen consoles owners and PC players, features easy-to-navigate curated playlists to help players set the mood for any Just Dance party. Players can also access exclusive content from Just Dance TV, apply fun filters to their best Just Dance photos and share them with friends on social media.
Those wanting to kick it up a notch can customize workouts with their favourite tracks in Sweat + Playlists mode and track calories burnt with specialised dance routines - from easy warm ups to heart pumping cardio tracks! Just Dance 2017 will have players testing their skills through a variety of dance types including flamenco, ballet and the cancan with the Dance Machine experience, exclusive to current-gen consoles and PC.

Available in October on Wii/ WiiU, PS3/ PS4, XBOX 360/ XBOX ONE, and for the first time in the history of the franchise, the game will also be launched digitally on Windows PC.

Just Dance 2017 tracklist preview:
'Sorry" – Justin Bieber
'DADDY" – Psy Ft. CL of 2NE1
'Cheap Thrills" – Sia Ft. Sean Paul
'Lean On" – Major Lazer Ft. MØ & DJ Snake
'Worth It" – Fifth Harmony Ft. Kid Ink
'Don't Stop Me Now" – Queen
'PoPiPo" – Hatsune Miku
'Radical" – Dyro & Dannic
"El Tiki" – Maluma
'September" – Equinox Stars
'What Is Love" – Ultraclub 90