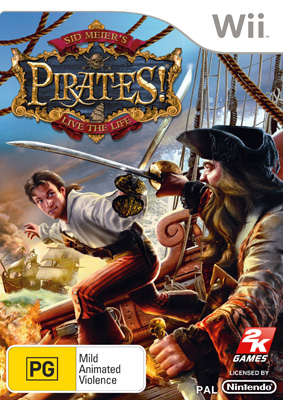 Sid Meier's Pirates
All hands on deck! Exclusively for Wii™, Sid Meier's Pirates! is an exciting high-seas adventure that allows junior buccaneers to helm one of 27 fully customisable ships as they descend upon unsuspecting ports of call to amass a motley crew of seafaring bandits. Captains must collect hidden treasure maps, undertake daring missions and courageous rescues, and swiftly hand out pirate-style justice to local braggarts before hearing the wild call of the ocean and setting sail for mind-blowing open sea engagements unlike any other game before on the Wii.

Overflowing with intense pirate action, Sid Meier's Pirates! Features a treasure chest of gameplay riches, including the traditional mini-games from the classic original such as Sword Fighting, Ship Combat and Dancing, as well as two brand new Wii-exclusive mini-games - Bombardment and Lock Picking. In addition, the Wii version will offer exclusive character and ship customisation options.

Sid Meier's Pirates Features:
The classic adventure by renowned creator Sid Meier, re-imagined for the Wii and take full advantage of the Wii Remote.
Build a fleet: take the helm of 27 ships and enhance their ability to deal out high-seas destruction by upgrading to an assortment of powerful ammo, mighty cannons, and other valuable nautical advancements. You can also change the look of your pirate and his dastardly vessel through the multitude of Wii-exclusive customisation options.
Use the Wii Remote to parry, counter and effectively out duel your opponents into submission with lightning quick moves onboard ships, in taverns, and even in the exclusive Governor's mansion.
Using the new, Wii-specific mini-games, plunder enemy ports after you bombard them into obedient submission or escape challenging predicaments with your trusty lock-picking set and sail off into the high seas to resume your adventure.
Increase your riches and steal the heart of the Governor's beautiful daughter to earn gifts and valuable information that you will need on your journey.
Captain Kidd, and Henry Morgan. If you piece together fragmented scraps of map, you can even discover their hidden treasure.
Play classic Sid Meier's Pirates! mini-games plus two new all new Wii-exclusive mini-games
Dancing
Sword Fighting
Ship Combat
Bombardment (Wii-exclusive)
Lock Picking (Wii-exclusive)

Pirates
Platform: Wii
Rated: PG
Genre: Action/Adventure
RRP: $49.95


Review: The highlight of Sid Meier's Pirates Wii game are the sea battles. PG rating is spot on with busty barmaids that are a bit over-the-top for young viewers. There are many elements to the game to keep you entertained, strategy, enhancing your character & fighting. Sink as many ships as you can while collecting the treasure, but be warned you need to be screwd when trading and look after your men otherwise you may loose your crew.