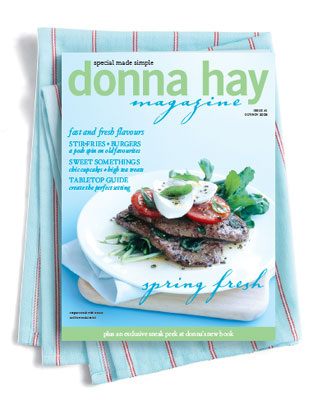 Exclusive sneak peek at Donna's new book - Donna's new book is full of recipes that are easy to assemble and feature fast, simple flavours. With meals to cook in one pot, pan or dish, they're the best timesavers for any occasion.

Mint condition - It's the herb we reach for to add freshness to salads, to make an accompaniment to a lamb roast or to add a zing to icy cocktails. We take a fresh look at the freshest herb of then all.

Food to share - Gather up your best friends and settle in for an afternoon of quality girl time. We've got salmon, brie and asparagus fingers, smoked chicken, feta and dill quiches and dainty iced madeleines to share around.

Create a stir - Get your wok smoking hot, the humble stir-fry is taken to another level. Try these pared back versions that embrace the idea of elegant simplicy. Posh patties - Take your milk-bar favourite up a notch with fancy fillings, sides, classic sauces and tasty relishes to create a beautiful burger of a different kind. Iced delights - Invoke the decadence of Old World Paris, when meeting at the tea salon was the order of the day. Take high tea with our dainty little cupcakes iced to impress.

FREE tea towel 2 colours to collect

Not only is the new spring issue bursting with fresh and vibrant recipes perfect for every day and special occasions, it also comes with a free tea towel. So after you've tried our new spin on the stir-fry and burger, impressed your friends with chic cupcakes and high tea treats and learnt how to style the most perfect tabletop around, you can clean up in style afterwards.




Oregano steak with tomato and bocconcini salad
4 x 125g beef minute steaks
olive oil, for brushing
sea salt and cracked black pepper
80g butter
2 tablespoons oregano leaves
4 vine-ripened tomatoes, sliced
2 bunches rocket
220g bocconcini, thickly sliced

Heat a large non-stick frying pan over high heat. Brush the beef with oil and sprinkle with salt and pepper. Cook the beef for 1 minute each side for medium or until cooked to your liking. Remove and keep warm.

Add the butter and oregano to the pan and cook for 1 minute or until the butter has melted and the oregano is crispy. Divide the rocket between serving plates, top with the beef, tomato and bocconcini and spoon over the butter mixture to serve. Serves 4.