Deep Dive with Daron
Biracial curve model and body-positivity activist Daron Dean is a diverse force to be reckoned with. The mixed African-American and plus-size curve model is advocating for women in STEM education and body-positivity for all despite their age, race or gender. Currently, Daron can be seen as the Host of Refinery29's new weekly live-streaming Twitch series 'Deep Dive with Daron,' where she covers a range of science-based topics for millennial interest from climate change to the science of hangovers, coffee, and skincare. Additionally, she has recently been cast in the upcoming Hulu series "Shrill" alongside SNL comedian Aidy Bryant.

Watch Daron Host Refinery29's "Deep Dive w/ Daron" on Twitch here.

Daron was born in Portland, OR and raised in the small countryside town of Brush Prairie, WA – surrounded by chickens, horses, cats and dogs throughout her 2-acre wide backyard to play on with her three sisters. At around 8-years-old, Daron realized herself and her two younger sisters were 'different' from her older sister who had a different dad – and a different skin complexion. Her older, blonde half-sister (whom he also considered to be a full-blood sister) blended in with the majority of her peers in school, and town of 3,000 people, while Daron, her two younger sisters and paternal father were nearly the only people of color. Daron was further singled out as the only tall, athletic and plus-sized woman of her family. Despite her difference in appearance, Daron was raised on the values that 'being different was her super power' and the importance of embracing her natural beauty.

Throughout school, Daron found her niche within sports, science and music. She spent her high school years marching to the beat of her own drum, while playing tenor saxophone in jazz band, marching band, pep band and wind ensemble. She also played basketball, soccer and ran track. With her hard work ethic and passion for enhancing her education, she topped off her busy schedule as a straight A student. Being part of the different groups helped Daron define who she was and who she wanted to be, while establishing her determination and work ethic from an early age.

Daron began her modeling career after her Mom forced her to enter a modeling contest in her town mall, which she gracefully won despite her self-doubts, and was swiftly signed to an agency in Seattle, WA. After her agent had told her that she couldn't earn an education and begin her modeling career at the same time, Daron chose education – attending Clark College to play collegiate basketball and earn a Biology degree. Dean is currently studying for her nursing degree. Following graduation, she moved to LA to give modeling a fair shot and signed with Natural Models LA. Since, Daron has shot for Nike (Spring 2019), K-Mart, Wet Seal, Nordstrom, Bon Ton, Kohl's, Target, and most recently the Spring campaign for Nike. She has also been featured in commercials for Ross and Macy's.


Interview with Daron Dean
Question: What originally inspired your passion for modeling?

Daron Dean: I never knew that it was even an option for someone like me to be a model. My mom forced me to enter a contest through our local mall, so I did it originally to appease her. When I ended up winning and getting flow to LA to do a runway show, that's the first time where I was like, "wait a minute, women like me can model?". Through that I got connected with a reputable agency and that's where it all began. Modeling is not easy. It is very cut throat and there are trends in what kinds of looks companies book; one day your look is in, one day it's not and it continually fluctuates so you have to grow a thick skin very fast. Once I started to get women reaching out to me via social media telling me they feel more confident because they see me modeling clothes that they didn't know a plus size woman could wear, that's when I began to have more of a passion for modeling because I realised I was reaching and helping way more people than I thought.


Question: What was it like modeling for Nike, recently?

Daron Dean: Ever since I began modeling, Nike has been my dream job. I was an athlete growing up and I actually played basketball collegiately for 4 years. Sports is the first thing that helped me love myself and my body for being tall and strong. So, Nike was amazing to say the least. I got to do running and athletic shots as well as more classical modeling shots, it was by far my favorite modeling job to date!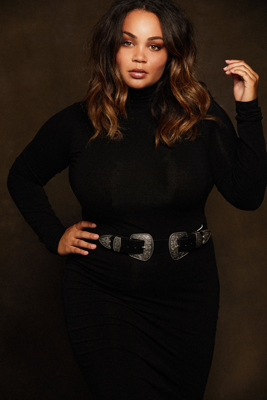 Question: Can you tell us about Deep Dive with Daron?

Daron Dean: Deep Dive is a science based show on the Refinery29 Twitch channel. I've always loved science and been curious about the way the world works around me. I loved it so much that I studied it in college and graduated with my BA in Biology. The goal of my show Deep Dive is to talk about everyday things that involve science, in hopes that it makes the viewer more curious about the world around them. That's the foundation of science; being curious about the world around you and questioning why you see what you see or why you experience what you experience. To do this, I explain complicated science topics in a way that everyone can understand, even if you never took a science class in your life. Part of the reason why people shy away from science is that most of it is extremely intricate and complicated. I'm the middleman between these concepts and understanding, and bridge the gap so that science is accessible to everyone, not just scientists! I've also had a few women who are in a STEM field come on and we discuss their work and how important it is to get women in STEM! Examples of show topics are: How does coffee keep you awake? And: Life hacks backed by science!


Question: Are you able to tell us about your work for women in STEM education?

Daron Dean: I use my show as a vehicle to highlight brilliant women who are in STEM. My goal is show other women and girls that they also can do it. So far, I've interviewed a climate scientist, an aerospace engineer, and a body systems engineer, all of whom are women! We discuss bumps and road blocks that made it difficult being a woman in a male dominated field, how their work is changing the world, and advice they would give to young girls who want to be in STEM, but are intimidated by the male dominated work force.


Question: What message do you hope to spread to women specifically into body-positivity?

Daron Dean: The message I would like to spread is that it is okay to love yourself and your body wherever you are right now in your health and wellness journey. I feel like society and social media want girls to believe they can only appreciate themselves once they reach their goals, which is insane and inaccurate. There is no destination when it comes to health, wellness, and body confidence. It is constantly moving and evolving, so enjoying where you're at right now while continuing to work towards the future is absolutely key. Another think I would want to spread regarding body positivity is that WE ARE MORE THAN OUR BODIES. We are intelligent, strong, kind, loving, funny, and so much more. All of these other things are so much more important than worrying about if you lost that last 5 pounds. I would much rather be a woman who has integrity, is kind, giving, loving, and intelligent, than fuss over comparing body weight and size.


Question: What's a typical day like, for you?

Daron Dean: Right now my schedule is a little crazy because I'm in nursing school! How I'm doing it all, I don't know haha. A typical day would be going to class for at least a few hours of the day, depending on the day. If I have castings, I head to castings right after class so I usually bring all my stuff for castings to class (jeans, heels, comp cards, etc). After castings, I head home and take my dog out for a walk to get some fresh air and get moving. If I have my show, I rush over to the studio after class and castings and shoot for an hour! The rest of my night usually consists of studying, answering emails, and homework until I fall asleep. On a day that I'm shooting, I usually have to wake up fairly early because the studios are all over LA. So, I'm up around 5 am getting everything ready to go, walking my dog, making sure I get a little breakfast, and heading out before heavy traffic sets in. At the end of a shoot day, I'm typically exhausted from being on my feet all day and wearing high heels that are too small, but I always have more homework or studying to do so I get that done before bed!


Question: What's next, for you?

Daron Dean: Nursing school is my main focus right now. I've been working towards getting in for about a year and I got admitted into a competitive program so I'm really happy and love all the hard work. I continue to model on my days off, and of course I have my show Deep Dive every Tuesday at 5pm PST on the Refinery29 Twitch channel! I also shot a small part in a new show coming out on HULU called Shrill, which should be out this month. I have no clue if my scenes made it into the final cut, but I got to do lines alongside Aidy Bryant of SNL, so I'm so excited to see if our scenes were picked for the final cut!




Interview by Brooke Hunter