Meet the Woman Paving the Way in Eco-Tourism
Aside from being a working mother of three children, a wife, and entrepreneur, Carmen Ellis is a continual voice in the fight to protect marine mammals and their environment. The founder of the eco-travel company Majestic Whale Encounters, this busy working mother is the definition of girl-boss.

From a young age, Carmen's passion and love for all animals was evident. Dedicating her career to working with animals, her childhood dream of swimming with the most intelligent and graceful animals on earth became a reality on a holiday in 2013, which led to the launch of Majestic Whale Encounters.

Building Majestic Whale Encounters from the ground up, Carmen was committed to providing travel experiences that not only fulfil lifelong dreams, but that also educate and leave a minimal environmental footprint.

Now hosting expeditions to Tonga, Tahiti and Norway to swim with humpbacks and orcas, Carmen has not only established a company that allow her guests to swim alongside these truly magnificent creatures with minimal impact to the environment, but that also provides education to all guests surrounding biology, behaviour and general whale information.

Carmen is a source of inspiration for us all that following your dreams- quiet literally- can make positive change that impacts a greater cause.


Interview with Carmen Ellis, Founder of Majestic Whale Encounters
Question: What is Majestic Whale Encounters?

Carmen Ellis: Majestic Whale Encounters is an Australian based family owned and operated Eco-tourism Company that offers expeditions to Tonga, Tahiti and Norway, giving our guests the opportunity to swim with orcas and humpback whales in their natural environments. We aim to run our tours with minimal impact to the environment while allowing our guests maximum interaction with these majestic creatures of the sea!


Question: What inspired you to start Majestic Whale Encounters?

Carmen Ellis: I have always had a passion for animals and the protection and conservation of their environments. After a trip to Tonga back in 2009 that finally allowed me to come eye to eye with these incredible beings, I knew my life and chosen career was instantly reshaped, From that point, something switched in me and I knew I wanted other people to be able to experience the undeniable magic of floating alongside whales just like I had. Fast-forward five years to 2013 and my dreams became a reality when I launched Majestic Whale Encounters. My sister Sarah joined the company a year later and Majestic hasn't looked back since.


Question: Can you tell us about the expeditions of Majestic Whale Encounters?

Carmen Ellis: Majestic Whale Encounters offer expeditions to three of the most incredible locations in the world. In Tonga, guests have the opportunity to swim alongside humpback whales; here guests will have the chance to additionally snorkel the beautiful reefs, kayak and paddleboard. Our Tahiti humpback expedition offers guests the chance to explore the stunning island of Moorea with the option to also swim with dolphins, stingrays and sharks. Our Norway expedition is an opportunity for guests to swim with one of the world's most powerful and intelligent creatures - the orca. Guests are also able to experience the Northern lights, a reindeer experience, and a husky safari. We treat each tour as a chance to educate guests and allow them to experience everything these incredible destinations have to offer.


Question: How does Majestic Whale Encounters offer these experiences with minimal impact to the environment?

Carmen Ellis: Our tours are structured to leave a minimal footprint on the destinations we visit, and we run the entire business in as environmentally friendly a way as possible from being paperless to using energy efficient equipment and fittings.

Majestic also give every guest that comes on tour an eco travel pack, which includes a bamboo cutlery with chopsticks and bamboo reusable straw. Each guest also receives an eco-insulated bottle for the boat!

We abide by rules and regulations that ensure we are actively contributing to the care and conservation of the environments that we visit, as well as parameters and standards set by industry bodies such as the Whale and Dolphin Conservation (WDC) and the World Cetacean Alliance (WCA). Both of these organisations aim to protect, conserve and promote sustainable practices to ensure longevity of whales and dolphins and their environments.

We are active members of Whale Watch International and always ensure that responsible whale watching is at the forefront of what we do.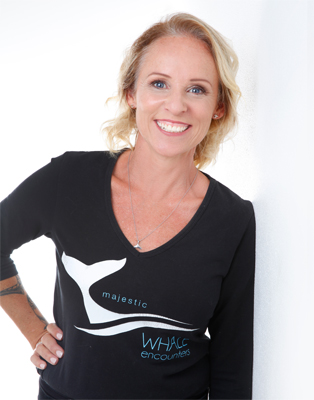 Question: How can we ensure we're protecting the environment when at home?

Carmen Ellis: There are so many great ways to implement eco-friendly practices into your home and life. Small steps like utilising natural light over turning lights on, recycling, using a keep cup, composting at home, and reducing the time spent in the shower are all small changes that add up to make a big difference. It's so important to educate the next generation about the impact that our decisions have on the planet, and the future of it.


Question: How have you created a work-life balance as a working mother?

Carmen Ellis: In the beginning I found this probably the most challenging part of running a small business (I write this as I have a three year old with her arms around my neck in a choke hold). I have created balance through involving my children and husband in certain aspects of the business. Whenever possible the entire family will travel with me. My very social, fun loving husband has been given the role of " social co-ordinator " Which means he basically spend time with the guests and make sure their having a great time. Additionally, my children have learnt a lot about people and how to be around them. My kids have also tuned into walking atlas's for marine mammals and are also excellent at picking up languages. A lot quicker than I have ever been able to do. Bringing my family with me allows me to spend as much time as possible with them and share what I really love to do with them at the same time, It's a win-win.

Another way I have created work life balance has been through daily exercise, particularly running my local national park coastal track- where I can get out into nature and see the whales migrate up and down my home coast line. Without this escape I'd be one stressed out mum and wife.


Question: What's a typical day like, for you?

Carmen Ellis: A typical day working from home:
My day starts with getting my two older kids off to school and then heading off to my local gym with my toddler. I'm lucky enough that the kids club there will take the kids for three hours giving me two hours to do my work at the café and an hour at the gym (for stress relief).


A normal workday will include scouting out new tours and places to go, working on marketing, itineraries, trip bulletins, flight information and bookings for our guests. I might also work on a blog and research Eco Tourism and ways we can improve our business module. A lot of time is also spent in networking with other similar companies in the tour operator industry.

Then it's home for an afternoon of emails and posting out any merchandise orders with toddler in hand, after school sports, dinner and the bedtime routine.


A typical day while on tour for example Tahiti Whale Encounter Tour:
A typical day would mean waking up on a beautiful 52 ft. catamaran in the whale nursery in Moorea. Breakfast with our guests before hopping on-board the whale swimming boat for an exciting day with the Whales, dolphins, sharks, rays and array of fish and corals.

For the afternoon it will mean lunch with the guests and while they head over to explore Moorea a little more I take the opportunity to put photos together and work on anything needed for other tours (bookings, itineraries, marketing etc) Then its dinner with the guests and attending to anything at all they might need, a whale talk or slideshow before falling off to a restful night's sleep - hopefully to the sound of whale song.


Question: What's next for you and Majestic Whale Encounters?

Carmen Ellis: Aside from continually providing all guests the most incredible experience and being at the forefront of eco-tourism, we would eventually like to diversify and become 'Majestic Encounters'. This means providing guests the option to encounter large animals on land as well as the in the ocean. Additionally, we would also like to run some charity tours where 100% of the profits go back to helping both the counties we visit and the animals that inhabit it.


Interview by Brooke Hunter