CHARLIE'S ANGEL HEADS TO TOM'S VANILLA SKY
Our LA journalist Paul Fischer got to sepak with Charlie's Angel and Vanilla Sky Star - Cameron Diaz in Los Angeles.
Cameron Diaz remains one of Hollywood's busiest and hottest stars. The 29-year old will be seen in next year's anticipated Gangs of New York, but in the meantime stars opposite Tom Cruise in Cameron Crowe's provocative Vanilla Sky. Paul Fischer was fortunate to spend some time with the alluring and frequently giggly star, who talked fame, Cruise and will there be another Charlie's Angels?
At a mere 29, Cameron Diaz has reached that rare plateau reserved for the superstar. Not that there is any kind of diva quality inherent in the former model. Always alluring, with dimple intact, Diaz giggles her way through interviews, reinforcing that perennial girlish quality of hers that remains her trademark. Diaz is never one to take herself too seriously and remains in awe of the kind of work that has propelled her to stardom. Take Vanilla Sky, a surreal film in which she plays bad girl Julie whose obsession of Tom Cruise's character results in a cataclysm of events for the main character. Hers is a complex character of apparent contradictions, and for Diaz it affords her to embark on some emotionally tough scenes.
"Emotionally there was a lot of sort of opening up that had to happen" Diaz explains. "The hardest thing was working on what we'd call the Vanilla Sky float, which was a car put on the back of a truck with a bunch of lights towed around New York, when the sun's going down and leaf branches are pulling on the car. You know you can't get a break and you're trying to be emotionally available for a scene, so that was probably the most difficult part for the element, along with trying to be just open, raw and fresh too."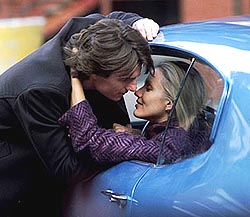 In order to help make his actors feel comfortable, director Cameron Crowe plays music. When working on some of these more raw scenes, Diaz recalls Crowe playing a "little REM, and a little Fiona Apple; we had a lot of things happening on that set. There were bits and pieces that would just sort of open up and start to 'texturise' the atmosphere and a lot of it is in the film. It was sort of like little snippets and sound bytes of our soundtrack that ended up being in the movie. Some of that's because they were rolling the music up until we're rolling the film and some times it went over and they needed to keep the music." Music is always a prevalent factor in Crowe's work, and in Vanilla Sky, Diaz's Julie is a wannabe singer, and the actress gets to sing a song written by her idol, Nancy Wilson. Diaz was amazed and surprised when she was asked to record the Wilson song, 'I Fall Apart'. The last time Diaz sang on screen was My Best Friend's Wedding, hardly a recommendation. "Cameron missed that one apparently," Diaz exclaims laughingly. "It's funny because for THAT movie, when I psyched myself up to be scared to sing in front of people, I really did a number on myself because I'm MORTIFIED and TERRIFIED. I get sweaty, I shake, I'm in tears and I'm like a nervous wreck."
No wonder, Diaz recalls, "it was it was a huge fear to conquer even just standing in that booth in front of Nancy Wilson who is my goddess since I was a child; my sister and I would just sit with their Heart albums and just be like these beautiful creatures making rock -n-roll. So when Cameron said Nancy wrote a song for Julie. I was like, I couldn't. I had chills. I was so excited to sit in front of her and she just sat there and sang and strummed a guitar and I was just like: I can't believe this is happening. I couldn't wait to jump up and call my sister (which I did afterwards) and she was like no way, no way! So, we were so excited about that and then to actually go into the studio and record with her which was a huge fear to do but she was so wonderful and totally gave me direction; then of course she had to lay down her own voice underneath mine to help carry it because there was no way I was surviving on my own."
Perhaps Diaz will sing in Shrek 2, for which she is being paid a reported $mUS10 for a week's work. "I don't know what they have in store for me. I just guess I just keep trying to overcome my fear about putting myself out there over and over again."
Julie is a tough character to describe, but one about whom Diaz felt considerable empathy. "I understood her because I feel that she's someone that we've all been at some point in our lives. We've all been with a person who had these feelings for someone and found that they weren't reciprocated. You thought that person MIGHT be there with you but then you find that they are not and that is heartbreaking."
Diaz has been in the spotlight for some time, yet despite her celebrity status, the beautiful actress does not share the notion that hers is almost a dreamlike existence. For her, it's the works that fuels her passions, not the stardom.
She says: "It's a funny thing because of course this idea of fame and celebrity is going to be different. Everyone's going to look at it differently and experience what they THINK it's like, but you know you'll never know what it really is until you have experienced it. And you can't ever tell somebody what it's like because you never really understand until they experience it themselves. So, what I pinch myself over is when I get to work with people like Cameron Crowe and Tom Cruise; these are why I became an actor. I really love to work with Cameron Crowe and have that experience, because I think he's amazing and I love to work opposite Tom Cruise because I think HE'S amazing. So to have that opportunity and to actually be able to take advantage of it is such a huge thing. I may never have that opportunity again in my life, so, I'm just thankful to have that."
As for dealing with the celebrity facets of her life, such as the tabloids, she says that she just deals with it. "You know you just find a place for everything in your life. I mean you figure it out as you go along and you know it's just like anything."
Next we will see Cameron in the anticipated Gangs of New York, opposite another superstar, Leonardo DiCaprio.
And will there be a Charlie's Angels 2 perhaps?
"Well, that's something that we all really want to do and we're just trying to like hoping that everything falls into place and we're able to get everybody back and be able to do it. So it's very exciting."