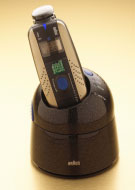 Braun - Syncro Logic shaver
Syncro's 4-way moving head gives a longer lasting, closer shave. Smart logic Inside: Automatic battery care. Maximum power for Braun's closest shave and extended batter lifetime.
The four way moving head pivots and, at the same time, gently moves from side to side. This four way movement dynamically increases the effective shaving area by 60%, capturing more hair in fewer strokes, while maintaining outstanding comfort.
Convenience is the key reason why men choose to dry shave. With the Braun Syncro System Smart Logic, that's all they have to do, shave. Braun 'Clean & Charge' inbuilt technology determines whether the shaver needs cleaning and automatically cleans with no mess or fuss with a simple push of a button. Everyday the shaver will feel like new and give a longer lasting closer shave. Available from department, electrical and specialty stores. RRP $399
Customer Service Line:
1800 641820
Review:
Smooth, close shave. Nice size and shape to handle, easy to manoveur over the face and neck. Excellent for sensitive skin, no skin irritation. Easy and effective cleaning system, no mess or fuss.