Summer Scents
Clinique Happy
This fresh fruity fragrance is a perfect summer pick me up. It is delightful and refreshing with a distinct citrus smell. Ideal for sunny days and summer nights!
Dior Addict
The new fragrance by Christian Dior - Addict, is exactly that. It will have you addicted to its sensual, sultry scent. With hints of jasmine and vanilla - it will keep you and others wanting more. Truly delicious!
Best Beauty Buys!
It's important to replenish and rehydrate your skin in summer to make it healthy and supple. A great product which delivers soft and shimmering skin is SHE Australia Angelic Body Butter containing Shea butter, cocoa, vanilla and a hint of pearl shimmer. It purely is heaven! It will have you looking like a goddess in no time! At $16.95 it's also great value.
Tip: Use this product on your décolletage and shoulders, to give it a glow.
(Products from the SHE cosmetics range are available in Priceline & most department stores)
Makeup Bag Must-Haves
Kiss NYC Shimmer Stick in Empire
This gorgeous shimmer stick is great as a luminiser to highlight cheekbones or can be used on the eyes as a cream eyeshadow. A must have beauty product for summer! It can also be used on the arms, legs and shoulders to give an iridescent glow and glimmer for the glamour factor!
Charles Worthington Take Aways
Sheer Brilliance Finishing Wax
The perfect pocket sized hair tamer in a take anywhere size! Adds glossiness and has a light hold factor. Ideal for the make up bag in case of a bad hair day!
Runway Looks
Achieve the look of fuller sexy lips by following these 5 easy steps....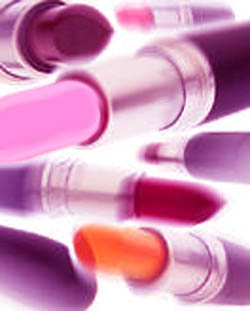 What you'll need:
- Toothbrush
- Lip balm
- Nude coloured lip pencil
- Cotton bud
- Pink/nude lipstick
- Clear lip-gloss
Exfoliate lips by gently brushing them with warm water and a dry toothbrush. The exfoliation of lips gets rid of any dry flaky skin and makes the lips appear plumper.


Prime lips by adding a small amount of lip balm.


With your nude lip pencil, draw light feathery strokes along your natural lip line, and draw a line in the centre of your bottom lip.


Use the cotton bud to smudge the line, lightly.


Apply pink/nude coloured lipstick, add a dab of clear gloss only in the centre of lips to give lips a natural bee-stung look.
Tip:
Create a natural look by keeping eyes bright and open by adding white eyeliner. Apply mascara and a hint of pear shimmer to eyes.
-
Belinda Tartaglia