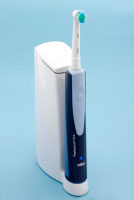 No need for Mess, Veneers or Bleach! New Professional Care power brushes from Oral-B are proven to whiten teeth naturally!

The new Professional Care 7000 Series power toothbrush from Oral-B, could be the answer... It\u0092s not just a fantastically efficient power toothbrush, it\u0092s also proven to naturally whiten teeth.
The secret to the new Oral-B Professional Care 7000 Series powered by Braun is the revolutionary technique pioneered by Oral-B \u0096 rotation oscillation \u0096 which has powered oral care to new heights and promises to keep teeth gleaming clean through the simple daily routine of brushing for two minutes, twice a day.

Rotation oscillation means the brush moves from side to side, with the Professional Care performing a staggering 8,800 oscillation-rotations per minute to whisk loosened plaque away. The Oral-B Professional Care is the only brush to also combine unique backwards and forwards \u0091pulsations\u0092 which loosens plaque at 40,000 pulsations per minute. With all that power and movement, teeth and gums stay healthy and surface stains caused by food or beverages, plaque or tobacco don\u0092t stand a chance.

The Oral-B Professional Care Series consists of two brushes both powered by Braun: 7500 DLX, (RRP: $149.95) and the Oral-B Professional Care 7000 Solo (RRP: $119.95).

For stockists call 1800 641 820 or visit www.oralb.com

Review:
It may take you a couple of tries to get used to it as an electric toothbrush is a strange feeling, but it\u0092s well worth the effort. My teeth feel cleaner, plus it\u0092s so simple to use and takes little effort for excellent results. Fantastic, I love it, goodbye to the old manual toothbrush.